Francis A. Howell, G. B. Howell, Goldie Howell Rogers, and Frances Rogers
Francis Asbury Howell
Submitted documents from Cheryl Phillips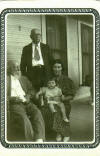 PRISONER OF WAR RECORD FROM WAR DEPARTMENT


Click on the image for a larger view.
NEWSPAPER STORIES ABOUT FRANCIS ASBURY HOWELL
22 Aug 2007
Quoting Jo Howell Marquis in 6/28/00 Jackson, MS The Clarion Ledger "Statue Unveiled at Gettysburg":
"My granddaddy, Francis Asbury Howell, was wounded here at Gettysburg on July 3. When he recovered, he joined Bedford Forrest's cavalry. He just knew he was meant to be a soldier. Howell's younger brother, James, was captured at the wall. He died in captivity. Two more bothers were killed in the war and are buried in Atlanta. My granddaddy was the only one of the boys who made it home."
The Lexington Advertiser, Jan. 9, 1935, Lexington, MS article written by James T. Buck
"The first man I thought of upon my arrival in Durant was my venerable friend Gen. Frank A. Howell, and going direct to his home I had a very pleasant few minutes chat with him. He is one of the most beloved men in Holmes County and I am always delighted to spend at least a few minutes with him. He is one of the very few remaining Confederate veterans in the county. He went into the army of the "Lost Cause" when a mere boy and served through the long struggle and was wounded in the leg at Gettysburg, being a participant in Pickett's famous charge. He visited this old battlefield fifty years later and brought back a hickory sapling that he dug up from the battleground and made a 'walking-stick' of it - 'left-handed walking stick,' as he calls it. Sometime when space will permit I hope to say more about this grand old gentleman, and will close this personal by saying he will be 96 years of age at his birthday in May next.