Military...
Military Resources for Carroll County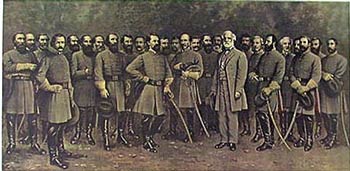 Generals of the Civil War
The War for Southern Independence:
30th Mississippi Infantry Regiment
Company H - Carroll Minute Men
30th Infantry Regiment was organized during the early summer of 1862 at Grenada, Mississippi. Its members were raised in the counties of Lafayette, Choctaw, Montgomery, Grenada, Yazoo, and Carroll. After serving in Kentucky the unit was assigned to General Walthall's and Brantly's Brigade, Army of Tennessee. It fought with the army from Murfreesboro to Atlanta, was with Hood in Tennessee, and saw action in North Carolina. It sustained 209 casualties at Murfreesboro, 124 at Chickamauga, and 149 at Chattanooga. In December, 1863, it was consolidated with the 29th and 34th Regiments, and totalled 554 men and 339 arms. This unit lost 9 killed and 29 wounded at Resaca, and the 29th/30th lost 8 killed and 20 wounded at Ezra Church. Only a remnant surrendered on April 26, 1865. Its commanders were Colonels G.F. Neill and James I. Scales, Lieutenant Colonels James M. Johnson and Hugh A. Reynolds, and Major John K. Allen.
| | | | | |
| --- | --- | --- | --- | --- |
| First Name | Last Name | Company | Rank_In | Rank_Out |
| William H. | Adair | H | Private | Private |
| John C. | Adams | H | Private | Assistant Surgeon |
| William | Allain | G,H | Private | Private |
| William | Allen | G,H | Private | Private |
| G. W. | Applegate | H | Sergeant | Private |
| George S. | Applegate | H | Sergeant | Private |
| Charles A. | Arnold | H | Sergeant | Private |
| Charles H. | Arnold | H | Sergeant | Private |
| John | Bacchus | H | Private | Private |
| John | Baccus | H | Private | Private |
| James | Beckwith | H | Private | Private |
| James | Beckworth | H | Private | Private |
| George W. | Bennett | H | Private | Private |
| Thomas B. | Brady | H | Private | Private |
| Thomas S. | Brady | H | Private | Private |
| Samuel L. | Brownlow | H | Private | Private |
| Phillip B. | Case | H | Private | Private |
| Charles | Cleghorn | H | Private | Private |
| Allen P. | Coalson | H | Private | Sergeant |
| John F. | Collins | H | Private | Private |
| A. P. | Colson | H | Private | Sergeant |
| A. P. | Coluson | H | Private | Sergeant |
| Allen P. | Coulson | H | Private | Sergeant |
| George W. | Coward | H | Private | Private |
| James H. | Crawford | H | Private | Private |
| John | Dacey | H | Private | Private |
| John | Dacy | H | Private | Private |
| John | Daisy | H | Private | Private |
| Edward | Dale | H | Private | Private |
| John | Davis | H | Private | Private |
| Joseph C. | Davis | H | Private | Corporal |
| William B. | Davis | H | Private | Private |
| James | Deckworth | H | Private | Private |
| David M. | Doyle | H | Private | Private |
| Cleton | Easterling | H | Private | Private |
| Clinton | Easterling | H | Private | Private |
| C. | Eastling | H | Private | Private |
| F. K. | Erbamk | H | Private | Private |
| Franklin | Eubank | H | Private | Private |
| Frank | Eubanks | H | Private | Private |
| F. H. | Ewbank | H | Private | Private |
| F. K. | Ewbank | H | Private | Private |
| Franklin | Ewbank | H | Private | Private |
| Thomas | Ewing | H | Private | Private |
| Pleasant E. | fargeson | H | Private | Private |
| Pleasant E. | Fergerson | H | Private | Private |
| P. | Ferguson | H | Private | Private |
| John M. | Fuller | H | Private | Private |
| Pleasant E. | Furguson | H | Private | Private |
| Charles W. | Gaddy | H,E | Private | Private |
| S. | Gambol | H | Private | Private |
| John | Goss | H | Private | Private |
| Zachariah H. | Gresham | H | Private | Private |
| Zachariah H. | Grisham | H | Private | Private |
| John | Gross | H | Private | Private |
| James T. | Hall | H | Corporal | Private |
| Charles J. | Hanna | H | Private | Private |
| Charles J. | Hannah | H | Private | Private |
| William H. | Harper | H | Private | Private |
| Benjamin J. | Hasty | H | Private | Private |
| John W. | Hatcher | H | Private | Sergeant |
| George W. | Hawkins | H | Private | Private |
| Charles | Hawn | H | Private | Private |
| Charles M. | Hearn | H | Private | Private |
| Benjamin F. | Heath | H | Private | Private |
| Rufus | Hovers | H | Private | Private |
| Rufus | Hovis | H | Private | Private |
| Jeptha | Howell | H | Private | Private |
| Joseph | Hughes | H | Private | Private |
| James F. | Hull | H | Corporal | Private |
| James T. | Hull | H | Corporal | Private |
| Andrew B. | Jackson | H | Private | Private |
| Andrew J. | Johnson | H | First Lieutenant | Captain |
| William D. | Johnson | H | Private | Private |
| William H. | Jones | H | Private | Private |
| James E. | King | H | Private | Private |
| John F. | King | H | Private | Corporal |
| John T. | King | H | Private | Corporal |
| Asa | Lee | H | Private | Private |
| John H. | Lee | H | Private | Sergeant |
| William A. | Lee | H | Private | Private |
| John H. | Lew | H | Private | Sergeant |
| Hugh W. | Long | H | Corporal | Private |
| Robert | Long | H | Private | Private |
| Robert M. | Long | H | Private | Private |
| Aaron B. | Lott | H | Private | Private |
| James M. | Lowe | H | Private | Private |
| Alexander | McAlister | H | Private | Private |
| Alexandria | McCollister | H | Private | Private |
| Robert S. | McEacher | H | Private | Corporal |
| Archie O. | McEachern | H | Private | Private |
| Robert S. | McEachern | H | Private | Corporal |
| Robert S. | McEather | H | Private | Corporal |
| H.D. | McKenney | H | Private | Corporal |
| Henry D. | McKinny | H | Private | Corporal |
| Oliver M. | McVey | H | Private | Private |
| Robert A. | Merrill | H | Private | Private |
| Charles B. | Nash | H | First Sergeant | First Lieutenant |
| John | Neisom | H | Private | Private |
| John J. | Nelson | H | Private | Private |
| William A. | Nelson | H | Private | Private |
| John | Newsom | H | Private | Private |
| John | Newson | H | Private | Private |
| E. King | Norton | H | Private | Private |
| John | Nusom | H | Private | Private |
| James | Overstreet | H | Private | Private |
| Jesse C. | Pace | H | Private | Private |
| William H. | Pace | H | Private | Sergeant |
| James | Parmele | H | Second Lieutenant | Second Lieutenant |
| Marion | Patterson | H | Private | Private |
| W. H. | Pau | H | Private | Sergeant |
| Carey | Peters | H | Private | Private |
| James E. | Phillips | H | Sergeant | Junior Second Lieutenant |
| John E. | Phillips | H | Sergeant | Junior Second Lieutenant |
| William H. | Pickering | H | Private | Private |
| Franklin P. | Pleasants | H | Captain | Captain |
| Martin J. | Powell | H | Private | Private |
| Cyrus | Raborn | H | Private | Private |
| Cyrus | Raiborn | H | Private | Private |
| Cyrus | Rayborn | H | Private | Private |
| Cyrus | Rayburn | H | Private | Private |
| Boliver B. | Reeves | H | Corporal | Corporal |
| Benjamin A. | Reid | H | Private | Private |
| Benjamin H. | Reid | H | Private | Private |
| Henry L. | Rose | H | Private | Private |
| Samuel L. | Rose | H | Private | Sergeant |
| S.W. | Ross | H | Corporal | Private |
| W. Stuart | Ross | H | Corporal | Private |
| W. Linsay | Russell | H | Private | Corporal |
| Michael | Savage | H | Private | Private |
| Joseph W. | Sinclair | H | Sergeant | Sergeant |
| J.W. | Sincler | H | Sergeant | Sergeant |
| George W. | Slocum | H | Private | Private |
| George W. | Slocumb | H | Private | Private |
| Lee C. | Smith | H | Private | Private |
| Lewis W. | Smith | H | Private | Private |
| Noah B. | Smith | H | Private | Private |
| Murdock D. | Stafford | H | Private | Corporal |
| Murdock M. | Stafford | H | Private | Private |
| Murphy D. | Stafford | H | Private | Corporal |
| Murphy M. | Stafford | H | Private | Private |
| Edwin K. | Thomas | H | Private | Private |
| Edwin K. | Thompson | H | Private | Private |
| Ervin K. | Thompson | H | Private | Private |
| Ewing K. | Thompson | H | Private | Private |
| Ewin K. | Thomson | H | Private | Private |
| Davis | Tonehill | H | Private | Private |
| Davis | Tonnahill | H | Private | Private |
| Davis | Tonnyhill | H | Private | Private |
| Davis | Tounahill | H | Private | Private |
| William H. | Turner | H | Private | Private |
| John L. | Tustin | H | Junior Second Lieutenant | Junior Second Lieutenant |
| George W. | Vance | H | Private | Private |
| James M. | Vance | H | Private | Private |
| John B. | Vance | H | Private | Private |
| John D. | Vance | H | Private | Private |
| Richard W. | Warren | H | Private | Corporal |
| John L. | Watkin | H | Private | Private |
| James L. | Watkins | H | Private | Private |
| John G. | Watkins | H | Private | Private |
| John O. | Watkins | H | Private | Private |
| John Q. | Watkins | H | Private | Private |
| Joseph W. | Willerford | H | Private | Private |
| Joseph W. | Williford | H | Private | Private |
| Caleb | Wimberly | H | Private | Sergeant |
| Caleb | Wimberly | H | Private | Sergeant |
| Caleb Y. | Wimberly | H | Private | Sergeant |
| Caleb Y. | Wimberly | HG | Private | Sergeant |
| C.J. | Winbert | H | Private | Sergeant |