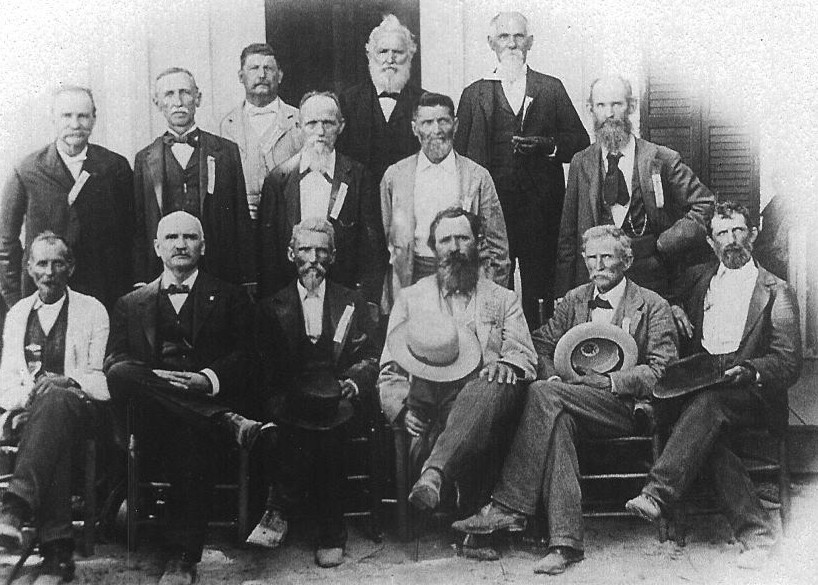 22nd Mississippi Regiment,
Carroll County, MS
Photo contributed by Theresa and Paul Bransby
Submitted June 13, 2004
Find attached a photo of surviving soldiers of the 1899 reunion of the 22nd MS Regt of Carroll Co.

The original photo is currently at the museum in Vicksburg. This is a copy of that photo. Mr. William Watson, Jr., of Montgomery, AL, a descendant of Hiram Washington 'Wash' Coolely, copied the photo and sent me a copy as I am also a Cooley descendant. I thought other descendants of the 22nd MS Regt would enjoy it also.
If for any reason you cannot open the attached phot please let me know.
Teresa

The caption with the photo reads:

"Surviving Confederate Soldiers of the 22nd Mississippi Regiment, which enlisted April 6, 1861 and surrendered under Gen. Joseph E. Johnston at Greenwood, N.C., on April 26, 1865, met at Stafford Wells in Carroll County, Mississippi, on June 23, 1899, for a reunion when this photograph was taken. It is on loan from Mrs. H. E. Taylor of Vicksburg and W. G. Ammons of Dallas. The Veterans are:
First row from the left, A. J. Duren, Phil Chew, Thomas Meriweather, Wash Cooley (Hiram Washington Cooley), C. J. Coleman, and Ramsey Heggie;
second row: Tales Wells, Capt. Leroy S. Valliant, John Chadwick, Mathew Beard, Lt. John D. Usher;
third row: Surgeon G. C. Phillips, Col. H. J. Reid, and Major T. C. Dockery."