Trapped in a frame? Click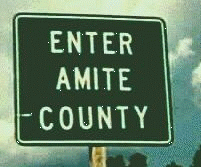 to break free.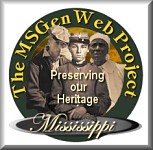 Amite County, Mississippi Queries: Page 11
---
Submit A Query
---
=================================================================== Diana Elledge Wed 06 Jan 1999 20:45:00


KYZAR / TAYLOR
looking for any information on a JAMES MONROE KYZAR and wife RACHEL ANN TAYLOR. don't know when they married , but they had four children. JOHN, CLAIRE, ROSIE, AND MADDIE. RACHEL had a son named EDD before marriage. CLARIE MAY was born on 3/27?30/1885 in hammond la. CLAIRE was husbands grandmother.


---
Sue Steward Thu 02 Feb 2001 22:45:00
MITCHELL
Looking for information on my grandfather, Robert Taylor Mitchell, and on his mother Jane Mitchell (don't know her maiden name). He was born Dec 29, 1878 in Peoria (Amite County), Mississippi. He died December 27, 1963 in Hobart (Kiowa County), Oklahoma. He was married Dec 17, 1902 to Liller Viola Roberts in Hempstead County, Arkansas. 1880 Pontotoc County, Mississippi lists Robert at age 1. He and his mother (Jane Mitchell), age 36, were living in the household of Joseph and Martha Terry. Robeert's mother, Jane, was listed as the mother-in-law. Martha Terry was age 20 so apparently Jane was only 16 years old when Martha was born. Robert's mother, Jane, was listed as a widow in the 1880 census. Any help would be greatly appreciated. Sue Steward


---
ddd DD MMM YYYY 00:00:00
---
Larry Carruth Fri 08 Oct 2004 22:30:00
CARRUTH
I wish to correspond with anyone doing research on John Carruth or his descendants. John Carruth came to Amite county in the early 1820s and was one of the founders of Pisgah Presbyterian church. He died circa 1826 in a hunting acciden


---
Judy Kimball Sat 23 Jan 2010 20:55:00
TAYLOR
Looking for the parents and children of Thomas Taylor; Wife-Hannah X Born: unknown; Died: 1836 Amite County, Mississippi. He was apparently a banker for the locals making loans from a New Orleans broker, last remaining note 3 December 1833. Among his debtors were David Taylor, James Taylor, Elias Taylor, Asa Taylor and Phillip Taylor plus many others. His estate paid $10.00 to the Trustees of the Galilee Church to the subscription of the building of a new house for said church $10.00. Any information would be appreciated. Contact Judy Kimball


---
Robert Revel Fri 12 Feb 2010 19:40:00


CASSELS / FAUST / CAPELL / HUMPREYS / LONGMIRE / McNEIL / SOJOURNER / WHITE
I am seeking information on the on the two listed family names. (HUMPHREYS, McNEILL) Monroe Leonard Humphreys married Ola Myrtle McNeil on July 11, 1911 in Woodville, Mississippi. Their children were Myra, Norman, Harold, Juanita, Carmen, Leonard and Wilton. ALSO SEEKING: I wish to correspond with anyone researching the above names. My family roots are intertwined with the above families. My parents divorced when I was quite young and I have limited knowledge of my relatives. I seek any information available. ALSO SEEKING information on the Faust family. My great-great-great grandfather was William Faust. Any ancestry information would be appreciated. I am also seeking data on Martha H. Capell. She was the wife of Robert Longmire. Would also like information on Emmaline Ann Goode. Any help would be appreciated. Seeking information on Mary Katherine Sojourner and or any of her ancestors. She is my 4great-grandmother. Baton Rouge, Louisiana


---
Leona Crum Brown Thu 20 Jan 2000 18:45:00


ANDERS/ CRUM / FORMAN / STRANGE
I am Leona Crum Brown. I am Looking for information on Warren Crum, My g-g-grandfather b. 1 Nov. 1812 d. 15 April 1893: m. 21 July 1845 to Eliza Strange b. @1820 daughter of Thomas Strange b.in Wilks Co. Ga. in 1797 d. @ 1870 in Amite Co., Ms. and Nancy Whittington. Eliza had 2 Sisters who married Crums. Adeline Strange m.William Crum on 19 May 1845 and Nancy "Lettie" Strange who m.John Crum on 10 July 1849 in Amite co., Ms. We know that John was a brother but don't know about William. W have a Mary Crum age 66 in the 1850 census, Is this their Mother? There is a Mary age 16 and a Warren age 12 in the 1850 census. Would love to here from any Crum. Warren and Liza had a son named David Franklin Crum b. 25 Feb. 1847 d.25 Feb. 1926 m. Martha Cobb on 14 Nov. 1872, They are both b. in Centerville, Ms. David and Martha had a son named Thomas Jessie(my grandfather) b.24 May 1877 d. 5 Dec.1931 m. Mittie Lee Forman. Thank you for any help. Leona Crum Brown kelleona@eatel.net I live in Gonzales, La.


---
M C White Mon 25 Oct 2004 20:30:00


CRUM / DANIELS
We are searching for the family of Letha Crum, who was in Gloster (Amite Co.), in 1899, she was living with or married to Willie Daniels, also from the same area. They had one daughter together, Carrie Almedia (Media) Daniels, who was born on 08 December 1899. Please help with any information about this family.


---
ddd DD MMM YYYY 00:00:00






---
Prentice Thomas Thu 23 Dec 1999 20:45:00


NETTERVILLE / NETTLES / PERRY / THOMAS
I am researching the surnames THOMAS, PERRY, NETTERVILLE, and NETTLES in the Amite Co., area. I need to find out who the parents of Joseph Thomas m. 9/25/1894 Martha Netterville are. Martha is the daughter of John M. Netterville. I need info on them as well. They had John William Thomas, Sr. who married 1932-33 to Willie Mae Perry daughter of William M. Perry and Lillie Nettles. Who are the parent's of William M. Perry? Lillie Nettles parent's are Francis "Frank" Nettles b.ca. 1855 and Winfred C. Flourney. Who are the parent's etc? Any help would be appreciated. Contact me at descendinguponme@hotmail.com or visit My Web Site


---
ddd DD MMM YYYY 00:00:00






---
William Dean Mon 29 Mar 2010 19:38:00


ANTRIM / DRUMMOND
I'm looking for information on my great-grandmother, Mary Jane or Jennie Drummond, born about 1840. A Mary Jane Drummond, daughter of Thomas and Lethe Drummond, appears in census records in 1850 and 1860 in Amite County, MS. I need to determine if this Mary Jane Drummond married Absalom Antrim sometime between 1864 and 1870. Thanks for any information.


---
ddd DD MMM YYYY 00:00:00






---
Karen Walsh Wed 26 Mar 2003 21:20:00


BALES / BOYD / CAIN / CRITTENDEN / DAVIS KENDRICK
Searching for information about the parents of Elizabeth Bales b. 1862 Liberty, MS. Sister of James A. Bales born about 1850. James and Elizabeth were living in McComb, MS in 1880. One other sister is named Martha Jane Bales, although I don't have a birth date, she was probably born after the first two. Elizabeth married John Jackson Crittenden b. 1865 in LA and they lived in McComb, MS and had 5 daughters by 1890.


---
ddd DD MMM YYYY 00:00:00






---
ddd DD MMM YYYY 00:00:00






---
Lisa Lewis Mon 13 Dec 2004 19:30:00


ANDERSON / SWEARINGEN
I would like to correspond with anyone researching or having knowledge of Henry ANDERSON b. 1775-1780 (in SC?), died March 1830 in Amite Co. He married a SWEARINGEN (Zilpha?), as well as a 1st unknown wife possibly, and lastly Sarah LOWRY. His children were Henry S., William, Wilson, Susan Elvira, Cynthia, and Sarah Jane. Smyrna, GA


---
ddd DD MMM YYYY 00:00:00






---
Stephanie Powell Mon 21 Dec 2004 20:00:00


BRABHAM / MIXON
My great great grandmother was Mary Armadilla Annadella BRABHAM. I have had trouble finding her father. I was told her mother was Thursa Ann BRABHAM, daughter of Joseph BRABHAM. In the 1870 Amite census Mary is listed in the same household as her mother, but her name is Annadella MIXON and Thursa last name is still BRABHAM. This leads me to believe her father must be a MIXON. Mary was born in 1864. Her mother was born in 1846 so I think Mary's father may have been around the same age as Thursa. Any help would be greatly appreciated. Denham Springs, LA


---
Melanie Brown Wed 13 Oct 2010 20:10:00


BROWN / EVERETT / MARTIN / McGEHEE
We have gotten back to John McGehee (b: about 1842) married to Milissa McGehee (b: about 1845) don't know her maiden name (we believe they were from Amite County). It is our understanding they had 21 children, we were able to locate 12 of those names in the 1880 census [Ellen (F), Mary Jane (F), Marthia (F), Joseph (M), Georgiana (F), Johnie (M), Isaphine (F), Perler (F), Thomas (M), Andy (M), Babe (M), Lucy (F)] Andy McGehee was about 2 years old and the last two children, Babe and Lucy we believe are twins of 2 months. We are unable to figure out if the other 9 children were born before or after those 12, we are wondering if some of them were born into slavery and sold prior to 1865? Andy would've been born about 1878 and he eventually married Mary McGehee (b:?) (maiden name Martin). They had 10 children: Estella (F), Eula (F), Ishman (M), Joe (M), L.H. (M), Mary (F), May Bell (F), Melissa (F), Pearle (F), and Sam (M). Ishman McGehee married Emma McGehee (maiden name Everett) and they had three children together: George McGehee (deceased), Rosia Lee McGehee (deceased), Ruby Lee McGehee (married name Brown) – our family ancestor (deceased in 2000). Ruby Lee McGehee Brown had 13 children, of which 10 are still living. Those descendants of Ruby Lee McGehee Brown either live in Pike County, MS or have moved out of Mississippi, most to Pennsylvania. If anyone is able to help me find out more about Emma McGehee (Everett), find out more about the 9 children missing from John and Milissa McGehee, and/or figure out if they were slaves and if the family goes back further than John and Milissa or possibly a ship they were brought over on…it would be most appreciated. Look forward to hearing from anyone out there, thank you so very much!


---
Joe Metts Fri 24 Dec 2004 19:30:00


FORMAN / ROBERTS / STAMPLEY /TAYLOR / VAN NORMAN / WILKINSON
Looking for the parents of Sarah Taylor b.1/12/1796 in NC d. 9/16/1883 Amite Co.. Also parents of Phoebe Stampley b.1/26/1789 in Natchez Dist. MS. d. 1826 in AMite Co., MS., Parents of Rhoda C. Wilkinson b. ca. 1830 in Amite Co., MS. d. ca 1891 in Amite Co., MS. Jackson, Ms


---
Franklin Jones Sun 26 Dec 2010 19:45:00


COX / ROBINSON
I wish to corrrespond with anyone researching Lawrence Robinson who married Frances Cox. One of their children was Lee Robinson born 1895 in Liberty and moved to Elizabeth, Louisiana


---
Mary Winfield Sentino Mon 03 Jan 2011 20:00:00


BRILL / PATTERSON
I am trying to find a marriage license record for John Patterson who married a woman named Mary (last name unknown) perhaps around 1850. John was once a slave owned by William Patterson of East Feliciana Parish Louisiana and then by Philip Brill (residence unknown). These are my ancestors and I need as much information as I can find on them, including the names of all of their children. I believe the marriage may have taken place in Mississippi. I would greatly appreciate any assistance you can give to me. It is very important to my family.


---
Bettiann White Lloyd Mon 20 Mar 2000 19:45:00


BURNHAM / JACKSON / TALBERT
Looking for family of Elizabeth BURNHAM, and discrepancy on dates. Please help clear this up if you can. Here's what I have: Elizabeth BURNHAM, m 28 May 1820, Isaac JACKSON (b 1755 Buchanan, West VA), Amite Co., MS. They divorced???? WHEN??? Elizabeth then married Jesse TALBERT, 28 Jun 1821. I then show Isaac JACKSON d 20 Dec 1821. Did they divorce before he died, and she then married Jesse TALBERT? Look forward to sharing. Bettiann. [Austin, TX]


---
Rasheedah A. Muwwakkil-Lee Tue 04 Jan 2011 19:30:00


GOWEN / KELLOGG / MACK / MCLEMORE / PALMER
I wish to correspond with anyone researching Percy E. Gowen born 1884 in Woodville Miss who married Edna Mary Mack born 1894 in Whittaker Miss. They resided in Centreville Mississippi / Amite county Mississippi in the late 1800's and had the following children: Ethel Eunice Gowen who married Jesse C. Carpenter; Ella Laura Gowen married Alton Willis; Anna Vivian Gowen who m (1) Alfonzo Matthew and (2) Crear Mitchell; Edna Celestine Gowen who m Richard Crockett who later relocated to Scotlandville LA. . My maternal grandmother was Anna Vivian Gowen Feb 10,1924 - May 31, 2006 some other information that she gave me before she passed was an Indian Women named "Maques" possibly Chactaow/Chickasaw. The Kellogg name she stated originated from the popular cereal brand which started as a working relationship. In our oral history from her she also stated that we were strongly persuaded to shorten the McLemore name to Mack. Please contact me if you have any information that may help. Elk Grove, CA.;


---
E. W. Prichard Mon 21 Aug 2000 20:45:00


DUNN / ROBERTS / SMITH / WOODWARD
I seek information on DUNN, ROBERTS, SMITH and WOODWARD families who migrated to Amite County and the Florida parishes of Louisiana in the early 1800s and intermarried. I am especially interested in the children of Sylvester DUNN and Sarah Janet MONTGOMERY who are known to have moved to Amite County: Agnes DUNN and husband Robert ROBERTS (sons Henry, Sylvester and William all established families in the area); Roger DUNN and wife Sarah ADAMSON (and their children Alexander Montgomery DUNN and wife Eliza COLEMAN, Rachel Maria DUNN and husband Eben WOODWARD, and Margaret English DUNN and husband Abishai WOODWARD); Henry DUNN and wife Elizabeth SCOTT; and Sylvester DUNN and wives Chlorinda MCMANUS, Elizabeth LOWERY. Henry DUNN d. July 18, 1854, in Amite Co., is buried at Trask Cemetery near Norwood, LA, on the LA portion of his plantation. Henry ROBERTS had a son Abishai Woodward ROBERTS who married Lucy SMITH, b. in E. Feliciana, LA. Lucy's stepfather was John Smith WOODWARD, b. about 1823 in MS. I would like to find the family of John Smith WOODWARD.


---
Lyndie House Tue 22 Feb 2011 19:38:00


RUSHING / SULLIVAN
I'm searching for information on Mary J SULLIVAN (maiden name unknown), who was married to William J SULLIVAN in 1897. Not sure if they married in Amite County but the census shows them residing there in 1900. Her children with William were Dennis C, Jun, Bonnie, Belle and Ruby SULLIVAN. She later married Thomas R RUSHING but place of marriage is unknown. Her children with Thomas R RUSHING were Prentiss, Mary Ester and Talmadge RUSHING. Lyndie House; Tampa, FL


---
Loree GilmoreVicksburg MS Thu 03 Mar 2011 20:00:00


FORMAN / HINSON
I am looking for information on Guy Forman. He was married to Julietta Elizabeth Hinson Forman. Guy was born on Oct 31 1875 and died March 22 1917. Julietta was born March 27 1875 and died March 1 1965. I am their great grandaughter. I live in Vicksburg MS. I am looking for Guy's gravesite. He was buried with his two small daughters in a family burial plot somewhere in Amite county outside of Gloster MS. His tombstone reads woodsman of the world. Any info would be greatly appreciated.


---
Elizabeth Montgomery-Arceneaux Mon 23 Apr 2001 22:45:00


MONTGOMERY / PARKER / WEATHERSBY
I am wishing to corresponde with anyone researching WILEY HAMILTON MONTGOMERY, b. 1835, d. 1927, who married (1) JULIA ANN PARKER in 1860 daughter of James Amos Parker & Angelina Webb, and married (2) ADA BARNES WEATHERSBY in 1989, daughter of Walter Barnes Weathersby & Nancy Alice Wilkinson, all of Amite Co., Ms. WILEY HAMILTON MONTGOMERY was a Civil War Veteran. He is buried in the Hollywood Cemetary, Liberty, Ms. Wiley Hamilton Montgomey had brothers and sisters........only one known, William H. Montgomery who married 1866 Calista Wilkinson, dau. of Winston Wilkinson & Minerva Whittington. I would appreciate any information regarding this family connection. Elizabeth Montgomery-Arceneaux (318) 861-1894 email: vesseL747@aol.com


---
Essie Mack Wed 25 Apr 20:45:00


BAILEY / JOINER
I am seeking info on John Bailey and Clarissa Lucinda Joiner who were married in Amite County in 1818. I believe Clarissa's father to be Nathan Joiner and John's father to be William Fleming Bailey. This group is from South Carolina or Georgia. john and Clarisssa later moved to St. Tammany Parish and Washington Parish, LA.


---
==========================================================================
---
Submit A Query






John E. Cain / 1211 Maritime Lane / Wylie, TX 75098
jecain99@verizon.net

---

Copyright &copy John E Cain and the MSGenWeb from 1997 through ; All Rights Reserved with Full Rights Reserved for Original Contributor




Page last Modified: Tuesday, 27-Jan-2015 22:36:39 EST

---