Trapped in a frame? Click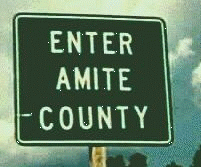 to break free.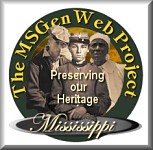 Amite County, Mississippi Queries: Page 12
---
Submit A Query
---
=================================================================== DDD DD MMM YYYY HH:MM:00






---
ddd DD MMM YYYY 00:00:00
---
Larry W. Crocker Wed 02 May 2001 20:45:00
CLARK / ISAACS
Looking for any information on William Clark from 96 Dist SC & Elizabeth Isaack from SC who married March 16, 1812 in Amite County, MS. They moved to the Sabine District of Texas in early 1821. William Clark served in the war of 1812 while in Mississippi.Thanks


---
Teri Lusk Vinson Sun 06 May 2001 13:45:00
BASS / LUSK / WILSON
I am researching the above names - Samuel Lusk (Eliz. Whiteside) left S. Carolina to settle in Amite County. One son, Joseph L. Lusk(1778-1852), married Mary Bass in 1826. He died before all children were grown in 1852. Son, Jasper(1835-) married Castina A. Wilson in 1869. I am trying to find information on both grandmothers and families. A Daniel Wilson is mentioned in reference to Castina (Tiny). A Mark Lusk attested at bonding of Joseph's two youngest children in1853.


---
DDD DD MMM YYYY HH:MM:00
---
Joy Burns Potrykus Mon 04 Apr 2011 19:15:00
BURNS
I wish to correspond with anyone researching the surname BURNS of Amite County, Libery, MS. Specifically, Great Grandfather, M.E. Burns, born 1886, in Mississippi, who later moved to Dawson, Texas. Just beginning ancestry search; believe GG was named for his father, M.E. Burns who enlisted to fight in Civil War 8/10/1864, Liberty, Mississippi, Amite County, MS, 3rd Battalion Calvary Reserves, and 4th Calvary, according to documents found on Footnote website. Specific Interest: Query 298 from Nashville, TN. Thanks very much. McKinney, Texas


---
Fay Alexander Wed 06 June 2001 21:45:00
BATES / CARROLL / CAUSEY
My grandfather was Clarence Bates Causey and was born in Mississippi and is buried in McGown Methodist Cemetary, Jeanerette, Louisiana. He had a brother named Hoyt, twin sisters named Callie and Carrie and a brother named Hunter. I think there are other siblings and they were all born in Mississippi. His wife was Gertrude Imogene Kimbrough Causey of Louisiana. Any information would be greatly appreciated. Thanks. Please send to my home address. w11644p@aol.com


---
Doug Glading Wed 08 Jun 2001 20:45:00
GLADING
I would be interested in any information about the township of GLADING and how it got its name. Presumably there was a GLADING at the source of it ! Doug Glading; Catisfield, Hampshire (England)


---
Sue Lester Sun 24 Apr 2011 19:22:00
DAY
Day I am trying to find any information on Samuel Day, bn abt 1860 in Amite County, MS to Marshall and Nancy Day. His brother is Robert Hampton Day. I believe that Marshall died from wounds in the Civil War. I am trying to find where the two boys were in 1870. Sam (my great grandfather) married Martha Bain in Cass County, Texas in 1883. My grandmother (their only child who lived) was born in Upshur County, Texas around 1888. I have no idea what happened to Sam. Martha is listed as a widow in the 1900 census and is living with her father and mother. Any information would be appreciated.


---
Jo Miller Sun 24 Apr 2011 19:33:00
CLARK / COLE / MITCHELL
I am looking for verification that Drusilla Clark (B: October 1875, Smith County Mississippi; M: James Howard Mitchell, 9 Oct 1909 in Hattiesburg, MS; Father: Frances Marion Clark, Mother: Frances L. Cole) is the great-granddaughter of John Franklin Cole (B: Abt. 1807, Amite County, MS; M: Lucy Plesant Crittenden, 11 Dec 1829, Amite County, MS; D: 1887, Smith County, MS) Any information would be welcomed. Jo


---
DDD DD MMM YYYY HH:MM:00
---
Rebecca Roark Wall Mon 22 Aug 2011 19:36:00
COVENTRY / ROARK
I would love to find anyone who might have information about my great grandmother. Her maiden name was Nancy Jane Coventry. She married Eldridge Waldo Roark in Amite County, Mississippi on November 25, 1875. The had six-seven children: Morris L., Frank H., Jeffie, Mattie, Hattie, Vivian, and Eldridge Waldo. I have found her name in census records as "Nannie J. Roark in 1990. On the 1990 census form, it shows that the parents of "Nannie J. Roark" were born in Mississippi. I can find no other information about this person. Please help! Ormond Beach, Florida


---
Patsy Hughey Brock Fri 02 Sep 2011 19:54:00
BEALL / HUGHEY
I wish to correspond with anyone having information on the children and ancestors of Alexander Hughey abt. 1811 and Nancy Beall about 1814 – both of Amite County, MS.


---
Philip Bohr Thu 08 Sep 2011 21:15:00
MOORE / NEELEY
I am interested in finding out any information on Richard NEELEY and Mary MOORE. They were married in Amite County on October 30, 1834. I believe they had 3 children, George M NEELEY b.1837, Thomas Jefferson NEELEY b.1839 and Martha NEELEY b. 1841. Based on a census record from 1850 in East Feliciana, Louisiana, Richard was born in 1808, I think. Mary was not on this census record. Austin, TX


---
Paul Blalock Wed 14 Sep 2011 20:30:00
JACKSON / RICHARDSON / TOLER / WILKINSON
Interested in exchanging information on Jackson, Richardson, Wilkinson, Toler, VA - SC - GA - LA - MS.


---
DDD DD MMM YYYY HH:MM:00
---
DDD DD MMM YYYY HH:MM:00
---
DDD DD MMM YYYY HH:MM:00
---
Joan Gresham Thu 30 Aug 2001 20:15:00
JENKINS
Seeking information on Wilfred Monroe Jenkins, reputed to have been from Amite County Ms. born about 1843-45. Father was a Mississippi riverboat captain, also owned a plantation/farm. According to family legend, he left home at the age of 17 with his personal belongings and his cow, joined a Brister Wagon train going west to Texas. Met and married a Sarah Ellen Bolgiano, probably in Louisiana. His fathers name was possibly John W. Jenkins. Would dearly love to have any available data on them. His name is mistakenly represented in some circles as George. But my grandfather's birth certificate definitely states his name as Wilfred Monroe Jenkins. So far have had no luck in tracking him down. He and Sarah had 4 children, Suzie, Stella, John W. (my grandfather) and George (who was later shot to death by a step brother at the age of 13. Any help would be deeply appreciated. I understood from family legend that a Jenkins family book which included Harold Jenkins aka Conway Twitty was published some years ago and included my branch of Jenkins. Have been unable to find this book. Any info?? Thanks for your time and help. Joan


---
Louise Fair Henderson Tue 04 Sep 2001 19:45:00
RIDLEY / WESTBROOK
Looking for information about Louie Westbrook. Came from Liberty, Amite County, MS, to farm in Sunflower and Tallahatchie County, MS. Married Edith Gwin Ridley and had three children. Louie Westbrook, Jr., Robert Westbrook and Sarah Westbrook. Have not been able to find any other information. If you should know of this family, and lineage, please contact me at lfhenderson@aol.com. Thank you,


---
James A Smith Wed 10 Sep 2001 20:45:00
JONES / KENNEDY / WEBB
I seek information on the parents of Henry WEBB born about 1846. The 1880 census record for Franklin County shows him married to Matha. Their children: Mary, Eli, Ellen, Clora, Floyea, Eliga, Laura, Francis, Rose and Louise. Henry's daughter Clora WEBB had two daughters - Della JONES and Ola WEBB. Ola was my paternal grandmother; she lived in New Orleans from about late 1930s until her death about 25 years ago. Louise had three daughters - (Twins) Carrie & Callie KENNEDY and Willie Ann KENNEDY. Clora and Louise may have had children in addition to those listed here. It's believed the sisters were born in Franklin County. Any info about ancestery of Henry WEBB and/or his daughters Clora and Louise is greatly appreciated. Jim, 2g-gson of Henry WEBB


---
DDD DD MMM YYYY HH:MM:00
---
John Hollis Wed 15 Oct 2001 20:45:00
CADE / HILLIARD / HOLLIS
I am interested in information on john Cade Jr. who married Asha Hilliard April 8, 1819 in Amite co...John Cade must have died because Ashia later married John W. Hollis (my line). Any information on the Hilliard line belonging to Asha Hilliard would also be appreciated. John Hollis


---
DDD DD MMM YYYY HH:MM:00






---
DDD DD MMM YYYY HH:MM:00






---
N Harding FRI 28 Dec 2001 19:45:00


HORTON / NELSON / PINKNEY
Christopher PINKNEY and Nicey/Nicy NELSON married in Amite in 1873. A Nicey NELSON married Thomas HORTON in Hall Co. GA. in 1821. Thomas died in 1864. Their youngest son of about 12 children was Daniel Pinkney HORTON, who later moved to MS. If this is the same Nicey NELSON she would have been 69 yrs. old when she married Christopher, so I doubt if they had any children. I am especially interested in finding out if this is the same Nicey NELSON. What was the connection between the PINKNEYs, HORTONs, & NELSONs in GA & MS and where and when did Nicey die.


---
Linda Perry TUE 29 Jan 2002 19:35:00


BURROWS / CHALFANT / STORY / WITHERSPOON
I am researching the families of James and Hester Story Witherspoon, Arthur and Mary Witherspoon Burrows, Nathaniel and Caroline Burrows Chalfant. The Witherspoons (Presbyterians) came from Williamsburg, SC to Amite in about 1806. Arthur Burrows was also in the area arround 1800. Nathaniel Chalfant came after the War of 1812. Burrows and Chalfant were Baptists. I am interested in any of the lines of these families. The above is my line of descent. Linda Perry


---
DDD DD MMM YYYY HH:MM:00






---
DDD DD MMM YYYY HH:MM:00






---
DAY DD MMM YYYY 20:45:00






---
==========================================================================
End
---
Submit A Query






John E. Cain / 1211 Maritime Lane / Wylie, TX 75098
jecain99@verizon.net

---

Copyright &copy John E Cain and the MSGenWeb from 1997 through ; All Rights Reserved with Full Rights Reserved for Original Contributor




Page last Modified: Tuesday, 27-Jan-2015 22:36:41 EST

---