Trapped in a frame? Click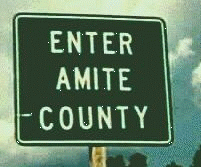 to break free.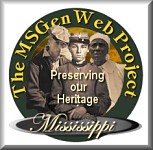 Amite County, Mississippi Queries: Page 10
---
Submit A Query
---
=================================================================== ddd DD MMM YYYY 00:00:00






---
ddd DD MMM YYYY 00:00:00
---
ddd DD MMM YYYY 00:00:00
---
W.A. Reynolds Tue 27 Apr 1999 12:45:00
REYNOLDS
Looking for burial location of: Thomas Reynolds, son of Littleton Pickett Reynolds and Thurza Whittington Reynolds of Amite County, MS. Thomas was killed during the Battle of Munfordville KY, (September 14-17, 1862). His father is bur. at Zion Hill Baptist Church Cem. and mother is bur. at Hollywood Cem. at McComb, MS. Thomas was abt. 15 -16 yrs. old when killed. I understand his body was returned to Mississippi. He served with Co.C, 7th Regiment, Miss. CSA. Thank you for any assistance or corrections.


---
JM Montfort Sun 04 Jul 2004 20:40:00
DAVIS / WREN
I wish to correspond with anyone researching MICAJAH DAVIS who came to Amite County 1803. He married Mary before coming to Ms.Micajah Davis Jr. who married LUCY BELL in Wilkinson County is my ancestor. Dr.John Vincent Wren married Elizabeth VanAllen.William Wren married Susan VanAllen.


---
Michelle Niems Hedgepeth Tue 04 May 1999 16:45:00
HURST / NIEMS / WEBB
William and Delphia Hurst moved into Liberty, Amite, Mississippi about 1857. They owned land there. I believe Pleasant Webb was Delphia's brother. Both families originally came from Georgia. The family lived in Liberty for at least 30 years. Children of William and Delphia were: James, William, John, Lucinda, Sarah, Eli, Cresa, Sampson, and Lavinia. Lavinia was my great grandmother. Does anyone have any information about them?


---
Thomas E Cottrell Sat 08 Nov 2008 21:00:00
CURREY / HART
John HART, b. NC and Angelina CURREY, b. SC, married 26 Jan 1826, Amite Co., MS. Had children: Elizabeth, b. 1827, Jacob Gibson, b. 1830, Barnabas Currey, b. 1835 and Letha A., b. 1843.


---
ddd DD MMM YYYY 00:00:00
---
ddd DD MMM YYYY 00:00:00
---
Gayle Goodman Sat 25 Apr 2009 19:33:00
CARLE / SHAW / WHITTINGTON
I am looking for information on Richard Dowley Shaw, married Mary G Carle in Amite 22 Nov 1827. Children : Horatio, George W, Henry C, Wm H H, John S and Richard J. He lived in Amite for many years . He was an attorney and land owner. **ALSO** I am looking for info on Cornelius Whittington who died in Amite 1835. Married to Rebecca Gilliam, had daughter Stacy who married John Jenkins. They had daughter Amelia , born 1830, married Horatio Shaw 1 March 1855. Horatio is son of Richard Dowley Shaw and Mary J Carle(?). I would appreciate any info. Thanks, Gayle Goodman


---
Albert Dennis Thu 06 Apr 2006 20:00:00
MCCRAY
I am searching for any information available on Rev. Alexander MCCRAY, my great grandfather, who died in Amite County in 1946. One of his sons Moses MCCRAY, my paternal grandfather, was born in Amite County, 01-29-01. Moses migrated to Hammond, Louisiana, year unknown. [Grambling, LA]
Also Seeking
I wish to correspond with anyone researching or have information related to Henderson MCCRAY, born in 1820? who married Rhoda CARTER, born 1822?, they had seven children (Henderson - 1857, Tempy - 1857, Samuel - 1858, Alsey - 1860, Joseph - 1865, Moses - 1867, and Alexander - 1870. This information was extracted from the 1870 and 1880 Mississippi censuses (Amite County).


---
Melinda McLemore Strong Sun 30 May 1999 18:45:00
CARTER / EASLEY / McGREW / RABORN / STRICKLAND / TILLET / VARDEMAN / WENT(E) / WHITE
I would like to correspond with anyone who had families that were part of the migration of 50 or so families from Amite Co, MS to Sabine Co, TX in the 1840s and 1850s. I primarily have information about the following families, Edward WHITE and Elizabeth STRICKLAND, the descendants of James McGREW and Constance TILLET, Amazia VARDEMAN and Unety CARTER. I also have information on several collateral lines such EASLEY, RABORN, TRAVIS, and WENT(E). [San Antonio, Texas]


---
ddd DD MMM YYYY 00:00:00
---
ddd DD MMM YYYY 00:00:00
---
ddd DD MMM YYYY 00:00:00
---
ddd DD MMM YYYY 00:00:00
---
Deb Davis Sun 25 Jul 2004 22:30:00
ANDERSON / DEMPSEY / GREENSBERRY / WILLIAMS
I am searching for descendents of my ggg-grandparents Sandy ANDERSON and Mariah GREENSBERRY. I have found traces of the family in Bolivar, Amite and Washington Counties in Mississippi. I am unsure if the couple ever married. It is my belief they did not. Mariah married Louis Greensberry in Pulaski county Illinois. The only known child of Sandy and Mariah was Peter Anderson. I believe I may have found Sandy in census records in Amite County, Mississippi in 1870 and 1880. I would like to make contact with his descendents for verification. This family consisted of the following members in 1870: Anderson, Sandy age 41 born in LA, Caroline, wife age 27 born in LA, Lacruse age 17 born in LA, Taylor age 11 born in LA, and Ellard or E Loyd age 4 born in LA. Peter Anderson was born Dec 25 1843 in Mississippi. He married Rosetta DEMPSEY. She was born in Arkansas probably in the 1840's or 1850's. They resided in Bolivar County, Mississippi in the 1880 census. A court documents states Peter was from Mound Bayou, MS. In the 1880 Bolivar county census children of Peter and Rosetta were Fred, Preston, Rosetta, Sandy, Mariah, James (female) and Silas. There was another daughter named Peter that I am especially interested in. I have been told she married and remained in Mississippi when the family migrated north to Illinois. Daughter James married James WILLIAMS and had one daughter, It is not know what happened to her after that. I would like to correspond with anyone having information on these ancestors.


---
JoAnn D. Wakefield Thu 11 Jun 2009 21:21:00
SMITH / WILLIAMS
I would like to gather information on Mr. Herman Harris Williams from Amite County MS – Greenville or Cleveland MS. Also, his sister (I think) Etta Louise Smith – also Amite County MS. Thank you, JoAnn D. Wakefield


---
Mitzi Jones Mon 05 Jul 1999 20:45:00
TRAVIS
I am looking for information on my Great Grandfather, Winfield Clay Travis. I know that he was born in Amite Co. in 1859 and that his siblings were Beatrice, Helen, John, Sarah and Addie. His parents died before 1880 as the 1880 census shows Beatrice as head of household. Winfield moved the entire family to Louisiana before 1890. I am searching for the names of their parents. I believe that they were born in Amite Co. also. Absolutely any information would be appreciated. Thanks. [Baton Rouge, Louisiana 70820]


---
Doris Lamb Sun 02 Aug 2009 19:55:00
ANDERSON
Want information about a James Anderson who died in April, 1822. He was probably born ca.1850 in TN. or N.C. He had a son Isaac, b. 1785 in N.C. and sons Asa and John and a daughter Sarah born in GA. He might have married a second time to Elizabeth and had two more children. Thanks for any help. Someone has questioned whether the James Anderson who died the same time as our James Anderson (in Bible) in Amite Co. could have been the same. Doris Anderson Lamb, hdlamb@sbcglobal.net


---
Ann Golias Mon 19 Jul 1999 18:45:00
MIDDLETON
Am seeking information of the family of William F. Sr. and Mary (Unknown) Middleton who had the following children born in Amite Co., Mississippi: Minerva (1831), John Hiram (1834), Mary (1837) William F.Jr. (1839). They also had Jesse Rowan (1842) and Temperance (1847) born after they moved to Caldwell Parish, Louisiana.


---
ddd DD MMM YYYY 00:00:00
---
ddd DD MMM YYYY 00:00:00
---
Teresa Adcock Wed 26 Mar 2003 21:13:00
HOLLIS / MASON
Seeking any information on David Mason that married Eliza Hollis August 21, 1834 in Amite County, Mississippi.


---
ddd DD MMM YYYY 00:00:00
---
Nancy Laird Caillouet Tue 22 Oct 2009 21:45:00
JENKINS / LARD / LAIRD
I wish to correspond with anyone researching W H Jenkins whose wife was J H. W H Jenkins was born about 1846. He, his wife, J H, and four children are listed in the 1880 census for Amite County 3-BT. He was also listed in the 1870 census for Amite County. I believe he is the father of Ida Jenkins who was born 9/1882. Ida Jenkins was my grandmother married to Marcus Ancel Lard (Laird) born 4/10/1876. Any assistance would be appreciated. Montgomery, TX


---
Margaret Benefiel Sat 12 Dec 2009 21:51:00
BACON / BARFIELD / TURKINGTON
I wish to correspond with anyone researching William BARFIELD who married Harriett TURKINGTON. They were married in Amite county, Mississippi in 1810 and had six children, including William C. BARFIELD b. 1823 who married Margaret C. BACON. Many thanks! Margaret Benefiel


---
ddd DD MMM YYYY 00:00:00
---
Alison Duffy Wed 16 Dec 2009 16:41:00
BURNS / WALLER
Looking for information on Waller of Amite/Adams Co. GGG grandmother born 1810/1811 in Amite or Adams County. Also Burns: Looking for any Burns related to Johns Burns of MS/LA. Nashville, TN


---
Janelle Schneider Sun 12 Dec 2004 19:30:00
GUNTER / LUSK / McDOWELL / PARKER
I wish to correspond with anyone researching Abner J. Gunter and Frances Lusk, who married abt 1835. They were married in Amite County and had the following children: M. J. who married William H. McDowell, Samuel H, John F.who married Melissa Collins, Margaret, Frances who married Robert Day, Justina, and Annie (A.M). who married William F. Parker in 1866. They lived outside of Coles, MS. William and Annie's children: William B. (1870), John (1872), Rosa (1873), Peter (1875), Douglass (1881) and Stanley(1882) .Stanley married Tessie Maybel Lusk (daughter of Jasper and Castina Lusk) in 1906, My grandparents were Stanley and Tessie. I'm just starting my research, so I would love any information. Indianapolis, IN


---
==========================================================================
---
Submit A Query






John E. Cain / 1211 Maritime Lane / Wylie, TX 75098
jecain99@verizon.net

---

Copyright &copy John E Cain and the MSGenWeb from 1997 through ; All Rights Reserved with Full Rights Reserved for Original Contributor




Page last Modified: Tuesday, 27-Jan-2015 22:36:38 EST

---