Trapped in a frame? Click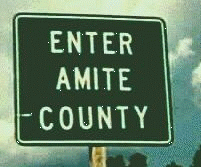 to break free.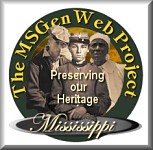 Amite County, Mississippi Queries: Page 9
---
Submit A Query
---
=================================================================== M Shirey Sat 29 Dec 2007 20:15:00


DUKE / RUSHING / SHIREY
I wish to correspond with anyone that may be researching these family names. James Shirey was in Amite County on the 1900 census. I believe that he was married to Mary Duke in Wayne County, MS abt 1880. Thinking is that a daughter Emily (maybe Nancy Emily) married a Uriah K. Rushing. If anyone has any information on any of these families, please contact me. Thanks, M. Shirey


---
Denise Pierce Thu 03 Jan 2008 21:15:00
PIERCE / STERLING
I wish to correspond with anyone researching Paul V. STERLING (b. 29 Jul 1922) who married Ruth D. Pierce (b. 5 Oct 1919 Buffalo, Erie, NY; d. 2 Jan 1993 Gloster, Amite, MS).


---
Charles Adair Sun 27 Jan 2008 20:58:00
EVERITT / GRAY / HAMILTON
Lemuel Gray b: 1830 in Mississippi married Aletha Ann Everett 9 Nov 1859 in Amite county Mississippi. Aletha Everitt b: 1843 d:1915. Lemuel's parents is possibly Sherod Gray and Mary Hamilton married in Amite County Mississippi. This is all the info I have. Any geneology information for the above names is appreciated. Thanks, Charles Adair. DAYTON, TEXAS


---
Arthur A. Young Tue 13 Oct 1998 18:45:00

I wish to correspond with any decendants of Seth and Elizabeth Young. They were married in Amite County in 1829/30. Soon thereafter they owned 19 slaves. I believe my g-g-g grandparents were among those slaves. I would appriciate any help. Thanks


---
Sandra Gilbreath Wed 14 Oct 1998 18:45:00
SINKS
My ancestor , NANCY SINKS , married THOMAS BENNETT of East Feliciana Parish , LA in 1824 , in Amite Co. MS. I do not know who NANCY SINKS' parents were , though I have reason to believe her father's name might have been JACOB SINKS. According to the 1850 St. Helena Parish , LA census , where NANCY and THOMAS resided , she was born abt. 1808 in KY. I would appreciate hearing from anyone who might have knowledge of anyone with the surname SINKS in or around Amite Co. , at any time period , as I am at a dead end in my research. Thank you.Sandra Gilbreath


---
Robert E. Denson Thu 15 Oct 1998 18:45:00
ASHLEY / DENSON
I would like to talk to anyone who has a connection with Thomas Smelley Denson. I am looking for information about the Denson Family. My grandfather was Edward Ellis Denson, Sr. who marred Sarah Elizabeth Ashley in 1904. I have a genealogy that was developed by Hoyt Buttler and would like to meet any of the family members that may still be in the Gloster area. I also need some help on the Ashley family. Were the Ashley's from Amite County?
ALSO SEEKING:
I am looking for information on Marcus Tilling DENSON who moved to Southwest Mississippi some time in the 1850's from Virginia. He was a cousin of Thomas Smelley Denson, who moved to Amite County after the Civil War. Any one having a listing or information on Marcus or any family members please contact me at REDCamping@aol.com.


---
Wesley Jones Thu 15 Oct 1998 18:45:00
SMITH / TOLER
I'm looking for info on a Thomas SMITH, b. 1780/1790 in England?, married Amelia or Milly TOLER 3 Aug 1815 in Amite Co., MS. HE died in 1845 in Amite Co. , MS. He supposedly fought in the War of 1812 at New Orleans. His children: 1. William C. SMITH (b. 22 May 1818) married (13Aug 1840 Amite Co.) - Adeline J. CAUSEY (b. 1827 Amite Co., MS) 2. David J. SMITH (b. 1822 Amite Co., MS) (d. aft 1850) 3. Susanna SMITH (b. 1823 Amite Co.) married Jonas W. CAUSEY 1837; died in Rapides Par. LA.


---
ddd DD MMM YYYY 00:00:00
---
C.A. Pevey Mon 30 Dec 2002 20:40:00
STEUART
I wish to correspond with anyone who can help me locate the book intitled "Steuart Family of Amite County". My family has one copy and we would like to obtain a few more.


---
Greg Poynor Sat 23 Feb 2008 22:00:00
POYNOR / POYNER
I wish to correspond with anyone researching Stephen Smith Poynor (Poyner) who died August 31, 1838 by accidental gun-fire; husband father. Anchorage, Alaska


---
ddd DD MMM YYYY 00:00:00
---
ddd DD MMM YYYY 00:00:00
---
ddd DD MMM YYYY 00:00:00
---
ANN C. DAVIS Sat 15 Mar 2008 20:50:00
MCDOWELL / STRIBLING
AM VERY INTERESTED IN INFO CONCERNING TALIAFERRO STRIBLING & WIFE MARGARET MCDOWELL STRIBLING. TALIAFERRO WAS A PIONEER IN AMITE COUNTY, DYING THERE IN 1823. THE COUPLE WERE PARENTS OF 5 CHILDREN -- WOULD LIKE THEIR NAMES. MARGARET MARRIED GIDEON SLEEPER AFTER THE DEATH OF TALIAFERRO. WOULD LIKE TO FIND THE PARENTS OF TALIAFERRO & ANY OTHER GENEALOGICAL FACTS ABOUT THIS FAMILY. THANKS IF YOU CAN HELP. REGARDS, ANN C. DAVIS. TIFTON, GA.


---
ddd DD MMM YYYY 00:00:00
---
Anita Turner Sun 15 Nov 1998 18:45:00
COURTNEY / LOFLIN
Elias William COURTNEY married Julia LOFLIN in 1826 in Amite County, MS. Children were Alexander Wade and Melinda. I'd love to hear from anyone else researching this line. Thanks!!


---
ddd DD MMM YYYY 00:00:00
---
Betty J. Seales Tue 01 Jun 2004 20:45:00
SEALE / SEALES
elizabeth A. Seale ,born 1827,last known address-Liberty Rt.D,No.3--applied for civil war pension at age 89 , Aug. 9, 1916--married to Elijah Seale ,Aug. 8, 1944. Elijah enlisted in Civil War in 1861, and served in T.R. Kell Co. 2nd mississippi Reg.,3rd Brigade. Elijah was discharged from Conferderate army May 13,1865 from Griffiths Reg., comp A. Elijah died in franklin county , mississippi,Oct , 1875. I am also looking for information on their son William Seale who was born Oct 16, 1845 , in McComb, Mississippi area???? William is my children's Great-Grandfather and Elijah is my children's Great-Great Grandfather. Our family has no record of Elizbeth's maiden name and or exact birthdate, or marriage/death date. Can anyone help us fill in the pieces. My ex-husband's grandfather, William, died at age 92, on Aug. 15, 1938, in Madisonville, Tx. He was a Blacksmith by trade. I would appreciate any help you can give about the above, and if anyone has any information about elizabeth and elijah's parents, it would be very much appreciated. Thank you, Betty Seales; 3127 Drennanburg Ct.; Katy, Tx 77449


---
Jeannette Masear Thu 03 Jun 2004 20:00:00
COURTNEY / GERMANY / JOHNS / McCRAINE / VARNELL
I am looking for Nancy Germany born ca. 1803/4 in GA and married John McCraine/McRaine/McCraney in Wilkinson County, MS in Jan. 1828. John and Nancy can be found on census living next to Murdock McCraine the father of John. (I have copy of certified marriage bond and of Murdock McCraine's will proving the grandchildren.) Perhaps Nancy was married previously with no children or changed her name to Germany (Orphaned Nancy Varnell born abt. 1810 was raised in Germany household). I would like any suggestions, I have been stuck on Nancy for years and can not prove her parents....she is listed on the census, .marriage bond (which was also signed by William Varnell), land sales, her children in Murdock McCraine/McCraney will and tax lists. Thanks for any help. Jeannette. Des Moines, IA


---
David Sullivan, Jr. Tue 24 Nov 1998 19:45:00
SULLIVAN
I wish to correspond with anyone researching family of Clinton SULLIVAN who married Louise (?). One of his brothers was Reubin SULLIVAN married to Eva (?). Clinton SULLIVAN lived and died in Liberty, MS where he had several children including: William Clinton SULLIVAN; Paul SULLIVAN; Wayne SULLIVAN; Emma Sue SULLIVAN; Christine SULLIVAN; Daniel SULLIVAN; Sara (SULLIVAN) ARNOLD. (Mobile, AL)


---
Jules Delambre Sat 28 Nov 1998 18:45:00
HANNA / KNOX
Henry Hanna Knox who married Louisia L. Kent in East Feliciana Parish Louisiana on 11/28/1844 is my great great grandfather. He may be the son of John Knox, who received a land grant in Amite County in 5/23/1810 and related to Henry Hanna who received a land grant in 3/9/1810 and served in the Mississippi constitutional convention in 1817. John Knox served in the War of 1812 and there are records that his will was probated in 1823. Because I live in Frankfort Kentucky it is difficult to visit the Amite County court house or library to check unique records that might confirm Henry Hanna Knox's relationship to either John Knox or Henry Hanna, I would appreciate any information anyone can share with me about this early period in Amite county's history and the families of these two individuals. Both John Knox and Henry Hanna received land grants in Amite County in 1810. Both are listed in the 1816 Census. In the 1820 census Amite County had 4 Knox households, including that of John Knox. Henry Hanna apparently died around 7/26/1820 and John Knox died in 1823. Amite County 1699-1890 has a number of references to both families, but neither family appears in the 1850 census of Amite County. I suspect a link to Henry Hanna Knox, who married Louisia L. Kent on 11/28/1844 in East Feliciana Parish, Louisiana and who appears in the 1950 census of East Feliciana Parish age 30 with a daughter (my great grand mother) Love Anderson E. Knox, age 3. Any information on the names of the wives, parents. or children of John Knox or Henry Hanna would be appreciated. If anyone has a reference to Henry Hanna Knox being a child in any other Knox household that information would also be appreciated. According to census records and family memories H.H. Knox was born in 1819 in Mississippi and his parents were John and Agness Knox, who were born in South Carolina.


---
Colette Gritz Wed 19 Mar 2008 19:35:00
GRITZ / HARPER / STREET
I am searching for the Harper family. Amite Co. Mississippi. Particularly; Elizabeth Harper born in 1914. Gave Birth to a son named Douglas Wayne Harper on Feb 13 1941 in New Orleans La. Douglas W. Harper gave up for adoption in New Orleans La approximately @ 2 weeks of age. Adopted by Dr & Mrs Richard M. Street. Any information on any family from Elizabeth Harper would be greatly appreciated. Colette A. Gritz/ Street


---
ddd DD MMM YYYY 00:00:00
---
Selden ARMOUR Sat 02 Jan 1999 18:45:00
GOLEMAN
Looking for information of Col. Ferdinand Claiborn's Regiment of Miss. Militia. Believe this unit was from Amity County area and was active during the War of 1812. My ggg-grandfather, Young GOLEMON served in this unit. Mobile, AL


---
Lajuan Pruett Boyle Fri 14 Feb 2003 20:20:00
TALBERT / TAYLOR
TAYLOR: I would like to corrspond with anyone knowing the history of Nimrod Taylor (ca l850-l839) All my notes say his son Thomas (l776) married Hannah Talbert and that Thomas died in l835 in Amite. According to papers filed by Nimrod's son-Wm--in about l839, the papers listed his son Thomas as being in Nacogdoches Dist Texas. So he couldn't have died in Amite in l835 and still be listed in the estate papers as the Thomas who was in Texas. My Thomas B Taylor was in Nacogdoches in l840 and did not die until ca l858 and he m Olivia Brewer in l8l6 St Tammany Parish La. Any help you can give me will be appreciated. Ps I had a Cain line. Thanks, Lajuan Pruett Boyle


---
Bob Allen Thu 03 Jun 2004 20:00:00
ALLEN / COCKERHAM / COOK / COONSE / DENMAN / FORREST / FREEMAN
I am looking for information on Sarintha Forrest, b. 1829. Her daughter, Jane Elizabeth Forrest, b. 1848 married Joseph Henry Allen of Livingston Parish, LA and is my g-grandmother. I do not know if Forrest is Sarintha's maiden or married name. The 1850 census she and Jane living w/ another family. I am also looking for the family(s) of Annis Coonse and Henry Lard who married in 1832 and whos son Thomas Madison Lard is my g-grandfather. I also have family by marriage named J. I. Freeman from Hammond, LA abt 1900, who's family may have come from the Amite, Co. area. Any clues would be appreciated.
ALSO SEEKING
I am looking for the family of Sarintha Denman, b.1829. She is my ggg grandmother. I believe she married Bishop Forrest in abt 1848. They had one daughter, Jane Elizabeth Forrest who married Joseph Henry Allen in St Helena Parish, LA in 1864. Sarintha & (Jane) Elizabeth Forrest appear in the 1850 Amite Co Census living w/ a Cook family. Elizabeth, only, appears in the 1860 census w/ the Cook Family. Any leads on the Bishop Forrest connection or the Denman connection would be appreciated. Berkeley, CA


---
Brian Rice Tue 25 Mar 2008 16:30:00
RICE
I am looking to correspond with anyone who has information on the RICE genealogy of Amite, MS. My great-father (Iverson Rice) is believed to be the son of Robert T. Rice last know to reside in Beat 1, Amite, MS in the 1880's. Robert's birth is about 1863 in MS. Any information you can provide would be very helpful! Thanks, Brian Rice ( Cincinnati, OH)


---
ddd DD MMM YYYY 00:00:00
---
Phil Morton Thu 29 May 2008 21:00:00
BRABHAM
I wish to correspond with anyone researching the Brabham family of Gillsburg, Ms. I don"t know much. My grandmother Claudia Brabham was born in 1914. She had 2 sisters. Lucile Brabham was born in 1910. I'm not sure about the other sister. I would appreciate any information at all.


---
Don Smith Thu 30 Jul 2008 19:17:00
SMITH
I would appreciate any help in locating any info on Bartlett Smith and his wife Catherine. Specifically: Bartlett's father,Britton, and his hometown. The 1860 census says the family was in Amite county.


---
==========================================================================
---
Submit A Query






John E. Cain / 1211 Maritime Lane / Wylie, TX 75098
jecain99@verizon.net

---

Copyright &copy John E Cain and the MSGenWeb from 1997 through ; All Rights Reserved with Full Rights Reserved for Original Contributor




Page last Modified: Tuesday, 27-Jan-2015 22:36:38 EST

---