Trapped in a frame? Click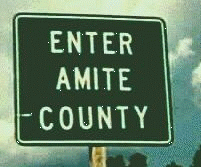 to break free.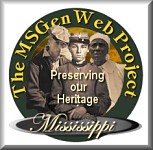 Amite County, Mississippi Queries: Page 8
---
Submit A Query
---
=================================================================== DDD DD MMM YYYY HH:MM:00






---
Herbert Ray Ashworth Wed 27 Nov 2002 18:37:00
ASHWORTH / CHAPPUIS / FITE / HANSFORD
Researching the ASHWORTH Surname and wish to correspond with the family of Leonard ASHWORTH and Laura Neil FITE (Laura married 2nd Maurice Chappuis). They were married 18 Oct. 1936 and had a son, Leonard Julius Ashworth, born 5 Apr. 1937; married 8 Sep 1960 to Mary Louise HANSFORD. The family lived in Amite Co., MS. Any help will be appreciated and will exchange. 5017 Barkshire Dr. Memphis, Tenn. 38141-8477


---
Mollie Clair Marsh Tue 09 Jun 1998 18:45:00
HUGHEY / MARSH / WESTBROOK\
My grandmother is the daughter of David C. HUGHEY and Marietta WESTBROOK. She was born in Liberty, Mississippi on December 23, 1904. According to the information I have found, her mother was Sarah Holton Greenwell and her father was SEABORN JONES WESTBROOK. Marietta was born in Mount Olive/Amite County. SEABORN'S father was EDMUND SMITH WESTBROOK and his mother was Francis Emily MARSH. From there I have lost all connections. Can someone please help? There are several Westbrook's living near me and we can all trace back family members to the East Fork Cemetery -- however, we cannot find the missing link. My main questions: 1. Seaborn was born in Louisiana but buried at Mars Hill Cemetary in Smithdale, MS. However, he must have moved back since my great grandmother (Marietta) was born in Mount Olive. Can anyone find any connections? 2. Edmund Smith Westbrook married a Francis Emily Marsh -- that is my family name. I have lots of information on the Marsh side but cannot find a connection to this woman and am wondering if one does exist. On the Marsh side, there are the following names: James H. Marsh, Captain Marsh, Anissa Hyde, Cyrus Hyde, Rufus Hyde, and ______ Hazen? Does this ring a bell with anyone? Thanks for all help!


---
Lorene Rambo Fri 12 Jun 1998 20:45:00
BOND / FELDER / HYDE / ROBERTSON
Researching several Amite connections: Samuel HYDE married Mary ROBERTSON 15 March 1810, Amite County Marriages, Book 1, page 35. Thomas M. BOND married Rachel FELDER 29 Feb 1829, Book 2, page 273. Both of these couples are my gggrandparents. I would be pleased to share data with anyone researching these names--particularly anyone who knows anything about the background of Samuel HYDE.


---
Cheyrl Hill Wed 25 Jul 2000 19:30:00
COON / HILL
Am trying to find the family of Earl Hill. His daughter was supposed to be postmistress at Centerville. Earl is the nephew of my GGF, James Franklin Hill. I know that Earl took care of his grandmother. I am trying to find the parents and siblings of James Franklin Hill (1873, Adams, MS - 1933, Hinds, MS). He married Mary Melissa Coon (1876, Wilkinson, MS - 1949, Hinds, MS). I know that Centerville straddles the county line, so am posting in both counties. I apologize for the multiple mail to those who subscribe to both lists. Thanks.


---
ddd DD MMM YYYY 00:00:00
---
ddd DD MMM YYYY 00:00:00
---
ddd DD MMM YYYY 00:00:00
---
Gilda Snowden Sun 15 Oct 2000 19:45:00
PERRY
I wish to correspond with anyone researching JAMES PERRY, and his family and descendants. He lived in Amite County, and had the following children: Author [or Arthur], Calvin, Maggie, Erie [or Arie], Mattie, Anna, Harrison [who was my maternal grandfather, born circa 1895], Jessie, Joe Lou, France, Archie, Jane, and Ida. They were African-American, and owned land that was later acquired by Standard Oil. Gilda Snowden, Leoqueen@aol.com. Detroit, Michigan


---
ddd DD MMM YYYY 00:00:00
---
ddd DD MMM YYYY 00:00:00
---
Jennie Livingston Sun 10 Oct 1999 18:45:00
DILLON / EDWARDS / MARSALIS / MAY / MERCER / SHORT / STEELE / WHITEHEAD
Looking for names MARSALIS, MERCER, SHORT, WHITEHEAD. Clifford Vance Marsalis married Josephine Whitehead 31 Oct. 1888 Amite Co.; J. F. Mercer mar. Martha L. Whitehead 13 Jul. 1866 Amite Co.; Mary Ann Short mar. Elias Whitehead 25 Sep. 1858 Amite Co. The Whitehead's are siblings of my G grandfather, Flavius Josephus Whitehead, and I am trying to find out more about their parents, Walter "Weighty" Whitehead and Mary Ann Jackson. I know they were born in La. but these children moved to Ms. Any help on the parents will be most appreciated.
Also Seeking
I am interested in corresponding with anyone researching: JOHN P. DILLON who married LUELLA STEELE in Amite Co.; JOSEPH MAY who married SARAH JANE (CHESSER) MCLAIN and with their children of previous marriages, moved to Amite Co.; JAMES BUCHANAN STEELE who married REBECCA ANN CAUSEY in Amite Co.; F.J. WHITEHEAD who married FRANCES MCGRAW then married her sister, NANCY (MCGRAW) BERRY in Amite Co. These people are my grandparents, G grandparents and GG grandparents. [Summit, Ms.]
AND
Edwards: I recently photographed an Edwards Cem. in northeast Amite Co. All the stones are broken, but we idendified 11 stones with most of the people having been born and died in the 1800's. The earliest born was Joseph A Edwards born 1793, died 1876. If anyone would like a list of all buried there, contact me. Maybe some of your ancestors are there.


---
Joan Rose Tue 21 Jul 1998 18:45:00
FOSTER / VALENTINE
Does anyone have any information on the Valentine family in Amite County? According to the wedding bonds posted for his daughter, Rebecca, in 1811, Thomas VALENTINE was a resident of Amite County. He formerly lived in South Carolina. I know that later he and his family were in Louisiana. But what about his sojourn in Amite County? Where did he live? Would like any information. (Besides his daughter, he had several children, including a son James.) Also: Would like to find parents of NORRIS FOSTER who married Rebecca Valentine in Amite County in 1811. According to marriage bond, he was a resident of the coutny. According to later census info, he claimed Kentucky as his birth place. According to family "hand me down" but unverified, his father's name was James. Is this the James Foster who had an old Spanish land grant in "West Florida" a few years earlier? Thanks for any information on Foster's early history.


---
DDD DD MMM YYYY HH:MM:00
---
Amy Grant Wed 22 Jul 1998 18:45:00
HOLLINGSWORTH / MCCULLEN
I am researching Addison H. HOLLINGSWORTH who married Clarissa Ann MCCULLEN. Addison was born 1824 in Lawerence CO., MS and died January 17, 1892 in Coryell Co., Texas and buried in Prairie View Cem. Clarissa Ann MCCULLEN was born October 31, 1829 in Amite Co., MS and died February 10, 1917 in Coryell Co., Texas Together they had 11 children: Rev. John Isaac Hollingsworth b. December 10, 1850; David Perry 'Bud' Hollingsworth b. October 29, 1852; Isham Micajah Hollingsworth, Sr. b. February 18, 1854; Alford McCullen Hollingsworth b. November 07, 1856; Stephen Berry Hollingsworth b. December 09, 1857; William Andrew Hollingsworth b. November 01, 1859; Richard Lee Hollingsworth b. August 23, 1864; Sarah Elizabeth 'Bettie' Hollingsworth b. 1866; Joseph Addison Hollingsworth b. May 10, 1869; Dock Harrison Hollingsworth b. December 13, 1871; George Gilliam Hollingsworth b. November 1874; I think Addison and Clarissa married about 1849 in Newton Co.,, Mississippi. I'm searching for anything on the Hollingsworths or any any on the McCullens! Thanks Amy Grant, Arlington, Texas


---
DDD DD MMM YYYY HH:MM:00
---
Michael Hunt Wed 25 Jul 2007 21:45:00
HUNT
I am trying to determine if the David Hunt listed in the 1820, 1830 and 1840 Amite County Census is the father of Samuel Hunt who was born in Mississippi around 1812. Samuel, one of the oldest of a large family, all born in Mississippi, relocated to East Feliciana Parish by 1838. It appears Samuel Hunt's mother, is named Lelia and she relocated to East Baton Rouge Parish by 1850, without the father who had probably died. If you have any insight into this I would appreciate your help. Michael Hunt


---
Don Thomas Mon 03 Aug 1998 18:45:00
GARLINGTON
I wish to correspond with anyone researching Christopher Garlington V who was born December 17,1756 in Johnson County, South Carolina and died April 9,1843 in Amite County, Mississippi. Would like to find gravesite!


---
M.D. White Fri 25 Oct 2002 19:56:00
KELLY / RICHARDSON
I am looking for information about Harriot or Harriet Kelly and Elias Richardson who were married in Amite, MS on 23 Jul 1818. They may have moved to West Feliciana Parish by 1830. I would like to identify parents/brothers/sisters and related information. Thanks for your help.


---
DDD DD MMM YYYY HH:MM:00
---
DDD DD MMM YYYY HH:MM:00
---
Doris Ryan Sat 24 Apr 2004 19:30:00
GRAHAM / PARKER / RICKS / STRICKLAND(STRICKLIN) / THOMPSON
Need burial site of CATHERINE ELLEN GRAHAM THOMPSON STRICKLAND, died 4 March 1936 at the home of a son, Bill STRICKLAND, with whom she & her husband were living in 1930 (census). Catherine was b. to Zachariah GRAHAM and Celia PARKER 25 Sept. 1853 in Washington Parish, La. She mar. Hezekiah THOMPSON, s/o John Washington THOMPSON and Frances "Piety" RICKS, 9 Nov 1871 in Tangipahoa Parish, La. Secondly, she mar. Simpson Monroe STRICKLAND 30 Oct 1879 in Tangipahoa Parish. Shortly thereafter they moved to Amite Co., Ms., between Centreville and Liberty, I believe. Advice as to where to locate any proof of death would be much appreciated. D. Ryan


---
DDD DD MMM YYYY HH:MM:00
---
ROBERT E. WILLIAMS Sun 16 Aug 1998 18:45:00
BRADLY / LEDBETTER / WILLIAMS
I AM LOOKING FOR INFORMATION ON MY GRANDFATHER (JACK C WILLIAMS) AND GRANDMOTHER (ANNIE L. WILLIAMS ) (MAIDEN NAME BRADLY) WHO LIVED IN AMITE COUNTY (LIBERTY,MS) BACK IN 1932 WHEN MY FATHER WAS BORN. ALSO I WAS TOLD THAT MY GREAT GRANDMOTHER WAS BURIED IN LIBERTY,MS. BACK IN 1930 OR 1931, HER NAME WAS ( NELLIE MURLE BRADLEY ) (MAIDEN NAME LEDBETTER) AND MY GREAT GRANDFATHER'S NAME WAS W.C. BRADLY). I WOULD APPRECIATE ANY INFORMATION AVAILABLE. PLEASE E-MAIL ME AT RWILLI9048@AOL.COM. THANKS FOR YOUR HELP. ROBERT E. WILLIAMS


---
ddd DD MMM YYYY 00:00:00
---
ddd DD MMM YYYY 00:00:00
---
Jane McBride Sun 30 Aug 1998 18:45:00
CARPENTER / DRENNAN / SIBLEY / SLAYTER / STRANGE / WILLSON/WILSON
Am researching Isham STRANGE who married Mary DRENNAN, lived in Amite Co., Ms while it was a territory, and then for several years afterward. Some of the children went to Hinds County, Ms., and married there..; They had the following children: David died unmarried, 1838; Edmund Patterson md (!) Sarah Adams, (2) Fedelia Stevens, (3) Amanda meek; William Henry married Martha Willson; Michael Bird married Mary Ann Kyle; Anna married John Carpenter; Eleanor married William J. Sibley; Mary Ann married John Slayter. Anyone researching these lines, would be glad to hear from you. Thanks, Jane McBride


---
James Fleming Tue 16 Oct 2007 20:00:00
FLEMING
I am researching the early Fleming's of Amite county James H.Fleming b.1815 in Amite county MS. do you know who his parents and brothers and sisters are.Any information on the Fleming's with ties to Ky. Ga. and Tn. My Ancestor W.W.Fleming b.abt.1807 in Jackson county Ga,.was a blacksmith as was James H.Fleming


---
Darlene Steele Fri 30 Nov 2007 21:00:00
CRAFT / McMINIS
Hello! I am seeking the parents and/or siblings of my gg grandmother Rutha McMinis, Craft. She was born in 1817, and married my gg grandfather in 1836 in Morgan County, Alabama. I found a Samuel and a Charles McMinis in Amite County in 1816. I am wondering if Rutha could possibly have been related to them. Any information would be most helpful. Thank you for your time. I truly appreciate it.


---
DDD DD MMM YYYY HH:MM:00
---
==========================================================================
---
Submit A Query






John E. Cain / 1211 Maritime Lane / Wylie, TX 75098
jecain99@verizon.net

---

Copyright &copy John E Cain and the MSGenWeb from 1997 through ; All Rights Reserved with Full Rights Reserved for Original Contributor




Page last Modified: Tuesday, 27-Jan-2015 22:36:37 EST

---