Trapped in a frame? Click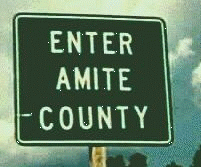 to break free.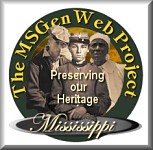 Amite County, Mississippi Queries: Page 7
---
Submit A Query
---
=================================================================== Carol Peele SUN 11 AUG 2002 20:45:00


McALLISTER
Researching my 4th great grand father Who was: John McAllister born between 1770-1775, Ann (Wife) Children: Benjamin born 22-Dec-1792 md Caty Cagle in Amite Co. on 11-Jan-1816 (My Line) Matilda born 13-Sept-1796 md John (Jack) Rogers on 6June-1818 in Amite Co. Frances born 27-Oct-1798 in South Carolina md. Drury Watson on 17-Jan-1822 in Amite Co. Jonathan Day born 23-Sept-1799 md. Anna Watson on 22-Nov1825 in Copiah Co. Martha born 9-April-1807 in Amite Co. md. (Jack) John Harper on 6-Jan-1824 in St Helena Par. La. Charles L. born 5-July-1808 in Amite Co. md Mary Cagle on 8-Dec-1831 in Copiah Co. John McAllister and his family spelled their name McCollister, McAlister, McAllsiter ang McCallister. I would be glad to exchange information with anyone researching these families. I have lots of information on them but searching for more information. John arrived in Amite Count 1804 (from probably) South Carolina. My address is Carol Peele 3438 Pikeville-Princeton Rd. Pikeville, North Carolina 27863 My email address is carolpeele@aol.com Thank you for posting my Query.


---
Jon P. Ewing TUE 10 SEP 2002 11:57:00
EWING / LAMBERT / RABORN / RILEY / STEWART / WINN
I wish to correspond with anyone researching descendants and/or ancestors of John Bertram EWING (b. 1806 in PA, d. 11 JAN 1855) who married Amanda Mary STEWART (b. 4 APR 1829, d. bef 1860). They were married in Amite County Mississippi on 8 MAR 1849 and had the following children: 1. Mary Julia EWING (b. 1 MAY 1848, d. 20 NOV 1914) who married William RABORN (b. 31 JUL 1841, d. 18 AUG 1902) on 10 DEC 1868. 2. John Joseph EWING (b. 3 JUN 1850, d. 11 SEP 1876) who married Rhoda G. LAMBERT (b. 5 JAN 1856, d. 17 OCT 1942) on 23 OCT 1873. Children: 2a. Lionel Lee EWING (b. 11 SEP 1874, d. 1950) who married Helen Onieta WINN (b. 13 MAY 1887, d. JUN 1976) on 23 SEP 1908 in Amite Co. Children: 2a1. Lionel Lee EWING Jr. (b. 12 JUL 1909, d. MAY 1876) 2a2. Jewel Winn EWING (b. 17 JAN 1914, d. 13 SEP 1991) 2a3. Lou Shelton EWING (b. 1 DEC 1917) 2b. John Bertram EWING (b. 5 AUG 1876, d. unknown) 3. Robert Stewart EWING (b. 1 JUN 1853, d. 6 DEC 1911) who married Emma E. RILEY (b. 23 JAN 1857, d. 18 FEB 1884) on unknown date. Moved to Pointe Coupee Parish, LA. Children: 3a. Rufus Sidney EWING Any assistance or additional information would be greatly appreciated. Regards, Jon P. Ewing, Orange Park, FL


---
Robert Carter Sun 15 Sep 2002 21:45:00
CARTER / RABORN
I would like to communicate with anyone having information on Carters or Raborns of Amite County, MS, and particularly Richard Tilman Carter or Richard Dickson Carter. Texas


---
ddd DD MMM YYYY 00:00:00
---
Judy Canant Fri 20 Feb 1998 19:45:00
CANANT / CANNET / CONANT / CONNANT
My husband's great grandfather, William CANANT, was born in Mississippi 17 Feb 1843, and we do not know which county, but think it may have been AMITE Co. He died 20 Apr 1821 in Cullman, AL. He was married to Amanda Missouri YEILDING b 5 Mar 1845 in AL, d 30 Nov 1943 Cullman Co, AL. Their son, John Melton CANANT b 26 Jan 1865 Walker Co, AL, married Mary J RATLIFF b 6 Sept 1865, d 24 June, 1929 LaMarque TX. I have found several RATLIFFs, which I believe are members of the same RATLIFF family, who went to Amite Co, MISS. I know this is a long shot, but do any of you RATLIFF descendants in Amite Co have anything at all on the CANANT family? Thanking you in advance. Judy Canant AsLanJ@aol.com


---
Marvin Schubert Fri 28 Feb 1998 18:45:00
DUPREE / NEWMAN / NOLAN / NOLEN
I wish to correspond with anyone researching Hezekiah Newmanand his children. Hezekiah Newman b. Abt. 1783 and wife Deborah Dupree, child Elias Newman Abt. 1810 - Abt. 1865 sp.Nancy Harkness, 2nd Wife , Luclus Brookhaven, 3rd Wife of Elias Newman, Susan Nolen Abt. 1834 - 2nd Wife of Hezekiah Newman: Nancy Cockersham , children: Solomon Newman 1824 , James Newman 1826, Elizabeth Newman 1830 , Hezekiah Duncan Newman 1832 , Seaborn Newman 1834, Silas Newman 1835 , Martin Van Buren Newman 1836-1838.
My Website


---
Betty Atkinson Sat 30 Dec 2000 18:45:00
COBB
James Cobb 1850 Amite Co, MS. This man and wife Martha A. were in the census for 1850 with children Samuel J. and William G. Does anyone know anything about these folks. I've also found Cobbs in Wilkinson and Franklin Cos who are listed in the census as being born in Amite Co. I find also a William L. Cobb b. c 1779 in Franklin Co, Ms in the 1850 census with wife Arminda and an Easter Cobb age 65 b. GA. There is an Albert Cobb age 18 in the 1850 Amite census that says he was born in Franklin Co. Anyone know how these folks all relate? BJ


---
ddd DD MMM YYYY 00:00:00
---
ddd DD MMM YYYY 00:00:00
---
ddd DD MMM YYYY 00:00:00
---
Aaron McMorris Mon 26 Mar 2007 21:45:00
MCMORRIS
I am looking for information on Alexander McMorris (b. ~1771, d. 1841) who was born in Fairfield County, SC and moved to Amite County in the Liberty city area around 1810. He was married to Elizabeth Baxter and I think had nine children, of which I am interested in William if you have any information pertaining to him also. Any leads would be greatly appreciated.


---
Susan Polizzi Tue 08 May 2007 20:30:00
LUNDY
I'm looking for information on the Lundy family of Amite,MS Drury ( DOD 1816) & Elizabeth ( DOD 12/25/1837)Lundy both died there. Where are they buried? Their children: Samuel,1819; Lucy A 1821; Elizabeth A 10/14/1828 John G. 1830; Charles Pickney 1831; James S 1834. All were born in Amite or Pike Co. If anyone has info on this family, I'd appreciate the help. This is family on grandmothers side that none of us ever knew anything about.


---
ddd DD MMM YYYY 00:00:00
---
Cheryl Ellis Sat 18 Apr 1998 16:45:00
BERRYHILL / CAUSEY / DIXON / JACKSON / RICHARDSON / TOLER
I have found two separate versions in print of who the parents of Isaac and Thomas Jackson were. Do any of you thousands of cousins have definite information on this? The Sumter Historical Society, SC, has a different version from the John Jackson cited in our cousin Minnie Lee Crum's DAR research.


---
Cheryl Ellis Sun 19 Apr 1998 21:45:00
BASS / MCCOY / ROLLINSON / STERLING / TAYLOR
My great-grandmother, Eliza Jane Sterling, was first married to John Rollinson, who died in the Civil War (We have long generations.). She married Samuel Carlos Sterling in the 1860s. Her maiden name was supposed to have been Taylor, according to my grandfather, Elias Hyde Sterling. I believe her parents were Elias Taylor and Lavinia Bass, who were married in Amite County in 1818, for several reasons. My grandfather and his sister have the same names, Elias and Lavinia, and my grandfather once said that his grandmother told him her daddy was Moses Bass. Lavinia was a daughter of Moses Bass. I've never been able to find a record of Eliza's marriage to John to confirm that her maiden name was Taylor. Does anyone have a record of the marriage of Elizabeth Jane Taylor and John Rollinson (Rawlinson)?


---
Sandy L.Freeman Wed 09 May 2007 21:00:00
FREEMAN / LENARD
Looking for any information or descendants of the Joel Freeman that was married to Sally Lenard and living in Amite County around 1830 ...Ruston, La.


---
Judy Owens Sat 30 Sep 2000 20:45:00
FENN / GRAHAM / JONES / RAINEY / SIBLEY / WESLEY
I am seeking information on a Thomas Jones, born 1818. He married Eliza Jane Fenn in Amite County on August 6, 1858


---
Lydia Smith Thu 07 Jun 2007 20:00:00
CAPELL / McCOY
Searching for parents & siblings of Fielding Barron McCoy (born 1800 SC) married Dec 31 1831in Amite Co,MS, Lovey Capell (born 1806 in SC), daughter of Littleton & Catherine Capell. Any info,ideas,leads, or suggestions would be appreciated.


---
ddd DD MMM YYYY 00:00:00
---
Debbie Reid Mon 18 Jun 2007 22:15:00
LUSK / TERRELL
I am looking for information on Missouri Lusk. She was born on the 18 Nov. 1859 Amite, Mississippi. And married Robert Newton Terrell on the 9 Nov. 1880. She died on Dec. 23, 1937 In Liberty, Mississippi. I was told that she was Native American. So any information you can about Missouri Lusk give me will be greatly appreciated thank you. Her surname was: Lusk


---
Maureen Downey Wed 004 Jul 2007 21:00:00
LAMBERT / RAVENCRAFT
I am researching the Lambert family living around Liberty, MS. My connection is through W. P. Lambert who married Belle Ravencraft 4-27-1887. I would appreciate any information anyone could provide. I would be pleased to share information that I have. Tangipahoa Parish, LA


---
Sarah Dethloff Tue 05 May 1998 19:45:00
JACKSON
I am searching for information on parents, children, and siblings of ISAAC JACKSON, REUBIN JACKSON, and THOMAS JACKSON. All three supposedly married Richardson sisters in SC and moved thru GA and AL to settle in Amite Co MS and in LA. Any information would be helpful on this family.


---
ddd DD MMM YYYY 00:00:00
---
Lucille Hale Sat 07 Jul 2007 16:37:00
GASSIOTT / WILSON
I am looking for anyone with information on Mollie A Wilson , B: Aug 31 , 1865 MS. D: Sep 26, 1943 in La. Married Nicholas Richard Gassiott B:aug 9 1843 La. D: June 23 1923 in La. they married Oct 12 1879 in Amite co Mississippi. I have had no luck finding Mollies parents. she said on 1920 census her dad was born in La. and her mom in Miss. I have located the following record. Amite County, Mississippi 10-12-1879; Groom-Gassiot, N. R.; Bride-Wilson, M. A. Amite County, Mississippi 1810-1899 Computer Indexed Marriage Records, page 30 Nicholas Russell Murray; Hunting for Bears, Inc.; P.O. Box 204; North Salt lake, UT 84054 Texas State Library, Genealogy Collection, GEN 976.244 Am57. Thanks , Lucille Hale


---
Marian P. Foster Sat 12 Sep 21:45:00
Kneeland/Neyland / McCraine / Rawlins / Shropshire / White
Brothers John & Joshua Kneeland born ca 1770 to father John Kneeland, probably in NC. Migrated to GA, then Amite Co., MS where both sons married, John to Martha Williams. By 25 Oct 1817, John has died & 3 or 4 of his sons go to live with John's brother Joshua. There were 5 sons; Gilbert born 1795, Middleton born1796, Williams born 29 Aug 1803, Robert born 1797 & John born 23 Apr 1812. It appears Gilbert married 8 July 1819 & so wouldn't have lived with Joshua; Middleton also married about that time to wife #1 Sallie McCoy perhaps 27 Feb 1817, which leaves Williams, Robert & John to live with their uncle. Now, some researchers say that this child John is actually Joshua's son on the 1820 census. John marries Elizabeth Owens then he dies 1867. Does anyone have any proof as to whose child John actually is?


---
ddd DD MMM YYYY 00:00:00
---
ddd DD MMM YYYY 00:00:00
---
ddd DD MMM YYYY 00:00:00
---
Rex Gay Morton Sat May 30 1998 18:45:00
GARDNER / GAY / JOHNS
I would like to know about the parents of William Franklin Gay, born Lexington, Texas and Eola (Enola?) Victoria Gardner, born Gloster, Mississippi. I have a copy of marriage bonds dated January 20, 1881 at Liberty, Amite County Mississippi. they had four adult children, Herf, Rex Gardner, Goldie and Gary. Young children Will and Hazel are buried in the old Cemetary in Caldwell, Texas. It is believed that William and Eola are also buried in the old Cemetary in Caldwell, Texas. Thank you. Also Interested in corresponding with anyone researching surname JOHNS. W.F. and W.D. JOHNS are shown on 1880 census in Liberty Village, Amite Cty. MS. My ggrandmother Eola Victoria GARDNER was listed as living with W.F. and his family. Her Marriage Bond to William Franklin GAY was witnessed in 1881 by W.D. JOHNS. I'm trying to find out the relationship between the JOHNS families and my "Granny GAY" Thanks a lot. Rex RetFTC@aol.com


---
Joyce Payne Sat May 30 1998 18:45:00
BURROWS / CASSEL(S) / WITHERSPOON
Arthur Burrows married Mary Witherspoon in Williamsburg Co. S.C. They and John and James Witherspoon with ? Cassel(s) lefted Williamsburg Co. South Carolina in abt. 1806 to buy land in what is now known as Amite Co. Miss. That is all I have on them. Would like any information anyone has on any of them. Thank You.


---
==========================================================================
---
Submit A Query






John E. Cain / 1211 Maritime Lane / Wylie, TX 75098
jecain99@verizon.net

---

Copyright &copy John E Cain and the MSGenWeb from 1997 through ; All Rights Reserved with Full Rights Reserved for Original Contributor




Page last Modified: Tuesday, 27-Jan-2015 22:36:37 EST

---