Trapped in a frame? Click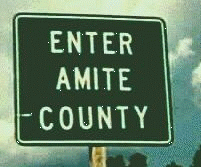 to break free.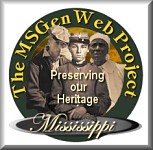 Amite County, Mississippi Queries: Page 6
---
Submit A Query
---
=================================================================== Bettiann White Lloyd Wed 03 Sep 1997 11:45:53


BOSTICK / COX / FAUST / SCUDDER
James Alfred FAUST (s/o Mitchell S. FAUST/Margaret Murrath COX), b 11 Jun 1820, Amite Co., MS; m 23 May 1843, Wilkinson Co., MS to Rachel Adelia SCUDDER, b abt 1827, WIlkinson Co., MS. James and Rachel had the following children: (1) Rachel; (2) Mitchell Scudder m Francis SLOCUMB; (3) Samuel Scott m Eunice JACKSON; (4) Anthony; (5) Eugenia m Joseph McKinney SMITH; (6) Lonnie; (7) Julia Ann m Elbert Melton BOSTICK; (8) Margaret m Jim BEARD; (9) Pete. All of the children were born between 1844 and 1863. Who were Rachel Adelia SCUDDER's parents? Who did Rachel, Anthony, Lonnie and Pete marry? If you have any further information on, or connect to, this family, would love to hear and share with you what I can.


---
Carey Knox Sat 18 Nov 2006 22:16:00
COCKERHAM / JOSEPH / LANE / MORGAN
I am interested in any information about the marriages and off-springs for the following names in Amite County in the early 1800's; Sarah Cockerham, sam Joseph, Joe Joseph, Charlie Lane, John Lane, William Morgan and Harry Morgan. I appreciate any information that you can give me on these names. Thanks, Carey Knox


---
ddd DD MMM YYYY 00:00:00
---
ddd DD MMM YYYY 00:00:00
---
DDD DD MMM YYYY HH:MM:00
---
Sam E. Armistead Sun 21 Sep 1997 12:50:19
GERALD / HAYES / HUFF
Would appreciate any help in determining what year THOMAS SUMPTER GERALD left Amite county and went to Hallettsville, Texas. Also did he take his wife ELIZABETH HAYES with him and did his children go with him. When did he return to Amite county? Also I am seeking information on Laura J.Huff born about 1840-48. She was married to Robert Sumpter Gerald who was from Amite county, so I assume she was from this area also. They lived in Hallettsville Texas and also Callahan County Texas,she died in Tyler county Texas after 1883.


---
DDD DD MMM YYYY HH:MM:00
---
Doris Reese Ryan Thu 18 Sep 1997 07:53:39
HATCHELL / MC LAIN / MC LEAN / REESE / WALLER / WINN
Searching for Amite Co. grave sites of JORDAN JASPER REESE and his wife, Elizabeth Catherine WINN REESE WELCH. Jordan was born 1846, Mecklenburg Co.,Va., to Jos. A. REESE and Mary Elizabeth HATCHELL. A Conf. veteran, he mar. 1869 in NC Elizabeth, dtr. of Thomas Henry WINN and Martha Ann WALLER. Abt. 1871, Jordan, Elizabeth, their son, William Henry REESE, and Cephas WINN, Elizabeth's cousin, moved to E. Feliciana, La.; then to Amite Co., Ms. Children born in La. & Ms. were Charles Jasper REESE; Edward Morris REESE; Gertrude A. REESE; James Jordan REESE; Jent Reuben REESE; Annie REESE; and Mollie REESE. Jordan died 1891 and was buried on the "Homeplace," bet. Centreville and Liberty. Elizabeth mar. (2) Nicholas Welch. She died 11 Nov 1925 and bur. another private cem. Would also appreciate help in "finding" wife, parents, siblings, desc. of Cephas/Cephus WINN, Elizabeth's cousin. Some time ago I was told that there were desc. of Cephas in the Gloster area, possibly Antoinette or Sarah or Edna MCLAIN or MCLEAN. Listed among members of Masonic Lodge #351, Centreville, Wilk. Co. in 1901; and Gloster Lodge #399 in the years 1903-1910 (the limit of my search, thus far) is C.E. WINN. Does anyone know if this was Cephas? Or when he died? Who was Samuel REESE? He was on 1880 Jury Duty List, Amite Co., Second Dist. Were he and Jordan related? I would like to correspond and share information with those researching this family and/or those who can shed light on Jordan's and Elizabeth's gravesites and Cephas WINN'S. Any advice or help would be appreciated.


---
Dianne Rutherford Sat 08 Nov 1997 19:53:39
CASSELLS / FACUNDUS / SIBLEY / WALL / WEBB
I am trying of find information on the parents of Jane Wall born 1-3-1828 in Gillsburg, Ms. and married 8-3-1860 in Gillsburg, Ms. to Dr. James Jacob Facundus. I would appreciate any information. Also, I am trying to find information on John David Walton Facundus born 4-4-1866 in Amite County, Gillsburg, Ms. He is the son on Dr. James Jacob Facundus and Jane Wall Facundus. He married Sarah Adeline Webb. Thanks in advance. Dianne.
ALSO SEEKING
SIBLEY, WALL, CASSELLS
I am trying to find information on JOHN SIBLEY born 1758 in Fairfax Co. Va. and died 10-1845 in Amite Co. Ms. He married ELIZABETH CASSELLS born 1760 in Va. I also need information on Elizabeth. They had a daughter named PATSY ANN SIBLEY born about 1800 in Amite Co. Ms. and died between 1839-1843 in Gillsburg, Ms. She married CHARLES JEDEDIAH WALL. I would appreciate any information on the above names. Thanks in advance for any help. Dianne


---
Eleanor Colson Sun 16 Nov 1997 21:27:39
RUSHING / SPURLOCK / TRAYLOR / VARNER / WALL
I am looking for the husband of Ann VARNER who died sometime before 4 September 1820 in Amite County, MS. There is no mention of her late husband in the information about her estate. Known children: Rebecca VARNER who married Howell WALL, Sr; Mary VARNER who married Elisha/Elijah WALL; John VARNER; and William RUSHING (possibly brother of Ann?) Ann and her husband probably lived previously in Beaufort District, South Carolina. Howell WALL was from Beaufort District, South Carolina and he and Rebecca married in South Carolina about 1788. I would appreciate any help.
Also I am looking for the ancestors of Allen SPURLOCK. Allen was born c 1775 in North Carolina;married Mary (Martha) Francis TRAYLOR who I believe was from Georgia. Their first child was born in Georgia. They were in Amite Co, MS by 1812. Allen's will was probated 8 August 1864 in Amite County. Children: Mary (Polly), Thomas J., William Allen, James M., John, Josiah, Elizabeth, Walter H.. I would also like to find the ancestors of Mary (Martha) Francis TRAYLOR


---
DDD DD MMM YYYY HH:MM:00
---
Mildred Brady Venitucci Thu 29 Jun 2000 19:00:00
BRADY / CAUSEY / JACKSON / POOLE / SMITH / STEELE / WHITTINGTON
Would like to correspond and exchange information with other researchers. I am descended from Stephen Alexander Brady and Virginia Steele Roundtree Brady, and their son Thomas Stephen Brady and Perla Smith Brady.


---
John E. GODWIN Thu 11 Dec 1997 22:00:39
GODWIN / KINNABREW
Searching for descendents of Drury C. GODWIN born abt 1836 son of William Kinchen Godwin and Barsheba Cook GODWIN. Quote from MS Militaty publication "22nd REGT INF, Co E, Liberty Guards of Amite Co, mustered into State Service at Liberty, 29 April 1861, Third Lieutenant Drury C. GODWIN." Searching for descendents of David C. GODWIN born abt 1848, son of Wm K and Barsheba GODWIN. Married Augusta V. KINNABREW June 27, 1866 in Amite Co, MS.


---
ddd DD MMM YYYY 00:00:00
---
Marietta Brown Sexton Wed 17 Dec 1997 18:53:39
GRIFFIN
My gggrandfather,Benjamin Franklin GRIFFIN was born in Amite Co,1807, m Roseanna TAYLOR,b 1820,Perry Co. They were in Holmes Co. circa 1835-40,where their 8 children were born,namely: Mary Elizabeth, Elbert,Albert, Martha Amy, Melvin Taylor, Lawerence Ferdinand, Sarah Leola, and Benjamin Franklin. Family notes, from now de- ceased relatives, say that he wrote a "History of the Primitive Baptist Church in MS"; was a Baptist preacher, and plantation owner, and that he surveyed a road in LA for $5000,when he was only a youth. If you have any information on any Griffins in these areas,please let me hear from you...no matter how remote it may seem.I need to know who his parents were, his siblings, where the family originated, etc.,


---
Donnie McDowell Fri 07 Jul 2000 21:03:39
BOOTH / PARKER
I'm looking for Preston P. PARKER b. 1852 in Tenn,m. Mary BOOTH,moved to Amite Co.,Then to La. Any help will be appreciated. Thank you, Donnie McDowell


---
Jane Wolverton Tue 23 Dec 1997 07:53:39
WOLVERTON
I am looking for information on William Wolverton, born in the 1700s. I understand he might have been buried in Amite County.


---
Patty Barry Wed 31 Jan 2007 21:06:00
SAPPINGTON
I wish to correspond with anyone researching Dr. James A. T. (Thadeus) Sappington, 1828 Wilkes Cty, GA, He is listed on the 1970 US Census, Liberty, Amite, Mississippi, physician. I believe he died in Vicksburg, MS in 1878. He is my gggrandfather. He married Selena Adeline Porter (b: 1830? Rhea cty TN) June 23 1853 in Calhoun Cty AL. They had the following children: Jennie Lenora, Elizabeth Josephine, Minnie J. B., Allie Clyde, John, Christopher. I believe their son John Sappington married Mattie Craddock and they went form AL to MS. Capt. J A T Sappington was a Capt. in the 26th-50th Alabama Infantry.Calhouns Beuaregards and was wounded at the battle of Shiloh. I would like to find the cemetray where he was buried or might have been buried. Maybe in VIcksburg? His wife died two year after he did in 1880, and there two daugthers Minnie & Alley went to live with their mother's "Porter" relatives in north Texas. I am curious as to why he was in MS and she stayed in AL (she is on the 1870 AL census). Thank you so much for any help you can give. (Southbury, CT)


---
Debbie Kelly Sat 10 Jan 2004 19:33:00
HUTCHINSON
Mt. Nebo I'd like to correspond with anyone who might be able to give me information on Mt. Nebo cemetery/church. I need to know if there was a Mt. Nebo church in Amite county from the time period of 1812 to 1837. In an obit dated 7 Oct 1894, it is stated that my ancestor, Robert Hutchinson b.1812 d. 1894, joined Mt. Nebo Baptist Church in Mississippi, was baptised by William Wall. Any information available will be appreciated. Thanks, Debbie


---
Nicole L Martin Fri 02 Jan 1998 07:53:39
JONES / MARTIN / TURNER
I am looking for anyone that may have information on the Francis MARTIN family. Francis was born in North Carolina in 1766. He married Ann, who was born ca 1776, SC), in ca 1790-95 in SC. They had thier first six children in South Carolina before moving to Amite/Wilkinson Co. ca 1807 or early 1808, for they had child eight Samuel James 6 Oct 1808 in Wilkinson Co. Francis is listed in Amite Co in 1810 but is not listed in 1816 census. He was apparently a member of the Ebenezer Baptist Church, where he or son Francis Abram was apparently baptized. He was dismissed in 1815(probably when he moved onto Lawrence Co.) Firstborn child Rhoda(b. ca 1790-95, SC) married John JONES there 17 Aug 1809. She is said to have died ca 1822,apparently leaving two children Benjamin and Elizabeth (b. ca 1812, MS; d. ca 1854). Elilzabeth married Eli H Turner, probably ca 1834. They had Elias L/Edward?(b. ca 1836), Lewis/Livingston?(b. ca 1838), and Virginia T(b. ca 1838) in Mississippi before moving to DeSoto Parish, Louisiana by ca 1834 when their next child was born. Elizabeth may have died in childbirth after her 9th child, Julia L was born. I have no further information on the JONES family and would like to find more on them, especially on Rhoda. I am also interested in the Nancy MARTIN(s) listed in the Ebenezer minutes. There are three references: "received by experience"(could be wife or mother??), baptized(could be daughter?), and died(by 1817). I would appreciate any help on this family. Thanks.


---
ddd DD MMM YYYY 00:00:00
---
DDD DD MMM YYYY HH:MM:00
---
S. Elisca Fri 16 Feb 2007 19:45:00
JACKSON / JONES / MERIDA / MERIDY / RODGERS / ROGERS? or RODGES?)
I wish to correspond with anyone who would have any knowledge of Mose Jones (born abt. 1890). Married to Anna Jones (also born abt. 1890). These are my Great Grandparents (maternal). Anna passed in 1979 in Baton Rouge, Louisiana. Mose is also deceased. My paternal gx2 grandparents were named Victoria (Rodgers?) Jones and Ila (Iler?) Jones. My maternal gggrandparents names were Millie and Jeff Jackson. They all would have been born around 1870 (that is a guestimate--going by the years my great grandparents were born). Anna and Mose had several children including my grandmother ]Eliza ('Liza') Jones who would have been born around 1925. She passed on in the mid 60's before my birth while my mother was still young. Eliza would have had her first child (my mothers older sister) with a white man by the name of Joe Westbrook. I have searched and found good information regarding some family members on Ancestry.com. Including a census record with my grandmother--and some of her siblings along with my grandparents (Mose and Anna) listed. I also found Millie Jackson on a census record. She was listed as being widowed. However, I found no information regarding my gggrandfather Jeff. I also found no information on Victoria and Ila Jones. They would have all lived in Amite County (Liberty), MS. Much of the family has migrated to Louisiana now. My family also attended and some still attend Galilee Church of God and Christ Church (I believe it is located in Gloster?? or Liberty). My family is sort of disconnected. As I stated before, my grandmother passed on early--leaving behind my mother and my mothers siblings. They were actually raised by a Daniel and Myrtis Robinson in Liberty. They had some contact with their family but were never very close with the aunts...etc. I believe my family members are buried in Cox Cemetery(??). So here I am trying to find out as much as I can about my family. I was able to also get a birth certificate for my grandmother Eliza. (That made my mother so very happy! Can you imagine?). I am currently about to send off for records pertaining to my great grandmother and father with information I found on Ancestry.com. I would love to gain as much information as possible. If anyone sees this and has any knowledge of my family. Please let me know. God Bless! I currently reside in Northern Va. I do plan to come down to Amite one day to do more research. Thank you.

ALSO: I am searching for anyone having information or knowledge pertaining to Victoria Meridy (Merida?). She is listed on the 1900 and 1910 census. Victoria would have been my great great grandmother. She was listed as 'next of kin' on a draft card I found for my grandfather Mose Jones. I was confused because I have always been told that her maiden name was Victoria Rodges (or Rodgers/Rogers) and that she married Iler (Ida?) Jones---father of my great grandfather Mose Jones. However, through my research I've learned that she may have married twice. Her second husband would have been Jacob Meridy (Merida). Jacob Meridy was also twice married and had children from his previous marriage as well. Those children resided with them. Mose Jones would have been living with his grandparents--parents of Victoria (Dock and Mariah Rodges) according to the 1900 census. At this time I am not sure what happened to Iler Jones---I am thinking he passed on soon after my grandfather was born in 1890. If anyone has any knowledge of the persons named above I would love to correspond with you.


---
Cathy Bell Sun 09 Jun 19:00:39
HOFFMAN / HUFFMAN
Looking for anyone researching the Huffman/Hoffman surname in Amite Co. Trying to establish the parents of Ernest Fleet Huffman, born ca 1872 in MS. There is an R. Huffman/Hoffman is in the 1870 Amite Co. census. Anyone researching this family, please contact me. Doyline LA


---
Nora Chucci Thu Sep 10 1998 07:53:39
BERRYHILL / FREEMAN / TAYLOR / WHITTINGTON
Researching the above surnames from Amite Co., MS. Would like to correspond with anyone working on these lines. Would also like to correspond to query 238 David Whittington seeking information on Asa Taylor. He is my great grand father. Also would like to share information with those working on Anders family of Amite County, MS. I'm interested in Conrad Anders, Jr. that married Amelia Taylor 31 Jan 1847 in Amite County.


---
Tullia Hamilton Fri 23 Jan 2004 21:36:00
KELLEY / ODKIN(S)
I am trying to trace my ancestor Kate Odkin Kelley who was born in Centerville in 1867.


---
Dave Farnham Sun 25 Jan 2004 20:00:00
ddd DD MMM YYYY HH:MM:SS


WHITTINGTON
My granddaughters wish to join the DAR. I need to prove (by document and/or reference) that James Whittington b 1775 SC is the son of Cornelius Whittington b 1749 VA). Can you help? Athens, TX
ALSO
We have proof of lineage for all except Noah Whittington, the son of James Whittington, the son of Cornelius Whittington. If you have a reference where we can go to prove that Noah is the son of James I would appreciate your help. This is now the only problem that we have.


---
ddd DD MMM YYYY 00:00:00
---
Sandi Thompson Tue 15 Aug 2000 20:16:39
FELDER / MYERS / REAGAN /YOUNG
I am searching for a NORMAN LESLIE REAGAN born in 1889 in Amite Co., Miss according to his S.S. application. He was son of OLIVER W. REAGAN & LULA FELDER. Norman died in Ohio. He married NORMA PAULINE YOUNG before 1933. She was from Wesson, Miss (Copiah Co.) Norma was born in 1890 and her parents were FRANK P. YOUNG & JANIE FRANCES MYERS. If anyone has any information on any of these families, please contact me. Sandi Thompson from Calif. gdt@jps.net


---
Kay Noska Sun Feb 1 1998 19:34:39
BARCLAY / BIXLER
I am looking for any info or anyone working on the surname BIXLER in the Amite Co. area. My Jacob B. Bixler and wife, Matilda Barclay were married 1812 in Wilkinson Co. Miss. and resided in Amite Co. after the marriage. They had many children, at least 9, but only know of William, Lavinia & John Barclay Bixler.. Jacob bought land from 1818-1828. Jacob was a planter.His dau. Lavenia married Henry Sandel in E. Feliciana Par. La. John Barclay Bixler married Lydia Ann Brown of Clinton, La. E. Feliciana Par. Wiliam D. Bixler was still in Amite Co. Miss. in 1859, what happened to him? Anyone seen these names before please contact me by e-mail at kayn@webtv.net or snail mail me at Kay Noska 1407 Alvin Ave. EL Campo, Texas 77437 Thank you. Kay in Texas


---
==========================================================================
---
Submit A Query






John E. Cain / 1211 Maritime Lane / Wylie, TX 75098
jecain99@verizon.net

---

Copyright &copy John E Cain and the MSGenWeb from 1997 through ; All Rights Reserved with Full Rights Reserved for Original Contributor




Page last Modified: Tuesday, 27-Jan-2015 22:36:36 EST

---