Trapped in a frame? Click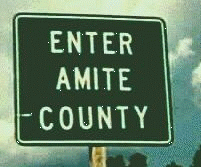 to break free.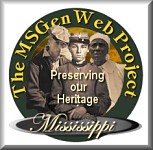 Amite County, Mississippi Queries: Page 5
---
Submit A Query
---
=================================================================== ddd DD MMM YYYY 00:00:00






---
Edie McKinney Talley Mon 16 Jun 1997 18:57:42
GALLOWAY, MAGEE, TALLEY
TALLEY, John Jr. m. Anna MAGEE on 23 Nov. 1809 in Amite County, MS. Anna was the daughter of David MAGEE and Annis GALLOWAY. Looking for any information about, GALLOWAY, TALLEY, and MAGEE families.


---
Virginia Ewing Mon 16 Jun 1997 12:16:19
ANDERS / GOBER / GUTHRIA / McCAULEY / REDMOND
John D. ANDERS md. Martha Ann REDMOND, Amite 1844, their children were: Harper Anders who died during the Civil War, Mary Anders, Sophronia Anders, and Lauria Annie Anders md. ist, John GUTHRIA , they had at least one son, named Prim Bylette, possibly two sons. I was told that her husband and children died, 2nd. md.David Henry GOBER b. in Kosciusko, MS , s/o William Henry Gober , s/o Henry Gober[ md. Ann McCAULEY, Franklin co] s/o Lewis & Mary Gober of Amite co


---
Jeanne Hicks Thu 23 Feb 2006 19:23:00
DENSON / WHITTINGTON
Trying to locate death and burial information for Jordan (or JJ) Denson and Lucy Ann Whitington Denson. Lucy died between 1910 and 1920, as Jordan is listed as a widower on the 1920 census in the Oneal Precinct, Beat 3, Amite County, MS. Jordan is not listed on the 1930 census and since he was born in June 1857, I assume he has already passed on. Lucy was born in Sep 1850. These dates are from the 1900 census, I have very limited information on them and any information would be a great help. Jordan is the son of Marcus Tullius Denson and Mary Smith. On one census, there is also an indication that this is his second marriage, since he is on the 1870 and 1880 censuses with his father in Adams Co, I can only assume that I've found his first wife, when he married her in 1870 in Adams Co. Since he married Lucy in 1895 in Amite Co, I can only assume that that's where she was and that his first wife may have died in Amite Co as well. The 1900 and 1910 censuses indicate that Lucy had no children and I find no information concerning any children for him either. Although, I do realize that if he had a child who died around the time his first wife did, there would not be any record, unless there is a stone in a cemetery. Any help is greatly appreciated. Thank you for any information that you can locate. Please email me directly at jmcolby_hicks@yahoo.com


---
Lisa Cover Sat 25 Feb 2006 19:55:00
CAMPBELL
Campbell, James Milton. b) 1870 McComb City, Mississippi. Married Theodora Cayce of Franklin, Tenn in 1896. Looking for information on James Milton Campbell's parentage. Thank you. Lisa Cover; Ardmore, OK


---
June Carney Pollard Tue 21 Oct 2003 19:28:00
CARNEY
Seeking data concerning half-Choctaw Jeremiah Carney whose discharge papers for the War of l812 (Choctaw Militia, Nixon's Regt.) dated l8l4 indicated an Amite residence. Jeremiah was a signer of the Doak's & Dancing Rabbit CR Treaties. He and his wife, Emmahka, eventually settled in Madison Co. MS. Any information regarding his Amite residence will be appreciated. Will exchange data. Franklin, TN


---
Robert H. Abney Sat 01 Apr 2006 21:54:00
RAWLS / RAWLES
Searching for land records of Benjamin Rawls or Rawles who was to have been in Amite around 1810. Need for Mississippi First Families app. Robert H. Abney, Stone Mountain, GA


---
Eva Spence Wed 31 May 2006 22:22:00
McCOY
I am looking for information on William Sibley McCoy who died in Amite County in 1838. His wife was probably a McNetta. Their children were: Mary C. McCoy b:1809 in SC; Thomas D. McCoy m.28 Aug 1825 to Uslah Whitaker in Amite County, Mississippi; William McCoy m Henrietta Smith 29 Jul 1832 in Wilkinson County, Mississippi; Harriet McCoy m 10 Dec 1819 to Samuel Clarke in Wilkinson County; Levisa McCoy m 13 Jan 1832 to James Price in Amite County; Ira S. McCoy b 1814 in Amite County, m Zylphia Stuart or Stewart 08 Dec 1842 in East Feliciana Parish, Louisiana. My ancestor is Ira S. McCoy. Fairview, Texas


---
ddd DD MMM YYYY 00:00:00
---
Dr. John H. Butler Sun 22 Jun 1997 01:54:08
BUTLER / WILLIAMS
SEEKING INFORMATION ON RODGERS BUTLER SR. BORN AROUND 1892 I BELIEVE IN AMITE COUNTY. HE MARRIED ELIZABETH WILLIAMS WHO WAS BORN OCTOBER 8, 1898, IN AMITE COUNTY. THEY HAD TEN CHILDREN. FIVE BOYS AND FIVE GIRLS. ANDERSON, EULA MAE, IRENE, VELMA, WILLIE, RODGERS JR., JAMES SOLOMAN, EUNICE LEE, JOHN HENRY AND DOROTHY MAE. HE DIED IN 1943 IN Mccomb. ELIZABETH DIED IN 1986 IN GRAND RAPIDS, MICHIGAN.


---
Ted T Taylor Sat 09 May 1998 19:45:24
DOHERTY / TAYLOR / WILLIAM
Wm. A Taylor 1843-1917 bn in LA; was in TX; lived Pike & Marion co MS 1875 to 1917. sister = Maggie. brother = Zachary 1st wife unknown+daughter Julia Ann b.1866-- md1884 Hugh Doherty b1849-1900 in Amite co MS. Hugh & son-Hugh 1892-1897 buried Easley cem .Amite co [2]wife=Alis Missouri Rushing-m.1875 Pike co.
Also the following:
I wish to correspond with anyone researching: A. J. William ,J. W. William ,J . W. Taylor.They served in the AMITE COUNTY GUARDS COMPANY B 33rd Mississippi Regiment. A. J. William & J. W. William signed CSA pension application for my ggrandfather Wm A Taylor. Appreciate any info on above. Ted T Taylor TTT1111@aol.com> 128 Pine Ridge Rd; Columbia,MS 39429


---
Joyce Shorter Sun 21 Mar 1999 20:30
CARBELL / GORDON / HUGHEY / NEILSON / ROBINSON
Richard M. NEILSON born 1809 in SC and married Jane Sarah CARBELL, Oct. 4, 1831 in Amite County. Their son William L. NEILSON married Angelina WHITNEY in La in 1853. (my ancestor) Their son Charles A. NEILSON married (1)Mary Jane WHITTINGTON (2) Hattie ROBINSON, daughter of Jeff ROBINSON. Charles and Mary Jane had a child that I would like to locate. I am also looking for the place where Charles died and I hope that child's family would have the info. I have some information I will be glad to share.
ALSO
I am looking for the parents of Thomas Jefferson Robinson who married Mary Hughey in Amite County in 1825. His son George Washington Robinson married Mary Gordon Gardner in 1853 in Amite County. I will share my info.


---
Wanda Stephens Mon 07 Jul 1997 06:17:32
CHANCE / EAST
Seeking info on children of Vincent CHANCE and Mary "Polly" East. This Vincent was the son of Philemon CHANCE, b. 1786 in Montgomery Co, GA. He married Polly EAST 26 Dec 1811 in Amite Co, MS, while living in Feliciana Par, LA. He paid taxes in Hinds Co, MS, in 1822 before the area became Copiah Co in 1823. He was in the Copiah Co census in 1830, where he paid taxes through 1833. The Rankin Co, MS census in 1840 shows a Vincent CHANCE which is probably the same one, although the oldest female is not old enough to be Polly East CHANCE. I find no record that Vincent CHANCE paid taxes in Rankin Co. We are searching for the parents of Daniel CHANCE, b. 17 Mar 1821 in LA. Any help will be appreciated.


---
Richard E. Backlund Mon 24 Jul 1997 06:17:32
CADE / KENNEDY
Seeking information on the family of Stephen Adair CADE, b. 1764 Bladen County, North Carolina, Rev. War Soldier in Wilmington District NC. Moved with family from Marlboro County, South Carolina to Amite County in abt. 1808. Purchased public lands registerd plat number, etc. Stephen Cade listed with brother James Cade in 1810 Amite County census, Stephen Cade listed in 1816 Amite County census. Brother James CADE moved to near Lafayette, Louisiana ca. 1812. Stephen Cade and family moved to Franklin County, MS in ca. 1818. Stephen CADE died in Franklin County, MS ca. 1828. Wife Mary Kennedy?, Sons were John CADE (1788NC 1839 Franklin Co., MS) m. Rhoda ____ who was Father of Stephen M. Cade, Soldier CSA LA regiment (b. 1818 Amite Co., MS d. ca. 1870 Bossier Parish, LA); Kennedy CADE (1790NC 1820s Franklin Co., MS); Stephen CADE, Jr. (1793 NC 1833 Franklin Co., MS); David H. CADE; Daughters were Sarah CADE (1792 NC 1860?MS) m. 1. 1811 Amite Co., MS William T. McDowell m. 2nd 1815 Amite Co., MS Frederick Beavers; Mary Ann CADE; Emily CADE. Looking for connection to Father of Stephen CADE who was Col. John CADE, b. 1735 Edgecombe Co., NC d. 1793 Robeson County, NC and wife Elizabeth Hobson ADAIR.


---
ddd DD MMM YYYY 00:00:00
---
Carol Banker Thu 13 Jun 2002 21:30:05
CRUISE
I wish to correspond with anyone who may have info regarding the Cruise family that resided in Gloster, MS. in 1890. William Carey Cruise, my grandfather, was born 1/22/1890 in Gloster. He married Cora Mae McCoy 7/4/1911. His father's name was James Madison Cruise. I have no other info on my Cruise ancestors. Metairie, La.


---
Derick Jackson Mon 04 Aug 1997 00:33:45
JACKSON
Looking to start family history. My grandparents live in Amite county (liberty). My grandfather is Ivy Jackson and his father was named Robert Jackson. I'm trying to find some specific info on Robert jackson to include his father and mother.


---
ddd DD MMM YYYY 00:00:00
---
Julie Garito Sun Aug 17 06:42:18 1997
EWELL / GAULDEN / HUGGINS / RICHARDSON / ROBISON
I would like to correspond with anyone who knows of the following families in Amite, Wilkinson, and Issaquena counties between 1810 and 1860. They are Gaulden, Richardson, Robison, Ewell, and Huggins. Would be glad to share.


---
Jane Matthews Thu Aug 14 1997 07:04:20
EVERETT / HUNTER / JOHNSON / MUNSON / PEARCE
Am seeking information on the Munson family . Robert and Jesse were brothers and came from Va. , S. Ca. and then Ky. where they lived for a year with Isaac and Samuel Munson of Bourbon Co, Ky of the Thomas Munson family of New Haven Conn. Robert Munson was the grandfather of Isaac Johnson who became a gov of La. Who was the father of Jesse and Robert? Who was William Munson? Was the Samuel Munson of Chennyville related to Robt. and Jesse? Did Jesse die in Miss. in 1815? Where are the immigration records for Amite Miss? Please direct me to a person who would know this family. Thank you. Jane Matthews
ALSO SEEKING
Munson, Everett, Johnson, Hunter, and Pearce circa 1800-1820 The Munson brothers, Jesse and Robert, had sons who married into Everett, Johnson, and Pearce families in the early days of the settling along the Bayou Sara area. The children remained in the area for several generations of the Johnson and extented families. Micajah and Henry William Munson were sons of Jesse.who migrated to Texas in 1820. Telfair Munson was a son of Robert. William Chaney was the family legal advisor. They are recorded in Gov. Lemons Villa Gayso in the 1790's under a Spanish interpertation of Munson. This would have been near Natchez. I would appreciate any information on the families I mention here. Thank you.


---
Mona Ray Wed Aug 27 1997 08:45:16
SMITH
Want to find descendants of George SMITH (d. 1815) who md Mary SMITH 24 Jun 1784, as listed in the William B. SMITH Bible record (Vol. II of Mississippi Cemetery and Bible Records, p. 107). This George is said to be the brother of Jeremiah SMITH, and to have gone to Amite Co. He is said also to be the father of the George SMITH who d. in Pike in 1833. I haven't been able to find census records of William B. SMITH's family. His youngest child was Dewitt G. SMITH, b. 1857, but WHERE?
Also want to find descendants of Jacob SMITH in 1810 Amite census. Is this the same Jacob SMITH that is in 1820 Marion? mray@blkbox.com


---
Joe Metts Sun Jul 02 2006 21:50:00
BERRYHILL / BUTLER / CAUSEY / COX / VAN NORMAN / WHITTINGTON
I am collecting obituaries of all people born in Amite Co., MS. If you have any obits, not just the names above, please email to me at jm_0754@bellsouth.net. (Jackson, MS)


---
Mona Dillon Ray Fri 29 Aug 1997 06:41:40
JONES / TONEY
Barbary JONES, 49, widow of Micajah JONES, is in 1850 Scott Co. MS census with children Allen 21, Emily 17, Sarah 15, Franklin 12, Henry 10, Martha 8. She was the daughter of William JONES of Amite Co. MS and married there. In 1860 Emily is in Smith Co census, wife of Benjamin TONEY--where are the other JONESes? Micajah JONES was drafted in Amite Co. and served in the War of 1812. Is he the son of Britton JONES who is in Amite 1810 census? Who is the Mich. JONES in 1830 Amite? Are Micajah and Barbary the parents of Isham/Isom JONES, also in Scott and Smith?


---
ddd DD MMM YYYY 00:00:00
---
ddd DD MMM YYYY 00:00:00
---
CATHY JAECKE Fri 05 Sep 1997 18:59:14
BELL / CAIN / CAUSEY / GARNER / JACKSON / KINABREW / SMITH / VAN NORMAN
I AM LOOKING FOR ANY INFORMATION ON THE FOLLOWING SURNAMES. KINABREW, VAN NORMAN, SMITH, CAIN, CAUSEY, GARNER, BELL AND JACKSON. HAVE INFORMATION WILL SHARE INFORMATION. MOST OF THESE PEOPLE CAME FROM GA. AND N.C. LEWIS BURTON KINABREW- BORN OCT.28,1880, DIED NOV. 1,1960; HIS WIFE- NETTIE SMITH- BORN NOV. 14,1886, HER LINE HAS JOSEPH McKINNEY SMITH BORN JAN. 21,1854 AS HER FATHER,AND J.M. SMITH's FATHER AS ROBERT T. SMITH BORN JAN. 28, 1811 BORN IN FL. HER MOTHER WAS EUGENIA FAUST, BORN JAN. 30, 1854. LEWIS B. KINABREW's FATHER WAS DAVID BURTON KINABREW MARRIED LOUISA JACKSON.HIS FATHER WAS IVEY(IVY)TRISVAN KINABREW, FIRST WIFE WAS ABILENE ARA BATES MARRIED JUNE 26,1851, HER FATHER WAS BURTON BATES. SECOND WIFE ELIZABETH CAIN. I.T. KINABREW's FATHER- DAVID KINABREW DIED IN MS., WAS MARRIED TO MARY GARNER IN AUG. 1812, SECOND WIFE- SARAH KNOX-MARRIED APR. 28,1831. DAVID KINABREW's FATHER WAS JACOB KINNEBREW, HE WAS BORN ST. LUKES CO. SOUTH HAMPTON, VA MARRIED EDITH KIRBY. JACOB KINNEBREW's WAS WILLIAM KINABREW, MARRIED BEFORE 1777,FIRST WIFE ANN BARROW AND SECOND ELIZABETH SWITZER. ON THE JACKSON BRANCH- LOUISA JACKSON HER FATHER WAS LT. COL MOSE JACKSON BORN 1-14-1822, DIED 11-28,1895 MARRIED IN 1844 TO LOU AMELIA JENKINS BORN ON 1820, DIED CA 1865.HER FATHER WAS WILLIAM JENKINS. MOSE JACKSON's FATHER WAS CAPT. WILEY JACKSON BORN IN GA. 1787 MARRIED 1810 TO FIRST WIFE MARY ROBINSON, SECOND WIFE- AMELIA McELWEE. WILEY JACKSON's FATHER WAS COL. ISAAC JACKSON BORN ENO, NORTH CAROLINA 1755. DIED 12-20-1821, MARRIED ANN RICHARDSON. ISAAC JACKSON BORN 1717, MARBOROUGH ENGLAND MARRIED TO MARY MILLER BORN IN ENO,NORTH CAROLINA. WOULD LIKE ANY INFORMATION ON THESE PEOPLE AND SURNAMES ABOVE. ALSO ANY INFORMATION ON THOMAS CLINTON BELL.


---
Barbara Nixon Sat 22 Jul 2002 21:00:19
COTTEN / GOODSON / McGEHEE / WESTBROOK
I wish to correspond with anyone researching Blewett McGehee and his wife, Eliza Jane Cotten. Blewett was the son of Samuel McGehee and Sarah Elizabeth "Sally" Ferguson born at Liberty, Amite Co. MS around 1826. Eliza Jane was first married to Andrew G. Westbrook and had a son named Samuel. This family appears in the 1850 Census of Amite County MS #366. There is some question if the daughter, Elmira is a Goodson or a McGehee, as name has been written over. Union County marriage records show Blewett McGehee and Mrs. Eliza Goodson were married March 6, 1850. Also need information on his children Lavina or Louvenia? James J. McGehee and Joshua W. McGehee. In 1860 Census family is in Homer, Clairborne Parish, LA. In 1870 he is found in Boone County, AR with a young wife named Mary and a baby named Ira. In 1880 Census he is still in Boone Co. but living in home of daughter and son in law, Elmira and Houston Majors. I need to know if Eliza Jane Cotten and Mrs. Eliza Goodson are the same person, a date of death and place of burial for them. Any and all information on this family will be greatly appreciated. Harrison, AR


---
Joan Montgomery Thu 04 Sep 1997 20:33:37
McLAIN
**MC LAIN- Daniel Mc Lain, b. abt. 1740 in Scotland, d. 1782 in Wilkes Co., GA....married Sarah Jane Chesser Abt. 1760....have names of 2 of their children, Allen, b. 1775 in Scotland, d. 1855 in Gloster, Amite Co., MS, and Catherine. Would like to verify above names & dates if anyone has this information.....also would like names of any siblings of Daniel Mc Lain, as well as names of his parents. I have info on 7 generations after Daniel, will be happy to share same. Joan Montgomery (jdmgem@aol.com)


---
Iris Horne Thu 13 Jul 2006 21:00:00
CURRY / PARHAM / SCOTT
Looking for information on John SCOTT who married Rachel CURRY in Amite Co. 14 Jun 1879. I think he is my great great uncle. His parents probably were John Scott b. 1823 AL or TN who married Virginia Wait in 1855 in Pontotoc, MS and had this John Scott in 1864 in Pontotoc. John Scott, Sr. died in the Civil War, leaving his wife Virginia and children: William James Scott b. 1855, MS (untraced); Martha A. Scott b. 1857 MS (untraced); Sarah Rebecca Judith Scott b. 1860 Pontotoc, MS married Anderson Jeptha PARHAM; and John Calvin Scott b. 1864 Pontotoc, MS, possibly married Rachel Curry and later married Margaret Gabriellen MACDUFFY 1888 Marshall Co., MS.


---
Ron Buford Sun 17 Dec 2000 21:00:18
CHARLTON / MIXON
Looking for information on Samuel Snowden Charlton and Sabrina Mixon, dt. of Michael Mixon. Samuel and Sabrina m. 1828 Amite County, Ms. They are in the 1830 Census of St. Helena Parish, La. Samuel was b. 1804 Pa. Surely Samuel didn't travel from Pa. alone?? No other Charlton's found anywhere in La and Ms. around this time that were from Pa. Looking for other families that settled in Amite County, Ms. around 1820-30 that were from Pa. or any other information about Samuel, Sabrina and Michael. Thanks for any assistance. Conroe, Texas


---
==========================================================================
---
Submit A Query






John E. Cain / 1211 Maritime Lane / Wylie, TX 75098
jecain99@verizon.net

---

Copyright &copy John E Cain and the MSGenWeb from 1997 through ; All Rights Reserved with Full Rights Reserved for Original Contributor




Page last Modified: Tuesday, 27-Jan-2015 22:36:36 EST

---