Trapped in a frame? Click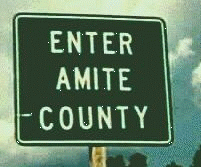 to break free.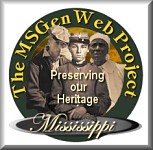 Amite County, Mississippi Queries: Page 4
---
Submit A Query
---
ddd DD MMM YYYY 00:00:00
---
ddd DD MMM YYYY 00:00:00
---
---
Deborah Riley Sat 15 Feb 1997 18:32:37
CHANCE
I am looking for the parent's of Daniel Chance who was born March 17,1821. The census record list's his birth state as LA in Feliciana Parish but I just found out that this was part of Amite County, Ms before the separation. There have been nothing but dead ends in LA so maybe he was really born in Amite County, MS. Is there anyone that can shed some light on this man?


---
ddd DD MMM YYYY 00:00:00
---
Amy Sun 16 Feb 1997 18:51:56
KENNY / TRAVIS
I'm looking for divorce papers on Byron Smith Travis and Ruth Kenny. It would be about 1923 or 24. He is from Amite Co. Anything would help! TXXX, Amy


---
Bob Crawford Mon 27 Oct 1997 17:01:35
CRAWFORD / MAXWELL
Any information on Maxwells that were from Liberty (or nearby) then moved to Georgetown/Hazelhurst in Copiah County Ms. Not sure of the dates. Alta Maxwell married James William Crawford around 1900-1905.


---
Thomas L. Thompson Tue 18 Mar 1997 17:19:30
CAIN / CAUSEY / JACKSON / LUSK / THOMPSON / WILKINSON
Family of Thomas L. and Bessie Lusk Thompson (grandparents); father - Marcus Luther Thompson great, great grandfathers - Jeff W. Wilkinson and Silas Thompson, all of Amite County. great grandparents Sarah Wilkinson Thompson and Rowland Thompson Particularly interested in Thompson lineage, going back to Darling Thompson. Also interested in names: CAIN, CAUSEY, JACKSON, LUSK.


---
ddd DD MMM YYYY 00:00:00
---
ddd DD MMM YYYY 00:00:00
---
ddd DD MMM YYYY 00:00:00
---
Jo Anne Dukes Fri 12 Nov 2004 19:30:00
BATEMAN/ BUTLER/ CAIN/ CAMPBELL/ CAPELL/ GOODE / LONGMIRE / McLAIN
Would like any info on the following: E. B. McLain, Sr. b 1829 d 1915 - He lived in Gloster, MS. Lucretia Virginia Cain b 1830. Matilda Parham Longmire - m. E. B. McLain,.
-- ALSO --
BATEMAN / BUTLER / CAIN / CAMPBELL / CAPELL / GOODE
I am researching Revolutionary War information on each of the above. If anyone has any information that any of the above listed men served in the Revolutionary War, I would very much appreciate any information anyone can give me. Isaac Bateman; Hardy Cain; John Capell; father of Neomi Campbell; father of Mary 'Polly' Butler and the father of Emaline Ann Goode Isaac Bateman, married Neomi Campbell, Isaiah Cain married Mary 'Polly' Butler William Longmire married Emaline Ann Goode, John Capell born 1775


---
ddd DD MMM YYYY 00:00:00
---
ddd DD MMM YYYY 00:00:00
---
ddd DD MMM YYYY 00:00:00
---
Steven Weems Fri 28 Mar 1997 08:37:35
HAYMAN / SMITH / WEEMS
Am looking for info on Maggie D. HAYMAN. she was born in Smithdale, Amite Co 12/17/1877. She married Leroy WEEMS in Pike Co 1891. Her firstborn was Maud WEEMS (later married a SMITH) born 1894 in Pearl Ms. Her second son was Frederick Wroten WEEMS, born 1896 in Fernwood, Pike Co. Leroy left the family 1898. Maggie married Anson Francis FULLINGTON and had a son, Ernest in 1904. They lived in Hazlehurst, Copiah Co. Maggie's dad was Josephus HAYMAN, b 1853, who married Maggie Jane SMITH, b1854, 13 Aug 1872 Amite county. They were married 1872 in Amite Co. I believe his parents were Nick HAYMAN and Sallie LEGGETT. Maggie Jane's parents were William W. SMITH, Jr. (1830), and Catherine SMITH (1832). These were two different SMITH lines. Any information? Thanks, Steven.


---
Karen Wall Sun 17 Dec 2000 21:00:42
BASS
I am looking for any information on Moses Bass, born abt. 1778. He married Elizabeth Terrell abt. 1805 in Adams Co. MS Territory. Moses parents may have been Jeremiah Bass and Hannah Whitney. Moses and Elizabeth had several children, some of which were born in Amite Co. Ms. Thanks; Montgomery, Texas


---
ddd DD MMM YYYY 00:00:00
---
Tim Hashaw Sat 17 Jun 2000 20:55:29
GUYNES / HASHAW / WHITTINGTON
Looking for gggggrandfather and his daughter (1) My gggggrandfather Zachariah M Whittington married unknown from 1810-1825 possibly Amite, died about 1848 Scott County Miss. Had early family in Amite County from Georgia. Said to be English. He had at least two daughters. Margaret or Martha Whittington who married James Guynes of Scott County Miss, and ...(2)my ggggrandmother Emily Whittington who married Harmon Guynes, brother of James. Emily was born in 1824-26. The sister of Harmon and James was Sarah Guynes who married Byrd Whittington. It is possible that Byrd and Zachariah Whittington were related. Miss. counties they were to have lived in were Amite, Copiah, Leake, Scott and Leflore. Harmon and Emily Whittington Guynes came to Texas about 1860. Emily Whittington Guynes was said to be part Choctaw. Thank you for volunteering. Tim Hashaw, email: Wildwestgifts4u@aol.com


---
Mildred Jackson Sun 20 Apr 1997 13:59:34
ANDERSON / GRAVES / SPINKS / THOMPSON
Need help on finding information on Robert GRAVES b-1760, d-1819 Amite Co.,Ms., his brother Francis GRAVES b-1763, d-1847,md. Rebecca SPINKS, and their sister Mary GRAVES b-1760-64, md. John THOMPSON. Their parents were James GRAVES and Mary COPELAND of Ga. Also looking for information on the ANDERSON family. I have a g-great grandmother, Mary Ann ANDERSON b-1825, md. in Amite Co., Ms. 1838 to John GRAVES b-1822 in La., d-1880 in Ms. I have information on the GRAVES I would share. John and Mary Ann had eleven children. They lived in Covington Co., Ms. Any help would be greatly appreciated.


---
Edward Jordan Lanham Fri 25 Sep 1998 19:34:42
NUNNERY
Searching for information on the NUNNERY family of Amite Co. MS. that came from Union Co. SC. Historical Research And Preservation Edward Jordan Lanham; 200 Carrington Ln.; Brooks, GA. 30205


---
Darleen Ohman Sun 13 Sep 2003 21:15:00
BIRD / CURTIS
Looking for information on the Bird family that moved to Rapides Parish, LA. early 1800's. My GrGrandfather was George L. Bird borned in LA. and I believe he had a sister/cousin named Zelphy Bird married James Curtis in 1804 in Amite Cty, MS. We believe Georges' father was named Zeno. Thank you for any information. Darleen domojo@aol.com


---
Rich Weiner Sun 08 Jan 2006 21:00:00
BELL
BELL I am seeking information on William Bell. African-American. Was 67 in 1900. At that time resided Beat 4, Amite. Born Fayette Co, KY as slave. Bell was last owners name. Wife=Jane, Children=Seahorn, Bennie, Lucus, Riddly, Myrtis, Maria, Pinky.


---
Robert L. Yeager, III Sun 21 Sep 2003 18:35:00
SCOTT / CARNEY
Alexander SCOTT Doughty, my great grandfather was born in E. Feleciana Parish, LA in 1816 and died in Amite county, MS in March of 1894. My grandfather, Homer Cecil Doughty (son of Alexander), married Emma Scott in Jan. of 1896-(where?)Marriage had to have taken place in one of three places; Feleciana Parish, LA, Amite Co., MS or Adams County, MS. Homer died while on police force in Natchez in Feb. 1933 and Emma died at a daughter's house in Kerrville, TX in 1958. Emma had two sisters, also living most of their grown lives in Natchez; Ella SCOTT Booth and Georgia SCOTT McGoldrick. I have not been able to find anything concerning this SCOTT family except their last years in Natchez, MS where I knew them well. Can anybody shed light on this situation as I have become very curious about the connection. If it is just happenstance, I would like to know that too.


---
Linda Lee-Goebel Thu 19 Jan 2006 21:10:00
Lea / Lee
Lea/Lee families & Amite County book, 1 699-1890, Vol.III. I wish to correspond with anyone researching William Lea and I am also interested in locating/purchasing the following book: "Information from William Lea family of King & Queen Co., VA, Caswell Co., N.C. & Amite Co., MS published in Amite County, Mississippi, 1699-1890, Vol. III, pp. 548-570." Please contact me if you can help me. Thanks Linda Lee-Goebel. Des Moines, IA 50320


---
Sharon Campbell Sat 04 Oct 2003 19:48:00
CAMPBELL / MITCHELL / OWEN
I am looking for any information on Edwin CAMPBELL and/or spouse Fatima MITCHELL/OWEN CAMPBELL. Her maiden name could be either MITCHELL or OWEN, I am not sure. My grandmother told me that Edwin and Fatima lived in Peoria, MS. She advised that Edwin was known as "Big Ed" and was very active in the Masonic Lodge. Census records show Edwin and Fatima in Pontotoc County, MS in 1860 and Tallahatchie County in 1870. In the 1880 census, Edwin was living in Ellis County, TX. Fatima died in 1879. I cannot find any corroboration that Edwin and Fatima lived in Peoria or Amite County, but my grandmother was quite sure. One of their children, Thomas Franklin CAMPBELL, is my great-grandfather. Any information you can provide would be very much appreciated. Fort Worth, Texas


---
Tom Fannin Sat 31 May 1997 22:44:19
GREEN / JOHNSON / LOCKWOOD / LOTT / MILLER
I am seeking information on a cluster of families who lived in southwestern Amite county in the late 1820's, and many left for Texas in 1850's. Specifically, James and Elizabeth Johnson Miller, Arnold Miller, Issac, Henry and Joseph Johnson, Arnold Green, and any references to the Lott, Green or Lockwood Families. I know that the Millers/Johnsons came from South Carolina by way of Georgia. I Know that they had land in Amite County and further west in Louisiana, possibly selling some to William Travis of later Alamo fame. Thanks


---
DDD DD MMM YYYY HH:MM:00
---
Willie L. Robinson Mon 02 Jun 1997 22:43:06
BAILEY / ROBINSON
Jacob BAILEY was on of my 2nd great-grandfathers. His wife was named Charlotte and in 1870 they, along with their children, were living in Amite County. They had moved to Franklin County by 1880, and later to Lincoln County. Some of the family also later lived in Pike County. Some of their children were Dellie, Martha, Alfrey, Emma, Stephen, Nancy, Eugene (my great-grandfather) Ebernezar, Esau and Rebecca. A stepson of Jacob was named George ROBINSON. I would like to communicate with anyone who has knowledge of, or an interest in this family. The Willie L. Robinson Family Home Page can be reached at: Home Page Let me hear from you.


---
Oak Lea Wed 24 Jul 2002 22:20:00
LEA
I'm looking for information on a Charles A (I believe Adron) LEA born in either Amite or Copiah counties Aug 1878. He later moves to LA (about 1890) and to New Orleans in 1916. I have nothing on his ancestors, although there are unusual names in his children that might be family names. Otha, Adron, Emmett, Etha, Edgar. If anything here sound familiar, please let me know. Thanks, Oak Lea


---
Susan Hughes Mon 13 Feb 2006 19:37:00
GERMANY
I am searching for any information on Sarah Jane Germany and Adaline A, Germany. I know that they are the daughters of John Germany and Elizabeth Jane Morris, and that they were born in Neshoba County, MS. John Germany had a sister named Elizabeth that married a LAND of Amite County, MS. They had a son named John Land that died without marrying. His estate in Amite County was left to at least two of the children of John Germany, namely Sarah Jane and Adaline A. Sarah Jane was married to David Hugh(e)s and Adaline A. was married to David's son, William A. Hugh(e)s. Their Power of Attorney was written to Willis Germany April 25, 1866. Both Hughes families moved from Leake County, MS to Lincoln County, MS sometime after 1866 as they are all listed on the 1870 census in Lincoln County, MS. David Hughes died, according to family tradition, about 1873. Some say in Amite County, some say Lincoln County. His widow, Sarah Jane, is in Pike County in 1880 with her 5 youngest children. Since all of these counties are so close together, I guess it is possible that she didn't move, that the name of the county just changed. Any information on these families would be helpful. Susan Hughes


---
-----------------------------------------------------------
---
Submit A Query






John E. Cain / 1211 Maritime Lane / Wylie, TX 75098
jecain99@verizon.net

---

Copyright &copy John E Cain and the MSGenWeb from 1997 through ; All Rights Reserved with Full Rights Reserved for Original Contributor




Page last Modified: Tuesday, 27-Jan-2015 22:36:35 EST

---