Trapped in a frame? Click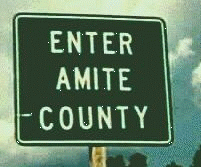 to break free.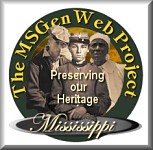 Amite County, Mississippi Queries: Page 3
---
Submit A Query
---
ddd DD MMM YYYY 00:00:00
---
Gail Bunch Mon 27 Mar 2000 18:45:00
FURLOW / TAYLOR
Is anyone researching the Furlow line in Amite? John Furlow, bc 1805 in Amite area. Married Lydia Taylor Furlow in Jan. 1841 in EFeliciana parish. Believe John's father was either William, John or Robert. Any suggestions would be appreciated.
Researching Nimrod Taylor who came to Amite area in 1803 with his family. Does anyone have a list of his sons other than Dr. Casey's list? Need proof that one of his sons was Richard. I have a petition by Nimrod's son William listing all of his children, but does not include Richard. Dr. Casey does include Richard. Has anyone seem a will in Amite for Nimrod Taylor who died about 1835-1839 in East Feliciana Parish? Nimrod was in area West of the Pearl by 1803. Also, has anyone seen any type of land transfer or any other legal document between Nimrod Taylor and his son Richard, bc 1775. Thank you for your help. Gail Bunch;


---
Betrice Jones Fri 29 Mar 2002 22:45:01
ANDERSON / BLAKE
I am looking for information regarding the parents or siblings of James (Jim) Anderson and Maggie Blake married Jan. 15, 1899. They had 6 or 7 children: Cephus, Albert, Vaseline, Gladys, Maggie, and Richard. They lived in Amite County, in/nearby Gloster, MS. Any information will be greatly appreciated. You can email me at jonesbe@yahoo.com. Thanks; Betrice Jones


---
Maurice Lane Fri 01 Oct 2010 19:35:00
ADDISON / COOK / LANE
I would like any information on John Lane who was in Amite co in 1820 and 1830. I am most interested in his wife's name and his children's names. Could a local genealogist tell me if local records exist from that time that I may be able to search if I made the trip? I live in Birmingham, Al. Pelham, Al ALSO: I wish to correspond with anyone who has a LANE or COOK family bible covering Amite or Pike county mississippi. I am searching for the father of MIDDLETON LANE who married MILBERRY COOK in 1840 Pike county, and lived their until his death. I am also interrested in all Lane's from the AMITE/PIKE county area between 1800 and 1850. PLEASE send me any information you have by e-mail or U S MAIL. THANKS


---
Brenda McLain Mon 29 Apr 2002 21:30:17
BATEMAN / CROW / MCLAIN
Wish to correspond with descendants of Allen MCLAIN and Naomi (Neomi) BATEMAN of Amite Co. Seeking info on Parker B. (son of Allen and Naomi) McLain who married Narcissa Minerva Ann Crow. Moved to Jackson Parish, LA by 1860. Had children James Daniel, Parker B. ,Charles Haynes, Robert Allen, Ophelia


---
Carolyn Nelson Fri 27 Dec 1996 07:09:06
BOND / WARNER / BATSON / PEYTON / CULPEPPER
BOND, WARNER, PATTERSON, BATSON, PEYTON, CULPEPPER. Please note new e-mail address due to the upcoming demise of WOW. CRSNelson@aolcom instead of Carolyn_Nelson@wow.com



---
Shannon Robins Mon 29 Apr 2002 21:30:50
ANDERSON / WILLIAMS
I wish to correspond with anyone researching JESSE ANDERSON who married DIADEMA WILLIAMS. They were married in Amite County Mississippi May 4, 1824 and had the following children: John Anderson, Sarah Anderson, Rachel Anderson, George Andrew Anderson, and Martha Anderson. Bellaire, TX


---
Nita Smith Fri 25 Jul 2003 23:30:00
NIX / TALBERT
I am looking for information on Samuel J.W. Nix. He was married to Mary Louisa Talbert. I am trying to find out who his parents,brothers,sisters were. He was Post Master General in Amite County, as well as a captian in the "Liberty Guards" in the civil war. If anyone has any information on him please e-mail me @ perique45@yahoo.com. Thank you, Nita Smith


---
Larry H. Jones Fri 03 Jan 1997 06:49:40
HARPER
Looking for any information on Lewis Littleton HARPER and his descendants. He fought in the American Revolution in Marlboro County, SC, prior to moving to Amite County. Can share information on his ancestry but don't know what happened to him or his family.


---
Gregg Van Kampen Tue 08 Mar 1999 19:33:28
ANDERS / SPAIN
I would like to correspond with anyone knowing anything of an Ethel SPAIN. She married Ray Everett ANDERS in 1927. I believe it may have been in Gloster. Atascocita (Humble) TX


---
ddd DD MMM YYYY 00:00:00
---
ddd DD MMM YYYY 00:00:00
---
Dale McManus Sat 11 Jan 1997 21:46:41
McMANUS
Am looking for information on one of the McManus families (Archibald, Nelson, Ellison C.) living in Amite & Franklin Co.'s in the early & mid 1800's. Thanks


---
Shirley Stubblefield Sun 11 Sep 2005 21:30:00
BALLARD / KEITH /MARTIN / STUBBLEFIELD
I wish to correspond with anyone researching george stubblefield who married mary martin dec 23, 1977 in amite county. they raised a family their and names of their children were john bevil stubblefield, janie s. stubblefield, willie h.stubblefield, joseph stubblefield, and thomas lee stubblefield. they were living around hebron road in that area untill 1903. mark h martin was mary w stubblefields brother. mark h martin is buried in keith cemetary..any info would be welcome..


---
Mary Ray Sun 09 Aug 1998 19:06:27
BARKSDALE
I am looking for information regarding an Elizabeth Barksdale, who was born in 1815 in Amite Co. She later married a George Mixon, and in 1845 married Avery Breed Quillin in St. Helena Parish, LA. Thanks for any help.


---
L A Betts Tue 10 Mar 1998 20:35
CARTER / PACE / STRICKLAND
STRICKLAND-searching for any descendent of Solomon STRICKLAND and Amy PACE. Their daughter Mary Cotton (Molly) STRICKLAND married William CARTER and moved from North Carolina to Amite Co. Mississippi, stayed for awhile then headed for Louisiana. Am looking for any descendents of Noah STRICKLAND and the WHITE families who tie into this STRICKLAND line who all stayed in Amite Co. Mississippi.


---
ddd DD MMM YYYY 00:00:00
---
ddd DD MMM YYYY 00:00:00
---
ddd DD MMM YYYY 00:00:00
---
Libby Varner Sat 09 Sep 2000 07:39:18
MARTIN / RUSHING / STONE
Seeking information on Robert Stone who married Rhoda (Rody) Rushing and was residing in Amite County , 1910. At the time of the 1910 census they were listed with 4 children, Mary, Ernest, Ruby & Wessie. I located a marriage license in Brookhaven, MS issued to Rhoda Rushing married to Robert S. Martin in Dec. 1901. Would like to locate Robert's parents and siblings. He may have had a brother named William Martin. William Martin married Lizzie Rushing (Rhoda's sister) in Brookhaven Jan. 1901. Rhoda and Lizzie's mother was Martha Rushing and had another sister named Cloney Rushing. Martha may have had more children. Martha and the three daughters were listed in the 1900 census in Lincoln County, MS.


---
ddd DD MMM YYYY 00:00:00
---
ddd DD MMM YYYY 00:00:00
---
Kelli Arnold Fri 02 Dec 2005 20:25:00
ARNOLD / BYRD / MARSALIS / MCMANUS / NEAL
I am researching the ARNOLD family and all families conected. I have tons of information. I am very interested in any info on Isham Arnold, Martha Ann "Patsy" Neal, and any connection of the Arnold's with the Marsalis or the Byrd families. Marshall Texas


---
Mike Dixon Sun 10 Aug 2003 20:30:00

LEA / UNDERWOOD
I would like to correspond with anybody that might have information about the Underwood family in Liberty, Amite County. My g grandfather was Aaron W.Underwood. His brothers were Obadia,J.M., and Armisted. Aaron married Emily Catharine Lea, daughter of Landon Ludwell Lea, in 1866.I would be interested to hear any information concerning any of the above. Mike Dixon


---
FOY / MIDDLETON / MORGAN / SMILEY / TARVER / THORNHILL / WACTOR
Barbara Goode Thu 27 Feb 1997 15:01:37
Parents & siblings of Elizabeth MORGAN b. 1797 SC m. Jacob W. Wactor (b. c1787 SC) in Amite Co., MS on 19 December 1912. Parents & siblings of Elizabeth TARVER b. 08 Aug 1824 d. 15 Mar 1913 m. John W. Wactor (b. 03 Jan 1822? d. 07 Mar 1908) on 24 Jul 1846 in Franklin Co., MS Parents, siblings of Eliza Jane Foy b. 1860 d. 1908 m. I. J. Wactor (d.1908) in 1877 in Franklin Co., MS Parents, siblings of Belinda Smiley who m. Joseph D. Flowers (b.c1815 d.1875) in Franklin Co., MS on 12 Aug 1836 Parents, siblings of Pemmy Middleton b.c1799 SC m. Robert Thornhill (b.c1787 d. before 1860) in Amite Co., MS


---
CASSELLS / GILLEYLEN / NUNNERY / WILKINSON
Cathy Gilleylen Schultz Mon 13 May 2002 22:30:00
I'd appreciate any information anyone has on these families. I'm looking for information about the State Senate race (in the 1930's) for the district that includes Amite County in which a Mr. Cassells beat out Everett O. Gilleylen.


---
Laurie Naler Mon 12 Dec 2005 22:00:00
ROBINSON / TURNIPSEED
Looking for names of the parents of Mary Temperance Robinson of Amite Co. Mary was born April 9, 1835 and died March 30, 1873. She was married to George Monroe Turnipseed on March 24, 1853 in Amite Co. Any help would be greatly appreciated.


---
Laura Kusaba Fri 22 Aug 2003 22:30:00
EPPERSON
I am looking for the parents and siblings of Benjamin Holland Epperson born in Amite County on November 3, 1824. He moved to Texas in the 1840s and became an attorney. He married Harriet Amanda Shields and later Nancy Agnes Reece.


---
McGEEHEE / MIDDLETON / WILKINSON
Mike Wilkinson Tue 14 May 2002 22:15:29
My ancestor was Daniel King WILKINSON who was married to Mary LANGFORD who had single child Sarah Ann born May 1818. Mary died and their child Sarah Ann moved to Duncan WILKINSON household. Sarah Ann married Mumford McGEHEE in 1838. Daniel moved to Jefferson County in 1823 and later married Elizabeth Braiden. Duncan WILKINSON brother to Daniel King WILKINSON was early pioneer in Amite County (have found statement that there was an 1802 passport from Georgia to Mississippi and a listing in 1816 as residing in area.) His daughter Sarah Catherine married Robert MIDDLETON. In his later years Duncan lived with Robert MIDDLETON and daughter Sarah Catherine. Angus WILKINSON married to Catherine RAY moved to Amite County in early 1800s. I do not have much information on him. I wish to correspond with anyone who has connections to the above names.


---
Bill Teston Mon 26 Dec 2005 20:24:00
TESTON / WALL
I wish to correspond with anyone researching Frederick M. Teston and/or Elizabeth P. Wall. Frederick and Elizabeth are both from South Carolina and settled in Amite county MS between 1810 and 1814. Fredrick was born in 1789 and Elizabeth about 1788. They married abt 1809, possibly in South Carolina. Their children included: Mary Ann b. 1813; Rebecca Caroline b. 1815; Stephen Elbert b. 1817; Mary Elizabeth b. 1820; Lemuel Wiley b. 1823; Gideon Elisha b. 1824. There may have been another son named Frederick M. Teston Jr. but, I cannot yet comfirm his birth. I am particularly interested in obtaining information concerning the Teston or Wall families in South Carolina. Corespondence with other researchers, indicates that Elizabeth may have been related to the Wall family that settled in Amite, MS in the early 1800s but, nothing has been confirmed as yet. I have a fairly extensive DB of the Teston family from MS to present day and will be willing to share information with anyone interested. Vero Beach, FL


---
---
Submit A Query






John E. Cain / 1211 Maritime Lane / Wylie, TX 75098
jecain99@verizon.net

---

Copyright &copy John E Cain and the MSGenWeb from 1997 through ; All Rights Reserved with Full Rights Reserved for Original Contributor




Page last Modified: Tuesday, 27-Jan-2015 22:36:35 EST

---