Trapped in a frame? Click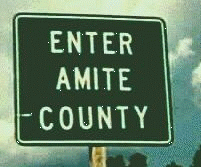 to break free.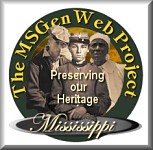 Amite County, Mississippi Queries: Page 2
---
Submit A Query
---
Krista Mendez Tue 25 Nov 2014 19:00:00
CLEVELAND
I wish to correspond with anyone who might be researching Christopher Columbus Cleveland (1/6/1850-6/27/1915) He was married to Cornelia Eloise Mixon in 1873. He was murdered by his son-in-law, Allen Westbrook. I am looking for any information on his parents and/or grandparents. Lufkin, Texas


---
Paul Ford Sun 30 Nov 1996 21:43:53
FORD / FOREMAN / KLING / LUSK
I wish to correspond with anyone researching Charles C. Ford and Sally Foreman Ford who were living in Amite county at the turn of the century and had the following children - Leo Clarence Ford, born Oct. 16 1905 Liberty Miss., Hilda Mae Lusk, Mrs. JB Kling jr., TF Ford, Charles C Ford, Jr, Robert Ford. Thank You, Paul Ford


---
Ben BeversReno, Nevada Tue 02 Dec 2014 19:30:00
STRAUGHAN / STRAWN
Balam Straughan/Strawn, Fielding Straughan/ Strawn, Jonathan Straughan/Strawn, - At some point they changed their name from Straughan to Strawn. Balaam married Lucy Scott in Amite Co. Ms, on 11-02-1818 No info on Fielding in Amite Co. Jonathan married Henrietta McManus in Amite co. MS. on 10-04-1839


---
Vicki Logee Sat 05 Oct 1996 13:03:23
CRAWFORD-CAPELL-GRAVES- KILLINGSWORTH
Searching on the following early Amite Co. surnames: CRAWFORD, CAPELL, GRAVES, and KILLINGSWORTH. Littleton Capell of Pleasant Hill arrived c.1811, Von Tromp Crawford c. 1828, and Francis Graves c. 1803. Richard Allen Killingsworth appeared around 1890. Allied names:DUNN, WHITE, NESMITH, SPINKS. Any information on these surnames will be appreciated. Will gladly share any information I have.


---
Bettiann Lloyd Sat 05 Oct 1996 10:08:30
TALBERT / WHITE
Virgil WHITE, b abt 1812 (s/o John WHITE/Lydia Morgan WHITE)East Feliciana Parish, LA; m 16 Jan 1837, East feliciana parish, LA to Janette Scott TALBERT (d/o Lewis TALBERT/Sarah Scott PERKINS). Virgil and Janette had four children: Alice WHITE m Wardlow HOBGOOD; Mentora WHITE m James S. JAMIESON; Henry Lafayette WHITE m Casandra FELPS; and Eliza WHITE m Moses JONES. Janette married Joseph ABNEY after Virgil's death. She supposedly died in Amite County, MS on 15 Jan 1918. I have written MS twice for death certificate and they say they have searched under TALBERT, WHITE and ABNEY surnames.....no luck. If you connect to or have any information on these family lines; or clues why I cannot obtain Janette's death certificate, would Love to hear from you. Genechaser@aol.com Bettiann Lloyd, Austin, TX


---
Darleen Ohman Tue 01 Jul 2003 20:24:00
GERALD / HAYNES
Looking for family of Amanda Malvina Gerald. Married Bythel Haynes jr. 1 November 1831 in Amite County. Would like father's and mother's name as well as siblings. Thank you, Darleen Ohman


---
SYDNEY MURFF Fri 02 Jan 2015 20:38:00
SULLIVAN / TULLOS
I am looking for information on Mary SULLIVAN who at about the age of 18, married James TULLOS in Amity County, on 19 Jul 1810. I show the following Sullivan's on the 1810 Census, but I do not know if one of these is her family… James SULLIVAN 2 white females under 21; Daniel SULLIVAN 6 white females under 21 Thomas SULLIVAN 1 white female under 21; Margaret SULLIVAN 2 white females under 21 Each of these families had at least one white female under the age of 21, so she could have been part of any one of them… If anyone has further information on her birth family, please email me at spmurff@yahoo.com thanks, Sydney


---
Lisa Donica Sun 12 Jun 2005 20:15:00
ABNEY / BRABHAM / JONES / SWEARINGEN / WILLIAMS
Joseph Duncan Abney m.25 DEC 1851 E. Feliciana Parish, LA to Janette Scott Talbert White, widow of Virgil White. Joseph and Janette had one child Isabelle Katherine "Kate" Abney who married Jacob "Jake" Harrell Jones in Amite County, MS. I am researching Joseph Duncan Abney and also seekin info on daughter Kate and her descendants. Jake, Kate and Janette are all buried in Amite River Cemetery. Lisa Donica, Houston, TX


---
Debbie Kelly Tue 12 Jul 2005 22:00:00
CORNEGA / KORNEGA
Debbie-Tangipahoa Parish Louisiana Would appreciate any information on the Kornega/Cornega (any spelling variation is a possibility) family who lived in Amite and/or Franklin County in the late 1800s. Thanks, Debbie


---
Sue Abruscato Tue 24 Sep 1996 08:33:21
DIXON-BOOTHE
Three Dixon brothers settled in Amite Co., ca 1809. David was married to Sylvia Boothe, John was married to Henrietta Boothe, and Ephraim was married to Sarah Boothe. Sylvia, Henrietta, and Sarah were daughters of Daniel & Priscilla Boothe of Orange Co., NC. Joseph Boothe also a son of Daniel & Priscilla, settled in Amite. Would love to find anyone researching these families, have much to share. Collateral lines: Gordon, Murphy, Shaw, Toler, Kirkland, Harrington, Henderson, Caston Lea, Anderson, Longmire. Families settled in Amite, Wilkinson, Adams, Simpson, and Hinds.


---
Sue Abruscato Tue 24 Sep 1996 08:47:31
MURPHY-DIXON
Am researching the family of Willis Murphy/Murphrey and Priscilla Dixon. Willis, Wiley and Mary Murphy were put under guardianship of Richard Murphy in 1809 Amite Co. Who were the parents to these children. Richard was born in Duplin Co., NC in 1762, finally settled in Simpson Co., MS. Mary Murphy was married to Theodore Dorsett. The Dorsett's and Murphy's settled in Sabine Co., TX in 1825. Priscilla Dixon was the daughter of David Dixon and Sylvia Boothe. Possible children of Richard Murphy: Mary who married James Brooks in 1818, Daniel Murphy who married Cay Graves in 1809, Eleanor who married Jon Perry in 1819, and Lavina who married John Peak in 1810. Would love to hear from anyone researching these lines.



---
GaryLou McGraw Heistand SUN 26 Mar 2000 19:45:03
FLOWERS / MCGRAW / QUACKENBUSH
I am seeking information on the McGraws, Flowers and the Quackenbush families. John Sidney McGraw born in Gloster, Mississippi. Lillian Flowers married William Henry Quackenbush from Patterson,New Jersey. John Sidney or Sidney John McGraw was a barber and died in 1920 in Baton Rouge La. His first son was Joseph Sidney McGraw born May 26.1912 or 1914? GaryLou McGraw Heistand; 5332 32 Avenue South; Seattle, Washington 98118 Thank you


---
Kimberly Lang THU 19 Mar 2015 21:00:00
LANG / SMITH
I wish to correspond with anyone researching or know any information about my great grandfather Thomas Lang born 8/29/1880 in Amite County. He married a woman from Mississippi, not sure what part she is from but her name was Willie Smith born about 1895. They had two kids name Robert Lang born in 9/29/1923 in Louisiana and Hazel Smith (dob unknown). Any information will be greatly appreciated. Thank you, Kimberly Lang New Orleans, La.


---
Jacquee Carvin Tue 09 Aug 2005 20:45:00
CORBAN / JACKSON / WHITTINGTON
I am researching the family of Thomas Jackson (1856) and Alice Corban (1861) from Amite Co. MS. They had 13 children. Their seventh child, John Harvey Jackson, is my grandfather. Their line goes back to Stephen, Thomas, 1st Lt.Thomas and Isaac Jackson. I have different information at this point. I would appreciate any information of this family and their ancestors. (New Orleans)


---
Johnnie Johnson Tue 08 Jul 2003 20:18:00
DOANE / REID / SEYMOUR / SHELBY
Shelby/Doane/Seymour/ Reid are the main names I am searching as I have just discovered they were in Wilkinson County and Amite County MS... My Evan Shelby came to this country about 1790s when Mississippi land belonged to the Spanish....he was from Pennsylvania and in 1797 he married in St. Joseph Cathedral to Mary Doane, dtr of Joseph Doane....they had seven children but most of them died...the first named Margaret Shelby was married 1816 to John Warren Seymour....Jane I. Shelby married a Tristiam S. Easton ...some of the grandchildren were connected to Robert R. Reid. Johnnie


---
Tom McLeod Thu 09 Jul 2015 19:33:00


SMITH
RE: SMITH, RUBY LORELLE – BORN 11 OCTOBER 1925 – DOD ????? Information we have indicates she married ROBERT RODNEY LEBLANC on 3 January 1948 and they had a child PEGGY LYNN LEBLANC on 17 December 1948. We completely lost the trail after that. They are distant relatives and we're would like to find out anything about them. Thank you, Tom McLeod


---
Katherine Kirchhaine Sutherland, MD Mon 119 Oct 2015 20:20:00


ANDREWS / BURRIS / KIRCHHAIN / MYERS / SIMMONS
I wish to correspond with anyone researching the descendants of Samuel Burris (1755 - 1811) and Mary Myers (abt 1767 - 1827), my 4th great grandparents. They moved from Darlington, SC to Smithdale, Amite, MS in 1808. They had 11 children including : William Burris B: 1791, Harriet Almina Burris B: 1793, John Burris B: 1794, Elizabeth Betsy M Burris B: 1797, Samuel Burris B: 1800, Anna Burris B: 1803, George Nelson Burris B: 1805, Enos Burris B: 1807, James Burris B: 1807, Hampton Burris,B: 1809, Addison Burris B: 1811. The last 2 were born in Amite. William Burris (1791 SC - 1838 Amite, MS), my 3rd GGF, married Maria Theresa Andrews (b 8 May 1802, Amite MS) in Amite in 1817 and they had possibly 8 children (Mary b 1818, Louisa b 1821, Lucy b 1823, James Madison, b 1826, Sarah Ann b 1828, Elizabeth Maria 1830, Martha Lucretia b 1833, and William Addison b 1835). Lucy A. Burris (1823 - 1872), my 2nd GGM, was born in Amite on 8 Jan 1823. She married Ferdinand Justus von Kirchhain (1806 - 1888) in March 1842 in AL. They were living in Amite in 1845 but had moved to TX by 1847. Samuel B Simmons (1790 - 1880) also moved from Darlington SC to Amite, MS and married Harriet Burris (1793-1837), my 4th great aunt. They had 9 children, all born in Amite, MS. I am directly related to Samuel Burris and Mary Myers as follows - Samuel Burris (1755 - 1811)is my 4th great grandfather; William Burris (1791 - 1838) son of Samuel Burris; Lucy A Burris (1823 - 1872)daughter of William Burris; Phillip Ferdinand Kirchhaine (1847 - 1912)son of Lucy A Burris; Yulee Hodges Kirchhaine (1888 - 1918) son of Phillip Ferdinand Kirchhaine; William Ferdinand Kirchhaine Sr. (1912 - 1988) son of Yulee Hodges Kirchhaine; Katherine Anne Kirchhaine I am the daughter of William Ferdinand Kirchhaine Sr.;; Katherine Kirchhaine Sutherland, MD, Winter Haven, FL (650-305-01391).


---
Jan Garland Sun 17 Mar 2002 7:30:37


FRANKLIN / MAGEE / MOORE
Seeking information about Phillip Magee, son of William Magee & Ann Moore, b. @1760 in NC, moved to St. Tammany Parish LA, then to Amite Co. MS sometime before 1809, and died @1825 in Amite Co. MS. Several of their children were married in Amite Co. MS 1808-1827. Phillip married Jerima or Jemima Morris Franklin by 1788, and she died 4/17/1812. I found the following information about his children on line, which shows a total of five children, three girls and two boys. By the 1810 census, three of those daughters and one son had married, however the 1810 census indicates that the family included two sons and two daughters under 21 years of age still living at home. I'm wondering if perhaps Jerima had other children not listed and if perhaps she had died in childbirth, with her last surviving child, not listed below. I have read that Phillip had a second wife, but her name is not known. So far. Phillip and Jerima's known children are: Phereba or Pherba (Phoebe?) Magee b. 1788, Anna Magee b. 3/16/1790, William Magee b. 1792, Dicey Magee b. 1795, Charles Magee b. 1808. Am seeking info or sources for info regarding Phillip and his wives. The reason for my questions: I'm seeking the parents of James P. Magee b. 1811-1812 in MS and who was living in Amite Co. MS in the 1840's. Wondering if this could be his parents and siblings listed above.


---
Kay Fleming Tue 09 Aug 2005 21:00:00


GORDON / MARSALIS / MOORE / ROWLEY
Looking for other descendants of my 4great grandparents from Amite County, MS. Peter H. MARSALIS b. 1775 PA/NJ d. July 1846 Amite Co. wife Mary Magdalene "Polly" GORDON b. 1784 NC d. 1862 Amite Co. Children: Sarah GORDON, Ephraim, William, *my 3ggf Thomas, Patterson, Phoebe DICKEY, Mariah FELDER, James E., John, Prudence GARDNER. Samuel MOORE b. 1779 SC d. 1835 Amite Co., first wife is believed to be Elizabeth ROWLEY. Second wife was Mrs. Jane CASTON. Children of first marriage: John, William B., Allen, Thomas L., *Sarah A. MARSALIS, Martha, Mary Rowley KING, Elizabeth DENMAN. Child of second marriage: Samuel Blanchard MOORE. (McComb, MS)


---
Sylvia Smith ddd DD MMM YYYY HH:MM:00


JONES / SPURLOCK / WALL
I descend from JOSEPHUS JONES and JANE WALL who were married in Amite County, MS, on 10 December 1850. Josephus, was the son of HENRY JONES and MARY SPURLOCK. Josephus Jones was murdered on Election Day in 1858 in Gillsburg, MS by FRANCIS M. CARTER. I am looking for researchers on the JONES and WALL families to share information with. I descend from the son of Josephus and Jane Wall Jones. Jane Wall married a second time to Dr. J. J. Facundus. They moved to Livingston Parish, LA, shortly after their marriage. She died in March of 1907 in Livingston Parish.


---
Cedric Cheatom Fri 29 Jan 2016 20:39:00


BROOMFIELD / CHEATHAM / ROBINSON
I'm trying to see what happen to the James Broomfield family after the 1910 census. They were in Amite County. His spouse was Faith Broomfield and his children were Frank Broomfield and Gracy Broomfield. Frank was born in 1905 and Gracy was born in 1907.
ALSO:
Looking for Ella and Lee Robinson. They married in Amite County, MS. On 08Mar1892.After marriage I found no census information. Ella's maiden name is Cheatham. She was born the daughter of Frank and Gracie Cheatham in 1873. Any information would be welcomed. Thank you.


---
Ike Perkins Sun 14 Aug 2005 23:00:00


PERKINS
I wish to correspond with anyone researching the Perkins in Amite County in the early 1800's, additionally, Ike Perkins who married Louisa Perkins. They were married in Amite County Mississippi.They had the following children: Delia, Tellie, Frank, Edward, Mattie, Mike or Harry and Adell, plus ten other children.


---
Sheila Stewart Wed 29 Mar 2017 19:15:00


CHAPMAN / COWARD / O'NEAL
I wish to correspond with anyone researching William O'Neal who married M. F. Chapman; Marriage Date 7 May 1839 in Amite County. I believe they could be the parents of my great grandmother, Nancy Jane O'Neal. The story is that she was born in Ireland and rode the orphan train to live with Samuel Coward in Amite County. She was born in 1844 and had a brother named William. He went on to live in Louisiana after serving in the Civil War. All census records for both Nancy Jane and William list their birthplace and their parents as Mississippi and their children also claim their parents were born in Mississippi. Nancy Jane married Ephriam Rushing and and is buried in Amite County. Samuel Coward lived next door to the Rushings in the 1850 census. Wesson, MS


---
Jim Frith Sat 27 Aug 2005 22:00:00


FRITH / TOLER
I seek information about: John Edward Frith, b.1772 in ??, Virginia, died in 1829 in Liberty, Mississippi. His wife was Mary F. Castin Frith (b.1775 in Va.). Archibold Frith, b. 1795 in Va., died 1851, Amite Co. He married Sarah Toler of Amite Co. (died in Bunkie, La.)


---
ddd DD MMM YYYY 00:00:00






---
Debbie Clemons Tue 30 Aug 2005 21:15:00


WOMACK
I am intersted in contacting anyone who has information about the following people: Womack, Jacob Green b: 10-5-1780 Caswell Co., NC, m: 6-11-1810 Amite Co., MS to Nancy Jane Walker b:12-12-1788 GA, d: 6-27-1850 St Helena Prish, LA -or- Womack, Steven G or W b:7-4-1813. Debbie Clemons; 19645 Hwy 98 N; Okeechobee, FL 34972


---
ddd DD MMM YYYY 00:00:00






---
Nancy Autry Mon 05 Nov 2001 20:15:46


ANDERSON / ARMSTRONG
Wondering if there were an epidemic of some sort in Amite Co. in the summer of 1845. My gr-gr-gr grandfather Lawrence Eugene Desaix Anderson died in May of 1845 and his wife Mary J ane Armstrong Anderson died in July of 1845. My mother has always wondered if perhaps it was an epidemic that caused their children to have to be raised by grandparents, aunts, etc. Thanks for any help.


---
Myra Daniel Thu 28 Mar 2002 07:41:30


NEILSON / STEVENS
Does anyone have information on Lt. Col. NEILSON'S detachment of the Mississippi Militia on the War of 1812. I understand this detachment had many Amite County men. I think my ancestor Henry W STEVENS was in this regiment, but not from this county. If anyone knows where I can get a list of these men, I would greatly appreciate it! Thanks a million! Myra Daniel; Virginia


---
ddd DD MMM YYYY 00:00:00






---
---
Submit A Query






John E. Cain / 1211 Maritime Lane / Wylie, TX 75098
jecain99@verizon.net

---

Copyright &copy John E Cain and the MSGenWeb from 1997 through ; All Rights Reserved with Full Rights Reserved for Original Contributor




Page last Modified: Wednesday, 29-Mar-2017 20:22:19 EDT

---