Trapped in a frame? Click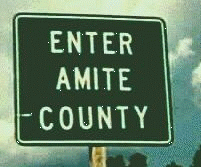 to break free.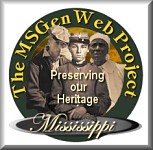 Amite County, Mississippi Queries: Page 1
---
Submit A Query
---
Rachel Goss Sun 06 May 2012 20:30:00
DAY
I wish to correspond with anyone who has information about Jeff Day. I am a descendant of David Day, and I found a tintype of someone named Jeff Day in a box of family photographs. If someone has more information I would really appreciate it. Thank you!


---
Ethel Wells McClyde Fri 08 Feb 2002 19:53:00
BACOT / BATES / DAVIS / GARDNER / GARNER / LEA / LOWREY / MARSALIS / PARKS / TRAVIS / WELLS / YOUNG
I am interested in any information regarding these surnames. My paternal gggrandfather was Louis Wells, b. 1835, in MS, a slave, married to Leah, I don't know if she had a maiden name. They had 13 children. My ggrandfather, Andy (Andrew) was born in 1854, Smithdale, married Mourning Young in 1874. They had 10 children. Andy died, in 1933. My paternal ggrandfather, Champ Marsalis, b 1848, a slave. He married Isabella Parks and had 8 children. My maternal gggrandfather was Mat Lowrey, born in MS, married Mary Travis born in Virginia. I don't know if there were other children. I don't know if they were slaves. My ggrandfather, James Lowrey was born in 1836 in MS and died 1914. James was not listed on the 1870 census of Amite, but showed up in 1880 Amite census.He married Adline, don't know her maiden name. They had 8 children. Adline died abt 1900. James remarried in 1906, to a lady named Viney. My maternal ggrandfather was Prince Lea, born abt 1844 in MS, a slave. He had a brother Alexander Lea, born abt 1843 in Virginia. Their parents were born in Virginia. Prince married Frances Davis in 1870, they had 16 children. Prince and Frances were in Pike county by 1910, all 16 children still alive. I would appreciate any correspondence from anyone researching these surnames as well as offspring, who may know something about these surnames.


---
Sue DeMers Sun 27 May 2012 21:30:00
WASHINGTON
Looking for any information on Adam Washington born about 1825 wife was named Viney Children were Malisy, Jeff, John, Jemima. Lived on state line of Ms. and La. They were in the 1870 and 1880 census near state line south of Liberty. Sue DeMers, San Diego, Ca.


---
Pat Ezell ddd 12 JUL 1996 00:00:00
ANDERS - BUTLER - CAIN - COCKERHAM - DAVIS - FORMAN
JACKSON - JAGERS - KENNEDY - ROBERTS - TAYLOR
TOLER - VAN NORMAN - VENABLE - WHITTINGTON
WILKINSON - WILLIAMS

Researching these names in Amite County: ROBERTS, FORMAN, TAYLOR, WILKINSON, VAN NORMAN, CAIN, KENNEDY, COCKERHAM and DAVIS. Many of these families were in Amite County in the very early 1800's. Also have information on collateral & allied families of: WILLIAMS, JACKSON, TOLER, WHITTINGTON, VENABLE, JAGERS, ANDERS, BUTLER


---
Carolyn Lillard ddd 18 JUL 1996 00:00:00
ANDERS / BONDS / COLLINSWORTH / LINDSEY
MONTGOMERY / NELSON / SUTCLIFF / TALBERT
I am researching these surnames from Amite County ... would like to share information. David MONTGOMERY (1780-1837), Jesse MONTGOMERY (1807-1863), Nancy MONTGOMERY (1833-1915), Daniel NELSON (1823-1876), Ann LINDSEY (1812-1842), Conrad ANDERS (1804-1863), Jesse TALBERT (1751-1822), Fannie COLLINSWORTH (1809-1846), Thomas COLLINSWORTH (1779-1837), Martha BONDS (1782-?)


---
Thad Dudley Anderson Mon 07 Apr 2003 19:30:00
ANDERSON
My father, Thad Anderson, Smithdale, dob 1/3/1895; his brother Dudley, a pharmacist in Liberty or Centerville, sister Mary. His father Thomas E. Anderson, mother Nina Gillis. Please advise of knowledge of this family heritage. Thank you.


---
Rhonda Chambers Mon 07 Apr 2003 19:36:00
WALL
I am trying to correspond with anyone that would know a Rhoda Wall who purchased land in Washington, Ms. in February, 1859. I believe this may be my great-great-grandmother


---
Diane O'Hara Sat 07 Jul 2012 19:30:00
ANDREWS / MAGEE
I am looking for Amite Co. Court Records, 1836-1837. My 3rd Great Grandfather John MAGEE became guardian of his sisters' children after she and her husband died. His sister was Dorcas MAGEE ANDREWS and her husband was Edmond ANDREWS. They both died 29 March 1836 leaving 2 children Gabriellen Mary Andrews and Marion Augustus Andrews. I would like to know the cause of their deaths (obituary or newspaper article) and a copy of the court records stating he was their guardian. Livingston, TX


---
From Nanette Costley Bates McGehee Wed 12 Dec 2012 20:00:00
BATES / DAVIS / HUFF
I am interested in history of the Dr. Marshall Pendleton Bates lineage. He was my paternal grandfather, and his second wife was Mamie Davis Bates, I believe her mother was Ellenora Huff Davis. My father was William Lattimore Bates, born in Liberty in 1904. He had 4 siblings: Annie Bates Humann, Marshall Pendleton Bates, Jr., Charles Davis Bates, and Mamie Davis Bates. I have a liitle bit on the Bateses from Goodspeed; would like to explore more. Wonder if I have any living cousins in the area. Thank you, Nan McGehee. Natchez, MS


---
Linda Harper Fri 18 Apr 2003 19:35:00
HARPER / WHITTINGTON
I am researching Gref Whittington of Amite County, MS. He migrated from Cheraw's District, SC around 1819 with the Lewis Littleton Harper family. He is mentioned in Lewis's pension application. I would appreciate any information and be happy to share what I have. Jesup, GA


---
Bob Sorrels Sun 06 Feb 2005 20:00:00
PICKFORD / SORRELS
Am looking for information on John and Sarah Sorrels. I believe they are the parents of my ancestor David Sorrels. David married Sarah Charlotte Pickford in Amite County, MS in 1822 I have seen church records mentioning John & Sarah attending Church in Amite County. David and Sarah Charlotte both came to Amite County from Kentucky. Any help appreciated. Bob Sorrels Houston, Texas bobarba@aol.com


---
Dena Roberson Sat 30 Apr 2005 20:45:00
CRUISE
How would I find birth records for Amite and surrounding counties from the late 1800's? I am partucularly interested in the family of Mattie Bell Cruise b. 1882.


---
Alex Galbraith Sat 01 Jun 2013 19:44:00
DICKSON / EPPERSON / NEAL
I wish to correspond with anyone researching Caro Epperson who married Nancy Neal. They were married in Amite County on 15 January, 1824, and had the following children: Benjamin H. Epperson, born in Amite County 3 Nov. 1824; Robert Epperson, born in Amite County in 1830; Elizabeth Epperson, born in TN in 1835, Sarah "Sallie" Epperson Dickson, born in TN in 1837 and Jane Epperson, born in TN in 1841. I am especially interested in the ancestry of Caro Epperson. Thank you, Alex T. Galbraith; Houston, Texas


---
John E Cain Tue 20 Aug 1996 00:32:15
CAIN / COX
Researching the Cains who lived in Amite and Wilkinson county. In particular, Archibald W. Cain who married Julia Ann (Juliann?) Cox in 1835. Arch and Julia had children: William L.; Franklin F; Fountain Fairchild; Lemuel Lafayette; Lethia; Carlton C; Archie A; Azaline (Ara); Sarah J;. They were charter members of the New Providence Baptist church. In 1858, the family moved to Caldwell Parish LA.
Home Page


---
Steve Francis Mon 15 Feb 1999 21:05:01
FRANCIS / JONES
I am looking for any info on William and Nancy (Jones) Francis. She was a resident of Amite County and he moved there from South Carolina. They were married on Nov. 18,1813. William Jr. was born on July 3, 1818 in Mississippi but does not appear on any Miss. census. Any help on this matter would help. New Orleans, La.


---
Shirley Baker Thu 01 Jan 2014 17:00:00
COTTON / RUTLEDGE / WILSON
I wish to correspond with anyone researching JOHN RUTLEDGE ( born in Henderson Co. Tennessee in 1785) who married SARAH K. WILSON in Amite County, Miss. on 11 Nov 1824. All of their children were born in Amite County. The family immigrated to Jasper/Newton County in Texas after the birth of the last child, my great-grandfather. The children were JAMES MONROE RUTLEDGE, b. 1827, WILLIAM ELLISON RUTLEDGE, b. 1829, JOHN RUTLEDGE, b. 1831, IVERSON G. RUTLEDGE, b. 1836, ELIZA JANE RUTLEDGE, b. 1838, LETHA ANN RUTLEDGE, b. 1840, OLIVER CAULDFIELD RUTLEDGE, b. 1843. SARAH K. WILSON was born in South Carolina in 1805 to WILLIAM W. WILSON (1766-1825) and ELIZABETH COTTEN (1780-1860). I am particularly interested in the family's time in Amite County and in when they left for Texas.


---
Phil LeDoux Wed 13 Feb 2002 19:18:13
CAUSEY / RILEY
I am researching the genealogy of my ancestors Henry CAUSEY of Liberty, MS, and his wife Sarah RILEY of Gloster, MS. Probable birth dates are about 1870 to 1880. Henry's father was Van CAUSEY who was a slave. This information is based on an interview with John CAUSEY, Henry's son. Sarah's mother was Martha Riley of the Cherokee nation.


---
Todd Drummond Mon 13 Dec 2014 16:30:00
DRUMMOND / JONES / WILKINSON
I am conducting research on the DRUMMOND family history in Liberty, Amite, Co. In particular, I am searching for ancestors of Thomas J. Drummond (1811-1897), b. Northern Ireland, d. Liberty. and his with Aleathe (JONES) DRUMMOND. They had eight children: Mary Jane, John Darling, William Henry, Sarah Elizabeth (Lizzie), James, Allen, Alzenia, and Charles. Also interesting in connecting with descendants of Micajah, Benjamin, or Jeffrey WILKINSON, also of Liberty (Glouster).


---
Toria Thornhill Sun 23 Mar 2014 13:00:00
KEITH / NASH
Looking for information about Walker Nash who married Maria Gallihue Keith in Amite Co., Dec 30, 1817.


---
Karen Williams Wall Sat 05 July 2014 20:11:00
BASS / TERRELL
I am looking for any information on Moses Bass, born abt. 1778. He married Elizabeth Terrell abt. 1805 in Adams Co. MS Territory. Moses parents may have been Jeremiah Bass and Hannah Whitney. Moses and Elizabeth had several children, some of which were born in Amite Co. Ms. (Montgomery County, Texas)


---
Emily Suggs Thu 14 Feb 2002 19:00:00
McCLAIN / TATUM
my mother was a tatum from gloster ,miss . we are looking for more information about the will tatums and the r.s. mclain family...we have the list of people who are buried in the tatum cementry out side of gloster and would like to enter it in the cenentry list... please contact me at em_suggs@hotmail.com.. i am emily suggs--11105 bradyville pike--- readyvile, tenn 37149


---
Mary Dennis Sat 01 Apr 2000 22:30:03
STRICKLAND / WILSON
i am looking for any information on james strickland who married nancy wilson in amite,ms. abt.1816 to 1820 james strickland had a brother who settled in amite,ms, "before going to lousiana" his brother was henry strickland, born 1805 in ga. married clarrisa verando does anyone have any info on this family


---
Alton Boyd SAT 01 APR 2000 22:54:11
BONDS / CAUSEY / DAY
I would appreciate corresponding with anyone researching the following lines: Jonathan Day (of Amite Co.) 1796-1870,m.Eliza Ann ("E.E.A."), last name unk.; Iverson Day,1837-1893,m.(1) Lucettie Adalaide Bonds (2) Catherine Ann Causey; or any of Jonathan Day's other children. Also, am eager to prove the identity of Jonathan's parents and to see photographs of ANY of these folks. Thanks for any help. Requesting pictures and/or information on Woodlands School and Church, also Rose Hill School, all in Amite Co. Particularly interested in years 1865-1915. My grandmother,Lucettie Adalaide (Addie) Day, taught at Rose Hill sometime between 1890-1903. The Iverson Day family attended Woodland Church and School. Any information very much appreciated.


---
Helen Aponte Sat 12 Jul 2014 20:00:00
MCDOWELL / SLEEPER / STRIBLING
Looking for evidence for DAR application showing that Chlorinda Sleeper (1827-1907) was a daughter of Gideon Sleeper (1786-1838) and Margaret McDowell Stribling. Chlorinda was born in Mississippi and died in Texas. I have her marriage record which was in Amite Co, MS. She married Robert Lee Torrance of Amite Co, MS. I have access to the book "History of the Sleeper Family of Waco and McLennan County Texas" by John Sleeper. The DAR does not find that to be sufficient to prove that she is the daughter of Gideon Sleeper. A will of Gideon Sleeper would be good, but I have not been able to locate one. Birth records, other than bible records probably do not exist. A bible record would be great.


---
Alinda Coats Tue 22 Jul 2014 19:17:00
BATES / LACKING
I am looking for information regarding the lineage of the Lacking/Bates family. Mary Bates born Feb 1810 was the mother of Taylor Lacking; Taylor lacking was the parent of Hansel Lacking; who was the parent of Jethro Lacking who is my deceased father (April 1973). Any information can be sent to aacoats@yahoo.com subject title Lacking/Bates Amite County MS.


---
Bill Thomas Tue 27 May 2003 20:15:00
BRISCOE / CARPENTER / DENMAN / RUCKER
I wish to correspond with anyone researching John and Jane RUCKER who were living in the Natchez District in 1810. One child, Nancy Rucker, married Hezekiah BRICSOE in 1821. Another child, E. Preston (Presley) Rucker who married Temperance Cagle Carpenter in 1832 moved from Amite county to Copiah in 1825. They later moved to Attala in 1840 and had the following children who lived in Attala, Carroll, and Montgomery Counties: (1)William RUCKER who married Elizabeth DENMAN, (2)John T. (Jane) RUCKER who married James BRISCOE, (3)Mahla RUCKER, (4)Mary RUCKER,(5)James R. RUCKER,(6)Edmund H. RUCKER, (7) Nancy RUCKER, (8) Temperance Parrisna RUCKER who married John AUSTIN, (9) Martin P. RUCKER, (10)Jesse William RUCKER who married Ellen L. Maxwell, (11)Leroy C. RUCKER who married Lilian Robuthz


---
Frankie Williams Wed 01 Jun 2005 20:45:00
BATES / BURNS
I am searching for the surnames Burns and Bates. Will Burns and Eliza Jane Bates were my great grandparents. I have a lot of information on Liza Jane but, nothing on Will. Will and Liza Jane married in Franklin County, Ms. in 1887. Liza Jane Bates was born on March 30, 1872 in Amite Co. MS. and died July 2, 1947 in Amite County, MS. She is buried in Mt. Pleasant Baptist Church Cemetary in Amite Co. MS. She and Will divorced and She married William Anderson Carroll. I am searching for information on Will Burns. Where and when was he born, when and where did he die and who were his parents. Any information that you have on Will Burns will be deeply appreciated. Thank you in advance, Frankie in Mobile
Additional Info
I am searching information on William Thomas Bates. He married Liza Jane Bates of Amite Co. Ms. They were married in Franklin County, MS. on April 28, 1887. They are my great grandparent's. Liza Jane was born on March 30, 1872 in Amite Co. M/s. she died on July 2, 1947 in Amite Co. MS. and is buried in Mt. Pleasant Baptist Church Cemetary. Liza Jane and Will Burns had two children. Herny Franklin Burns Sr. (my grandfather) and one daughter named Hattie. Hattie married a Zeigler. Liza Jane and Will divorced and Liza Jane married A Carroll. I need information on Will Burns. Where was he born, who were his parent's, when and where did he die, where were his parent's from and when and where did they die? Any information will be greatly appreicated. Frankie Estelle Burns Williams My e-mail :donewilliams@bellsouth.net


---
Peggy Gay &
Jeanette Webster Sat 15 Nov 2014 19:21:00
JONES / WADE
Trying to find family of and other information for Henry Hardy Wade (b 1861 in AL, d 1966 in LA) and his wife: Ella (some sources also show "Eller") Jones Stokes Wade (b 1865 in MS, d 1940 in LA). 1920 Census for Amite Co, beat 3 shows the following info (all shown as being born in MS):Henry 57, Ella 50, with children: Clara 15, Mary 12, Zelma 9, Henry 7, Minas 0 (which is likely "NORMAN", born 1919 ~ perhaps census taker didn't understand????), Charlie Stoker (another source shows last name as "STOKES") 22 step-son, John Stoker ("STOKES") 17 step-son, Thelma Steale (another source shows last name as "STEELE") 0 grandaughter. (no mention is made of her mother in this record). We have information that Henry's Mother's maiden name may be "SALLY" or "SALLEY" (Sallie??) and that she was a member of the Choctaw Tribe in MS. Jeanette is the granddaughter of Henry and Ella, her father was the NORMAN mentioned above. I'm helping her in her research, as she w orks full time and I'm retired (she is my sister-in law). If you have information on this family, or other family that might be connected, or even suggestions as to how I can reference / verify information from other sources, I would LOVE to hear from you! Many thanks for all assistance! God bless us every ONE! Respectfully, Peggy Gay


---
Ruth Coward Cunningham Sat Sep 14 1996 09:47:21
COWARD / MARSALIS / PARNELL / STONE / WHITTINGTON
Would like help in identifying the parents of Sarah PARNELL born 1828 Amite Co MS. Sarah married 13 Jan 1847 in Amite Co MS Elijah COWARD b 2 July 1823 Amite Co MS the son of Needham M. COWARD and Nancy Hadley STONE. Sarah PARNELL COWARD was the mother of my grandfather, John Russell COWARD b 9 March 1857 Franklin Co MS. Sarah PARNELL COWARD died after the 1860 Franklin Co MS Census and before Dec 1861. My grandfather's brother, James Lafayette COWARD married 11 Dec 1874 Permelia Isabelle WHITTINGTON born 11 March 1860 in Amite Co MS died 28 Oct 1917 in Franklin Co MS. Who were Permelia Isabelle WHITTINGTON's parents and siblings?
ALSO
Am interested in the maiden name of Letitia/Lucretia MARSALIS b 1820 MS. Was she the dau/o Needham M. COWARD & Nancy H. STONE? Ida R. COWARD told me that she had found reference to one of the daughters of Needham M. COWARD who married a MARSALIS with no first name for either one of them. I have found in the 1860 Amite Co MS Census Ephraim MARSALIS age 51 b Gra?, wife Letitia 40 b MS. In the 1870 Census Pike Co MS Ephraim MARSALIS 59 b GA and wife Lucretia MARSALIS 50 b MS. In the 1860 Amite Co Census there are two KINNABREW children in the household, Augusta 12 and Louisiana 14 both b MS. In the 1870 Pike Co Census there are a James and a Louisiana KINNEBREW in the MARSALIS household. James is 19 b MS and Louisiana is 21 b MS. Have noted the MARSALIS children in those two census records. Will be glad to name them if desired.


---
---
Submit A Query






John E. Cain / 1211 Maritime Lane / Wylie, TX 75098
jecain99@verizon.net

---

Copyright &copy John E Cain and the MSGenWeb from 1997 through ; All Rights Reserved with Full Rights Reserved for Original Contributor




Page last Modified: Tuesday, 27-Jan-2015 22:36:30 EST

---