Owen Family Photographs
Submitted by Joe Mercer.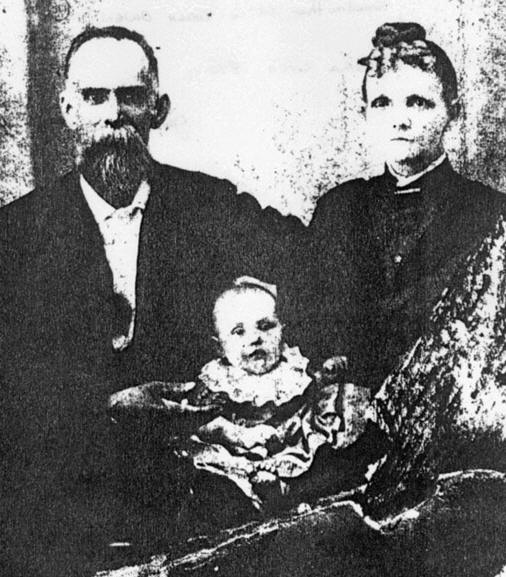 Joe P. Owen & Julia Ann Bright and Della Owen.
circa 1890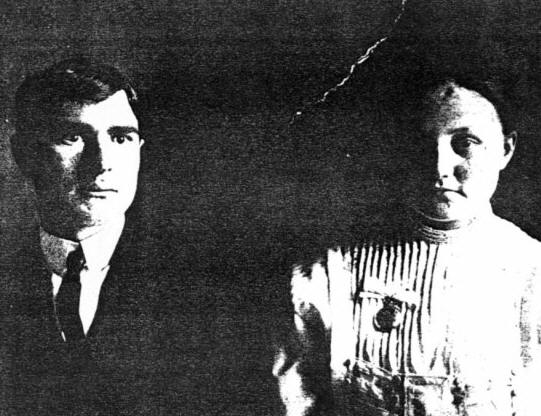 Joe's Grandparents, Walter M. Mercer, Sr. and Della Owen Mercer in early marriage , Algoma Ms.
circa 1909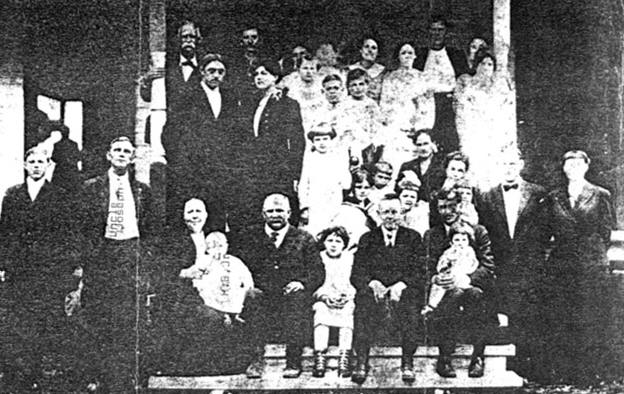 The Family of Joe P. Owen
Sons, Daughters, and Grandchildren
Not all family members are are shown. This house is located just south of the stores in Algoma, Ms near and east of the old GM&N Railroad tracks.
circa 1916
See Joseph Perry Owen Family for another photograph taken the same day.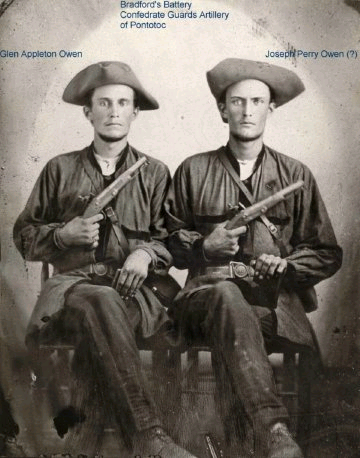 This a picture of Glen Appleton Owen & brother Joseph Perry Owen Sr.(We believe it's him). Both Pvts, served with Bradford's BatteryGlen 5-28-1841 to 9-1-1900Joseph 3-26-1843 to 8-2-1921, buried in Pontotoc. Picture, courtesy of the Barger Family. Great Great Uncle and Great Grandfather of Joe Mercer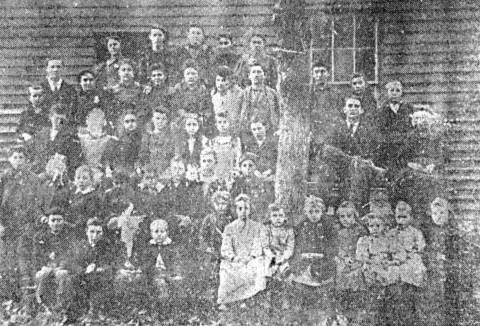 Old Algoma School Class of ~1894
Members of the class of about 1894 at the old Algoma School are:
Bottom row , left to right: Lonnie Arnold, Robert Haney, Unknown, Silas Haney, Della Owen, Annie Lou Wood, Sammie Rodgers, Una Rodgers, Pearl Winters, Laura Wood, Fannie Haney, Pauline Jones,
Second row , left to right, Claude Barlow, unknown, Fred Wood, Brad Owen, Rogers Holland, Mitchell Jones, Jud Jones, Bingham Barlow,
Third row , left to right, Dave Montgomery, unknown, Mille Holland, Bessie Jones, Hattie Haney, Sina Owen, Lynn Holley, Ollie (Ol) Wood, unknown,
Fourth row, left to right, Jack Cruse, Jim Polk, Agnes Eubanks, Mary Holland, Ara Owen, Allie Wood, Miss Springer, Lon Wood, Kring Barlow, Lonzo Winters, Will Montgomery
Back Row, left to right, Lillie Jackson, Lena Jones, Myrtis Springer, Lany Holland.

All information and photographs on this page submitted by Joe Mercer.