---
Old Union Grove Methodist Church
Pine Flat Community,
County Road 432, Lafayette County MS.
Submitted by George K. Sprouse, June,2006.
This is the church just before the vandals tore it down about a year ago according to the "Oxford Eagle", Monday, March 20 2006 newspaper.
George Sprouse who took these pictures on a visit to the church and cemetery where some of his ancestors are buried just assumed the deacons of the SOCM Church were the ones who were tearing it down.
You will find its history and a better picture of the original church building on page 191 and 192 of the "Lafayette County Heritage" book and a record of burials in its cemetery in the Lafayette County Cemetery Record books, Volumn One, page 122.
Her congregation begun building a new brick church on South Lamar, (Old Hwy 7S) Oxford, Oct. 1953 and held its first services in 1954. They call themselves South Oxford Congregationalist Methodist Church. They, also, have begun a new cemetery just south of the new church building.
With the removal of this old church building Lafayette County has lost part of its historical past as has the Congregationalist Methodist churches. Sadly this old cemetery will not have a homecoming in September as in the long past but the descendants should clean , refenced and place a historical marker to honor their ancestors who are buried here.





click image for larger view.
Notice the cemetery in the background.
Note the double doors, in olden times, the women and girls went in one door and sit on one side and the men went in the other door and sit on the opposite side. I didn't know the Methodist practiced this but I did know the Primitive Baptist did until after WW 2. Women and children were not allowed to speak while in church, only through a male, the husband , adult son, or brother.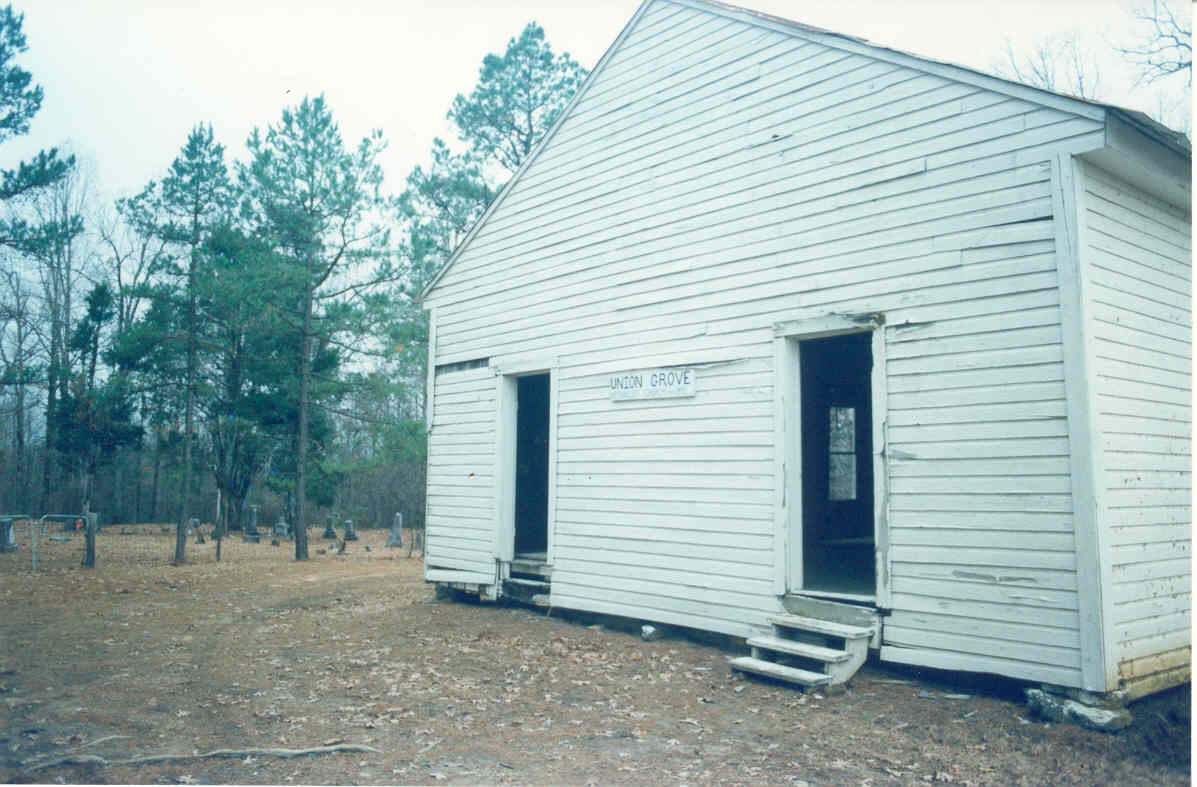 .
click image to enlargement
Another view of church with cemetery to its left.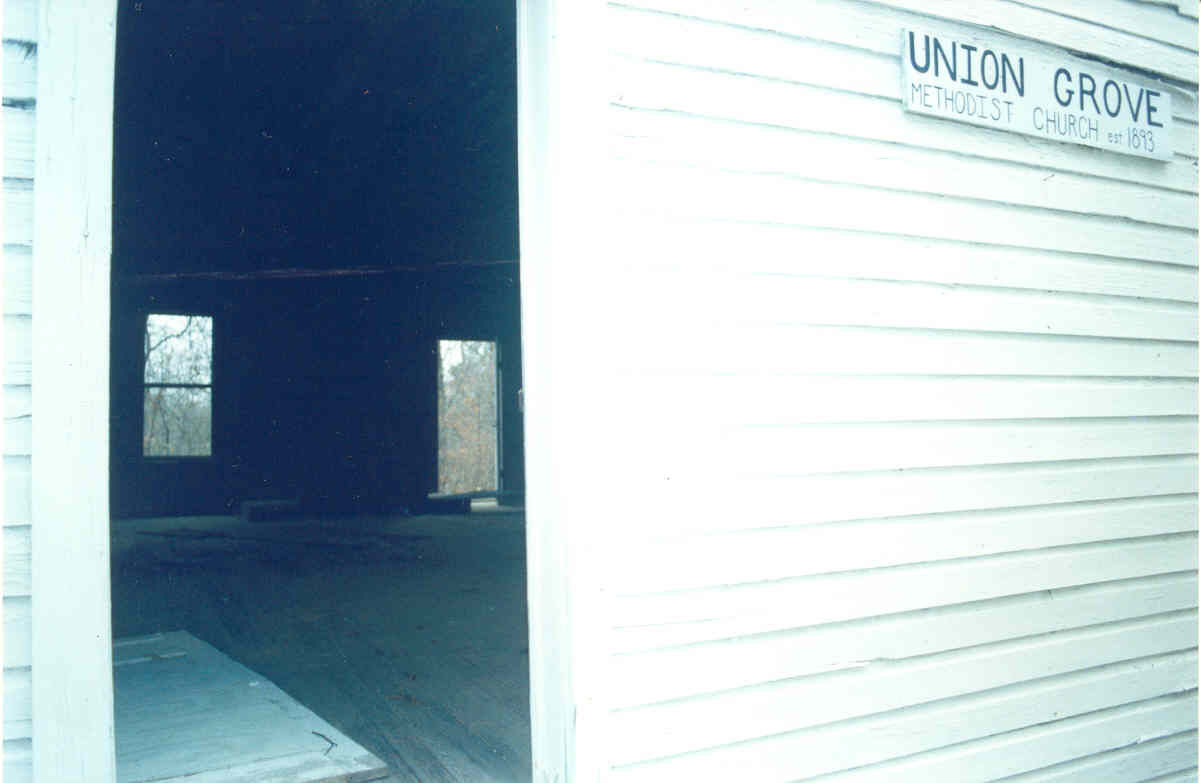 click image to enlargement
Standing at doorway, looking inward, note the sign est. 1893.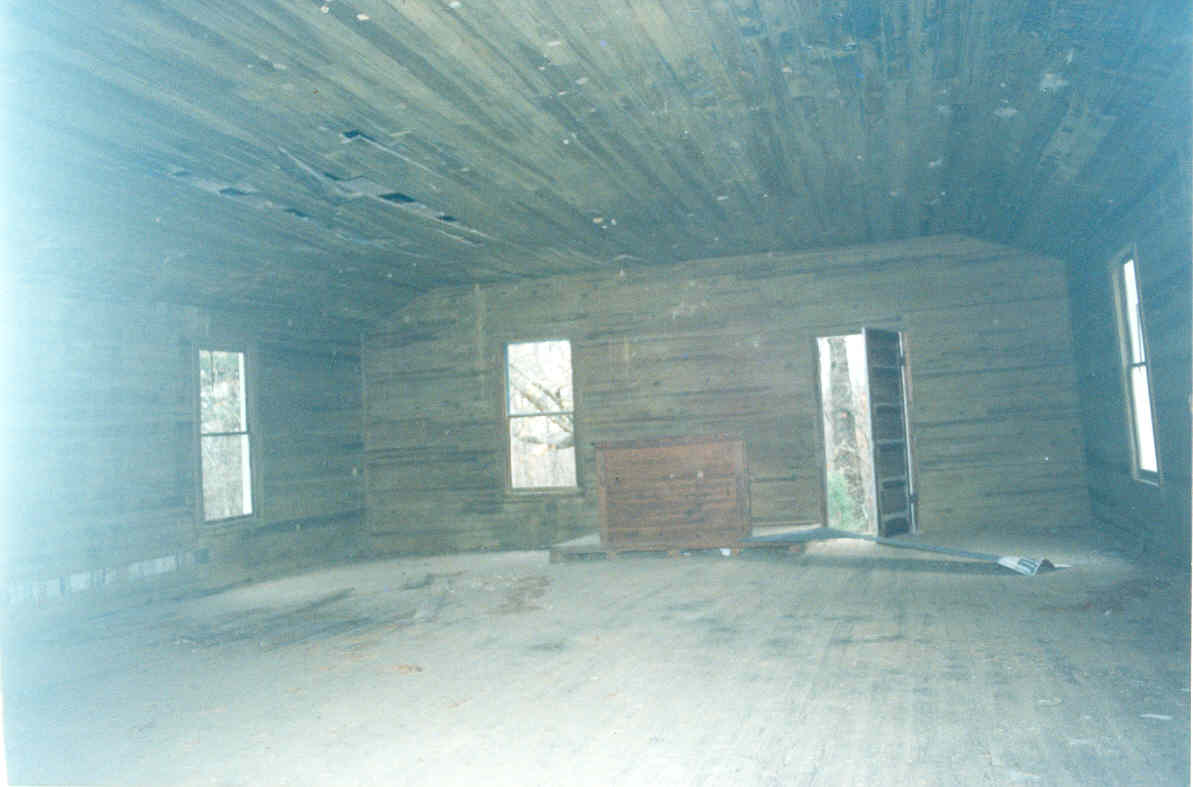 click image to enlargement
Let's take a look inside, is that a piano or a pulpit near the back door?
Thank you, George, for helping us to present this bit of South Lafayette County Church History.
George has given his permission to copy pictures from site.
If you would like to personally thank him , see his email addy at top of page.
Gene Phillips
Page last Modified: Sunday, 14-Feb-2010 21:58:29 EST
Copyright &copy MSGenWeb All Rights Reserved with Full Rights Reserved for Original Contributor
Disclaimer: This information may be used by libraries and genealogical societies, however, commercial use of this information is strictly prohibited without prior permission of the owner. If copied, this copyright notice must appear with the information.
Additional copyrights may apply to and be noted on individual pages. Information on these free web pages may be linked to but may not be copied other than for personal, not-for-profit research.