Where is the Church, you may ask!
Answer: I do not know!
Update: A friend has informed me that it was not moved but, torn down about a year or so ago.
Wrong! My friend was incorrect.
New Update: I had heard of a church being destoryed by vandals in March but an old historical church that wasn't harming anyone except perhaps those who tired of the youths with their noisy "four-wheelers" who gathered there to party.
Why would they destory a building that shield them from the weather?
Who was this man in the pick-up truck? Why wasn't the teens' parents forced to follow a court order to rebuild this church? Was it really teens at all who pulled it down?
Did the county Sheriff Department or Board of Supervisors do a proper job in enforcing the law? What about a contempt of court order. There was no judgements becuase the parents promised to repair the first damage.
"News Flash",There was not any "porches" according to the old 1943 picture and the recent ones George and Pam Bumgardner Dawson's 1980s pictures.
Is that why the person in the pick-up finished destorying the building because they were ordered to pay for the previous damage.
We, who have ancestors buried here have a right to know...
These ancestors worshipped in the little historical church which is why it should be replaced and made a place for family homecomings, also, these youths and their parents should be taught to respect others, as well as the value of Holy Places.
First, Yellowleaf Cemetery in 2004 or 2005, now, Union Grove church and cemetery (yes, there appears to have been tombs damaged) if vandals are not punished then, they will continue to vandalize like the ones who have vandalized the Oxford City Parks this month, June 2006. At least they should be required to do community service, like upkeeping the cemetery ffor at least five years. That might teach them to respect Holy Ground.
---
Yes, this was my surprise when I journeyed out into the heat of 99 degrees Saturday afternoon June 10, 2006, with my walking stick, water, spy-glasses, hat, cell phone and camera to find and take pictures of the tombstones of my grand Aunt Eugenia Jane Gandy Mills and her Mills family.
I decide to take the country dirt and gravel roads from my home a mile north of Paris on CR 430, since CR 477 which intersect with CR 432 was only 1/10 of a mile from my house.
I had my trusty County Road Map and had traced my route before I left home. This was one of the many things, I remember from my Basic Training in the Women Army Corp, survival methods and map reading. I noted that this route would take me past the property her father, my great grand father,William Jefferson Gandy, once owned in the South 1/2 of section 8, T10S R2W on the east corner of the intersection of CRs 477 and 432, where at this intersection you will turn left. Then, after loads of ruts, twists and turns which my little 1997 Buick Century Custom took like a "RAM" truck, I was at my destination. I am an experienced country roads' driver, having been taught to drive on the tough back roads of Texas in the 1950's. In fact, you might say the old county / western song "Country Roads" was my theme song. I knew to drive slowly and watch the road for ruts and wash outs, being careful not to drag "high center".
The entry to the Church and Cemetery is quite easy to find as it was on my left or west side of the road. I discovered I was only 1.6 miles from County Road 473 which I would travel into Oxford to the St Peter's Cemetery on Jefferson and Sixteenth Street to find Eugenia and her husband Robert Henry Mills' grave.
I turned into the parking area and was aghast at the sight of the missing church. The cemetery needed care too; the fence was lying broken at different sections with a large bit in a roll near the north backside of the cemetery.>


UNION GROVE METHODIST CHURCH CEMETERY!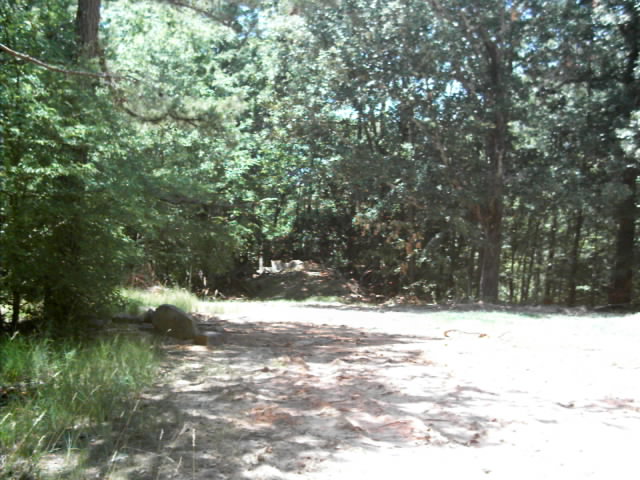 Looking from parking area into cemetery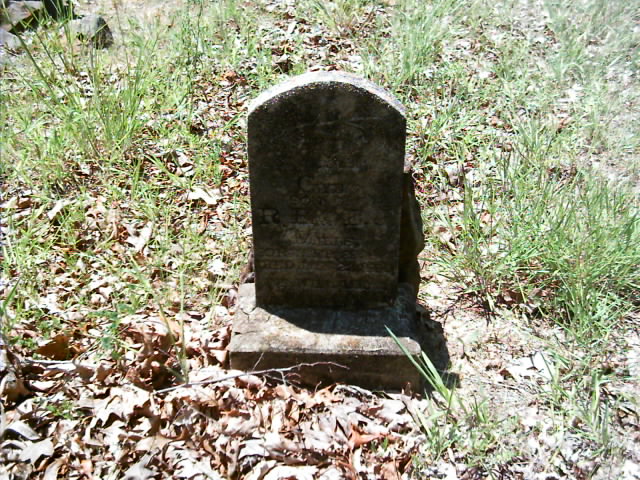 GYE MILLS, son of R. H. and E. J
[Robert Henry & Eugenia Jane aka Ginny Gandy MILLS ,
correct spelling informant: Pam Bumgardner Dawson,
Pam's 1980s picture is on left]
B. 29 September 1889
D. 22 January 1890
Source: Lafayette County Cemetery Records Vol. I, 1978

Picture taken 06/10/2006 Evelyn Crocker, 1st cousin 1 x remove
Mills, James M.
B. 7 November 1843
D. 20 August 1877
Source: Lafayette County Cemetery Records Vol. I, 1978

Middle name was MALACHI.(One on right was taken in 1980s from Pam Dawson's Collection, he was Pam's mother, Willie Magdalene Mills Bumgardner's grandfather)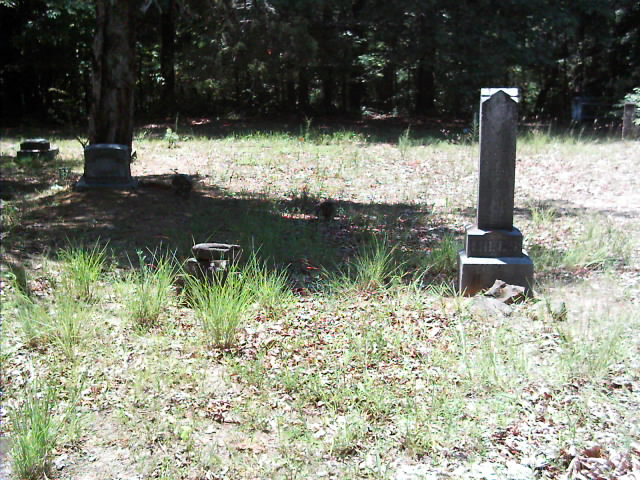 I took this to show the whole area of the Mills graves,
I believe the stone to James M Mills left may be that of his wife, Clara Elizabeth Sanders Mills marked with several stones piled on top of the other.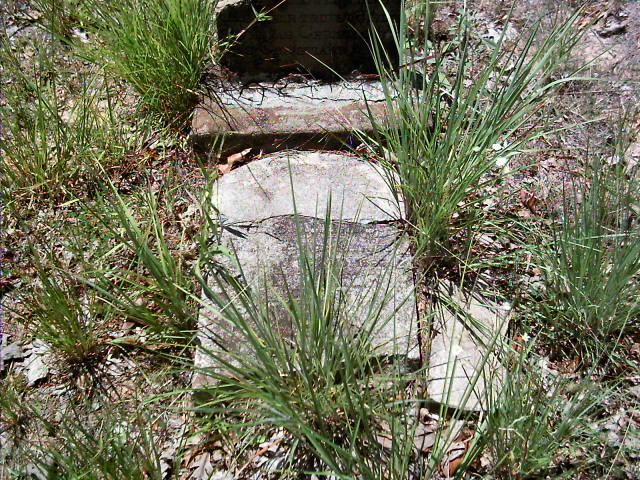 Click Picture
Mills, J. S.
B. 15 August 1823
D. 19 June 1899
Source: Lafayette County Cemetery Records Vol. I, 1978
1870 Lafayette Co MS US Fed. Census stated John S Mills was a Cum (Cumberland) P (Presbyterian) Minister.

I believe his wife; Leanna Helms Mills is buried beside him under the unmarked stone.


She was the daughter of Malachi and Elizabeth Porter Helms.
She was reported by descendant, Betty Helms , P. O. Box 473, Klondike, TX 75448
to have died 8 Sept 1912 and is buried in the Union Grove Church Cemetery.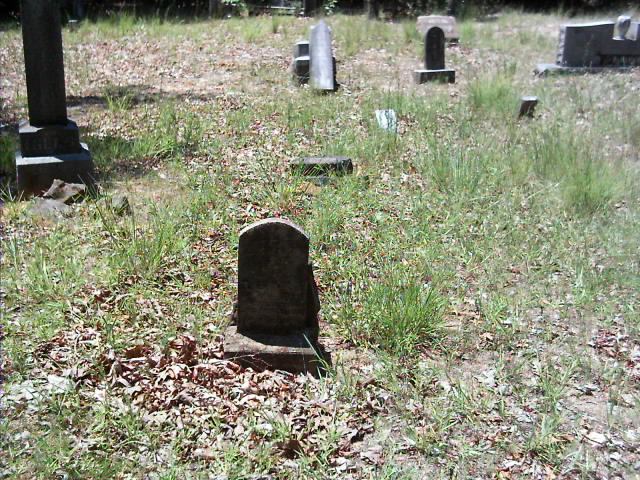 Note the small flat stone behind Gye Mills'

Tombstone. I believe it is the marker for Mills, J. B. son of J. S.
b. 1 August 1856
d. 21 September 1904
John Berry Mills was his full name.
The missing family members of John S and Leanna Helms Mills are

Hester Jane Mills, b. 1846, Mississippi (1870 Lafayette Co MS US Fed. Census
Vulcannon Mills, b. 1849 , Mississippi (1870 Lafayette Co MS US Fed. Census
Robert Henry Mills b. 14 May 1866 Mississippi d. 10 August 1951 Oxford, Mississippi
Buried in section 7, St Peters cemetery beside his wife Eugenia Jane Gandy Mills.
The following pictures are of the cemetery and interesting tombstones.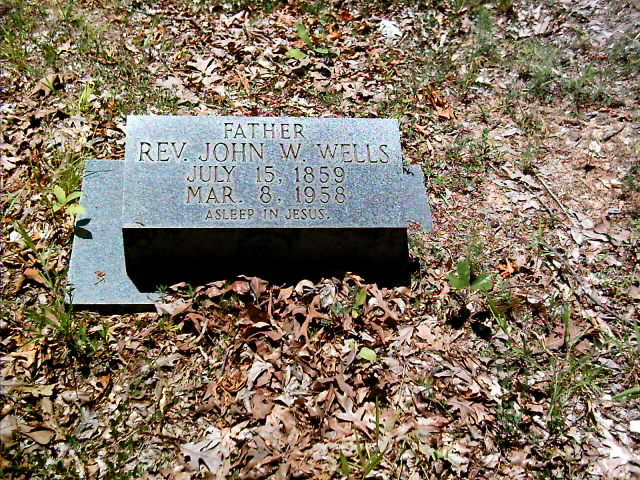 Believed to be former Minister of Union Grove Church.
Rev. Wells' wife.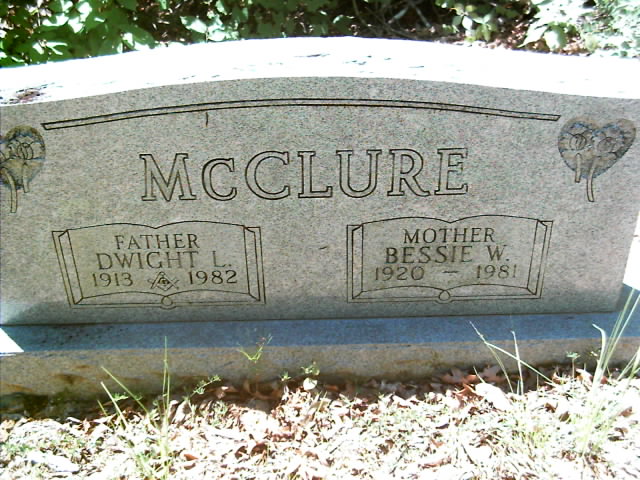 Newest Tombstone 1982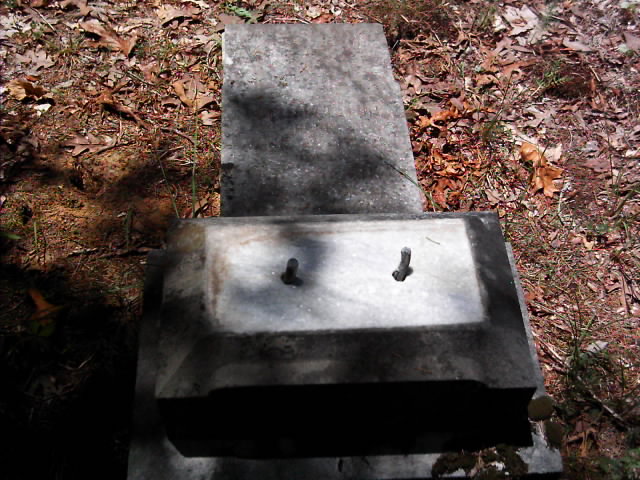 Appeared to have been vandalized.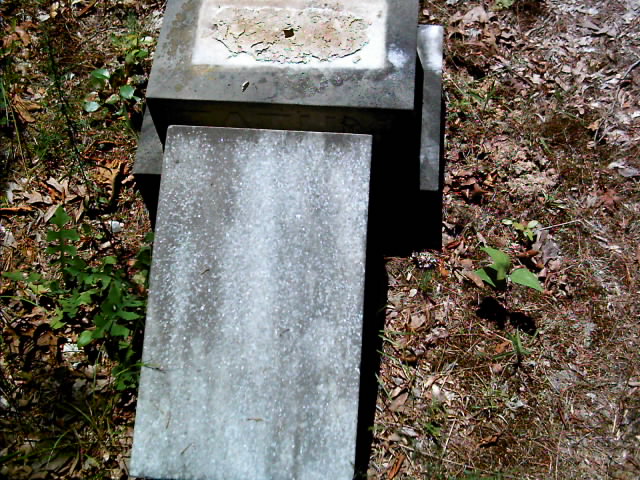 Another vandalized in same lot.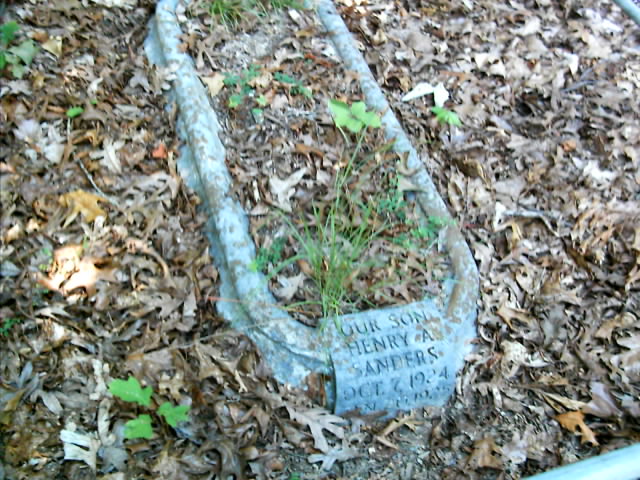 Henry Sanders 1924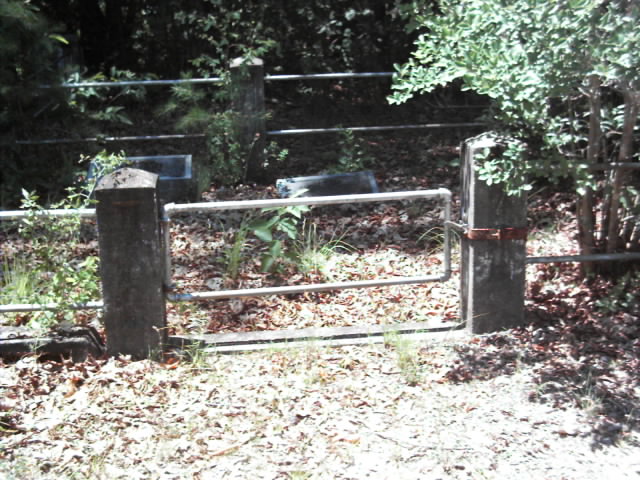 Very large sturdy lot of the Sparks family.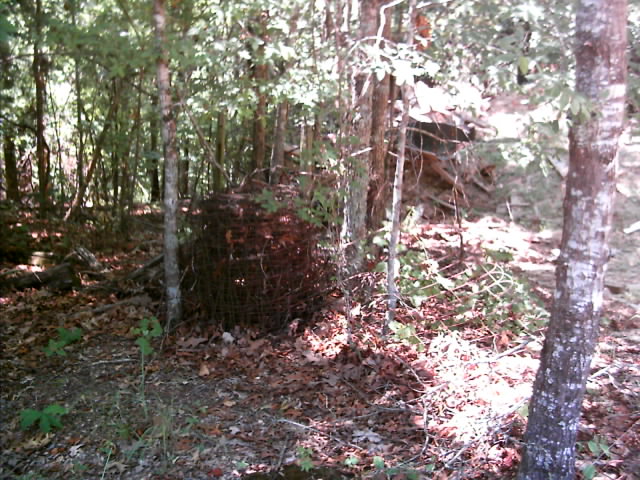 Roll of wire in foreground between the two trees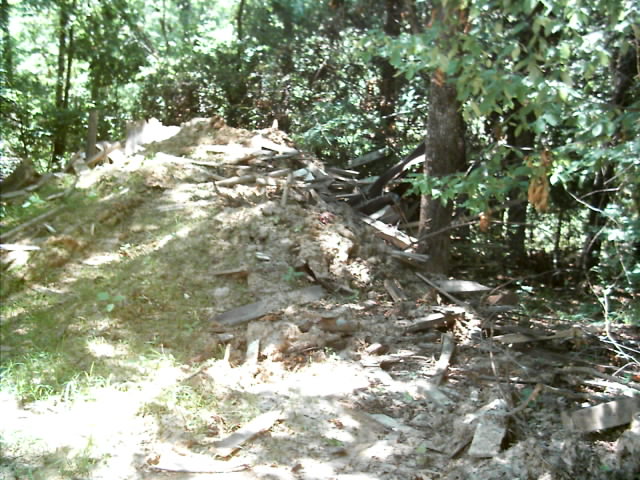 Appears to be rumble from a wooden building that was behind where the church appeared to have stood.
Could this be the remains of an outhouse toilet or the church?
Yes, now, we know it is what remains of the Union Grove Methodist Church Est. 1893.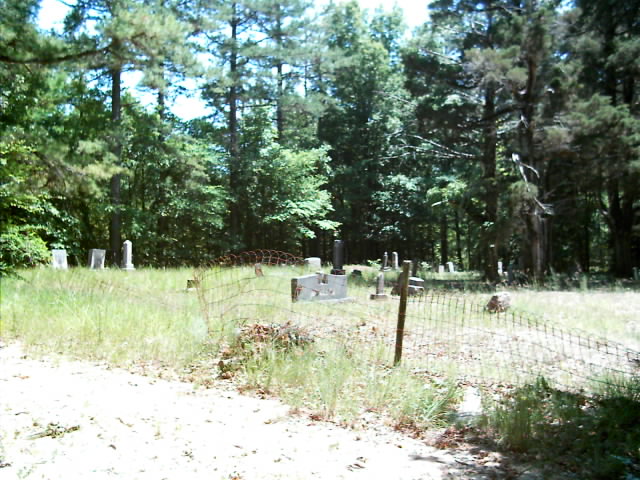 Looking toward the northeast side and the County road 432 , fence is broken
Just to the left of the post in right foreground.
Gateway into cemetery from Church and parking lot . Note fence is broken to left of pole.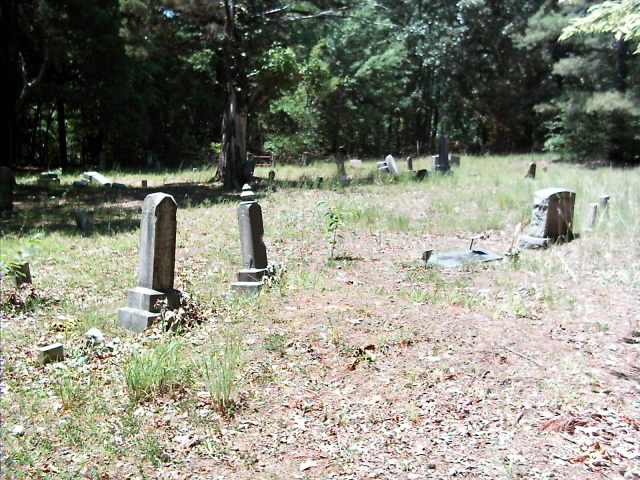 Another overall view of Cemetery looking from upper northeast corner to southwest corner.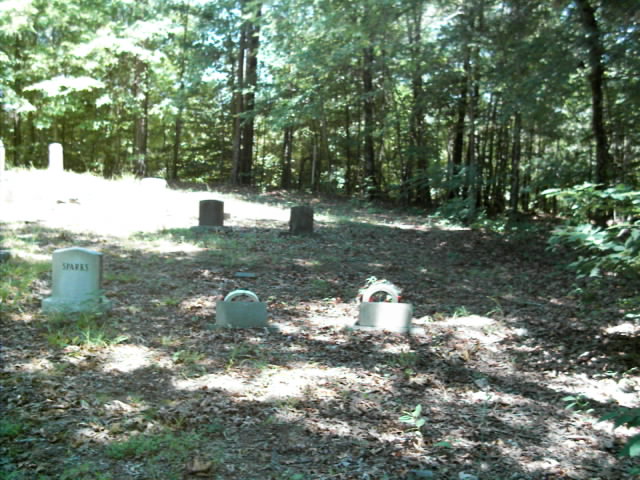 Sparks tombstone to the left side.

I will end my report here , I have several more views of the overall cemetery and church yard but these give you a general idea of its condition and the tombs in it.

If anyone has pictures of their family tombstones and would like to have them added to this page then , send them by email to Evelyn Crocker, 159 CR 430, Paris, MS 38949.

The members of The Lafayette County Historical and Genealogical Society indexed it in 1972 and again in 1978 . It is recorded in Vol II of the Lafayette County Cemetery Records. They are still in reprint and may be ordered from The Lafayette County Historical and Genealogical Society, INC

I have recieved some earlier pictures of this church and cemetery from one of Aunt Eugenia aka Ginny Gandy Mills' great granddaughter, Pamela Bumgardner Dawson.

Pamela Bumgardner Dawson's Collection begins the Union Grove Church page,with her 1980s pictures; please, contact her for permission to copy.