A BRIEF HISTORYof BOLES aka BOWLES PLANTATIONS LANDS:
" ...On 1 May 1837,...James E. BOLES (sic) of Lafayette County purchased Section 6 Township 8 Range 2 West and Section 12 Township 8 Range 3 West of Basis Meridian of the Chickasaw Cession. These deeds along with those of their son, Doctor Green Berry Bowles are the earliest records of this family in Lafayette County, Mississippi. " [source: Bowles Family by Annette Bowen, also, copies of original deeds in this author's files.]
This cemetery is located on a small hill off County Road 215 aka Woodson Ridge Road appromitely 1.6 miles from the intersection of highway 30E and County Road 215 on the west side of the road behind a gate in Section 6, Township 8S, Range 2W, James E. Bowles aka Boles , original owner, last known owner Dr. B_ M________.
It has not been kept nor fenced, livestock can still roam at will among the old grave sites.
These are pictures of Dr. Green B. and his wife, Mary R Bowles tombstones send to me by a descendant, Annette Bowen along with names of other members buried here.
---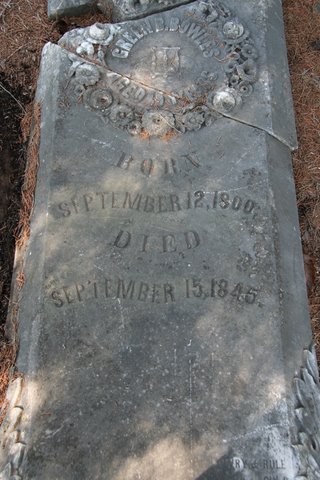 ,(Enlargement) "Green B. Bowles, aged 45, born September 12, 1800 died September 15 1845.
This stone orginally was standing; it has been broken. Someone has placed it on top of the slab covering the grave." qouting: Anntte Bowen, descendant. Dr. Green Berry Bowles was a son of James E and Nancy Bowles.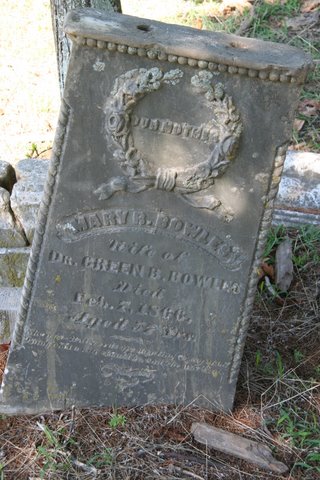 (Enlargement) "Mary R. Bowles, wife of Green B. Bowles, died Feb. 7, 1866, aged 57 yrs." quoting Annette Bowen, a descendant.
Notice, the words "Our Mother" written in the wreath at the top of the stone.

Others most likely buried here: James E Boles aka Bowles, d. 1840
Nancy Boles aka Bowles, his wife.
Son, Dr. James H. Bowles, died in August 1840,["Doctor" source, cover page of James E. Bowles' Will, emc] ; son, Etheldred M. Bowles d. 1841 (source) Green B. Bowles, admin. Petition, Probate Records, Chancery Clerk's Office.

This cemetery was indexed on May 28, 1978, by members of The Lafayette County Historical and Genealogical Society, then published in their Volume I, pg.17 of their 2 volume set called, Lafayette County Mississippi Cemetery Records I and II. To order, contact; SHGS P. O. Box 1382, Oxford MS 38655.

Children of a James and Margaret Bowles; James R and Martha Bowles are included in the index plus Dr. Green B and Mary R Bowles, above.

This ends the old Bowles Family Plantations Burial Grounds.



Deed Reserving the Ownership of Bowles Grave Yard !

Deed Book H. Page 91
25 Dec. 1854
Simon B. Bowles to Thomas D. Isom
for $6680 - tract of land lying in the county of Lafayette North East quarter of Section 1 of Township 8 in Range 3 West, containing 160 acres and South East quarter Section 1 Township 8 Range 3 West containing 160 acres and all of Section 12 Township 8 Range 3 West containing 640 acres and all that portion of Section 6 Township 8 Range 2 West which lies west of the partition fence between the said tract of land and the farm belonging to the minor heirs of Green B. Bowles deceased containing 337 acres, the said west fraction of said Section 6 being hereby warranted to contain 337 acres, but the grave yard on said tract is hereby reserved
signed S. B. Bowles

On 28th Dec. 1854 S. B. Bowles appeared before W. G. Vaughn Clerk of the Probate Court and acknowledged the above deed.
Abstracted by Annette Bowen.

Property other than the graveyard one acre was owned by an Oxford Doctor in 2004 but is thought to have been sold.
This proves the Grave Yard belongs to the James E and Nancy Bowles Heirs' Descendants. It should be given a Historical Rating or Marker since Dr. Green Berry Bowles family was one of the founding Plantation Families of Lafayette County Mississippi whose Plantation covered most of Woodson Ridge aka Quality Hill which County Road 215 aka Woodson Ridge Road divides.