Algoma High School 1947-1948 SUPERINTENDENT'S MESSAGE
TO THE 1948 SENIOR CLASS OF ALGOMA HIGH SCHOOL:
I extend greeting to all and congratulation to the staff and sponsor of this, our first publication of the "BUGLE NOTES".
The good year 1947-48 has been a happy joyous year together. Even though things have not always worked out as we planned, each time we have taken fresh courage. In fact, one of the most important things to be learned from high school life is that we cannot always win.
Honesty, dependability, loyalty and hard work are the foundations of a successful and happy life. May you ever strive to be better citizens, for it is only through its citizenship that a community and school can become great. To become men and women of noble character, to be trusted and respected by those about you, to stand for the best things in your community this is better than wealth or fame.
Seniors, I charge you with the responsibility of making yourselves citizens who will add glories to your church, your home, your Alma Mater and your America.
Sincerely,
A. M. Norwood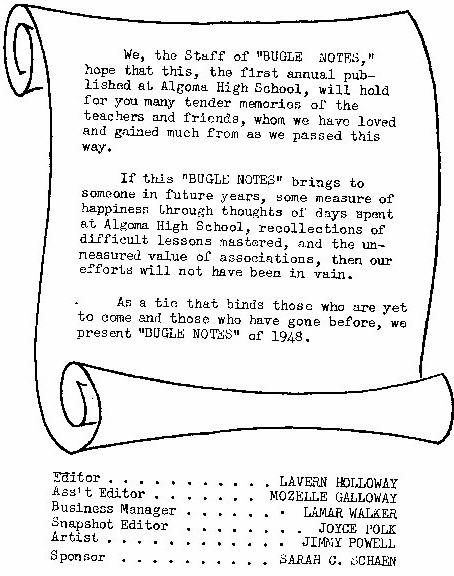 We, the senior class of 1948, gratefully dedicate the first issue of "Bugle Notes" to our sponsor, Miss Charlotte Maffett, and our superintendent, Mr.. A.M. Norwood. To Miss Lottie", for the faithful service she has rendered our school and as an expression of our gratitude for the interest she has shown in us. To Mr.. Norwood, who has taught us that the ultimate aim of education is the simultaneous development of mind and body, and that success is attained by sincere effort, straight thinking and right living. To these two, who have labored so kindly and untiringly with us to make ours an outstanding school and us ideal citizens, we, in appreciation and love dedicate this, our first annual.
Submitted by: Peggy A. Young .