James W. Carpenter
Civil War Veteran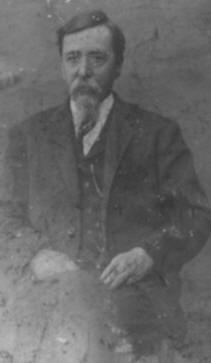 JAMES W. CARPENTER
Jim" Carpenter was born near Raleigh, North Carolina in October, 1839. He came to Mississippi with his parents, Avent W. A. B. & Martha Carpenter at the age of 13. Jim's known brothers and sisters were Bennett A. who married Jerema McGregor, William Dickson who married Virginia Portor, Mary E. who married T. J. Carr, and Martha A. who married William Hodges. There were most likely other brothers and sisters. Lon, John C., and Hoyle Carpenter are found in Pontotoc County marriage records, deeds, and wills. They are related or brothers.
When 21 years of age Jim Carpenter was united with the Missionary Baptist Church at Piney Grove, and made a faithful member until his death. During a period of 44 years he only missed one monthly conference.
He served four years in the confederate army with only one 30 day fulough. He enlisted March 1862 in Company E, 1st MS Cavalry, under Captain George Wheeler, Col. R.A. Pension and General N.B. Forest. In one of the engagements, his horse was shot from under him, but during the fight the enemy's horses were stampeded, and a a fine horse ran by him. He caught it and rode it through the duration of the war. On May 4, 1865 his company commanded by Col. Pension, surrendered at Citronelle, Alabama and was held prisoners until May 18, when they were paroled at Columbus, MS.
Mr. Carpenter was married three times, first to Hester Sinclair, second to Martha Anderson, and third to Arminda "Mintie" Hardin, all of whom preceded him in death. His children were:
Mattie (by Hester Sinclair) who married W. N. McGregor
Emily Orange (by Martha Anderson)who married William H. McGregor
Tabitha Ann "Birthie" (by Martha Anderson) who married Louis V. McGregor
John B. (owner of Carpenter & Son Ford place in Pontotoc) who married Mattie Lee Franklin
Zora who also married Louis McGregor
Jennifer Leola who married James Alford Aron
Elbert who married Rebecca Bridwell
Bessie who married Marvin Chittom
The last 5 named children were by his last wife, Mintie Hardin. Mintie's parent's were Jonathan and Dorcas Tyler Hardin. Her grandparents were Mark and Nancy Hardin.
Mr. Carpenter and Wife Mintie are buried in the Guinn Cemetery on Hwy. # 334 south of Pontotoc. He died at the home of his son Elbert, with whom he was living. He breathed his last breath at 5 o'clock a. m. on September 15, 1927 at age 87. He had been in ill health for a long time, but was stricken with paralysis a few days before the end came as is stated in his obituary.
>
Mr. Carpenter's parents A. W. A. B. and Martha Carpenter are buried in a private family burial site off # 334 Highway about 5 miles south of Pontotoc on the Boy Scout/Camp Yocona Road.
Submitted by: Peggy Aaron Young