The Campbell-Davis Family of Dyer County, TN

>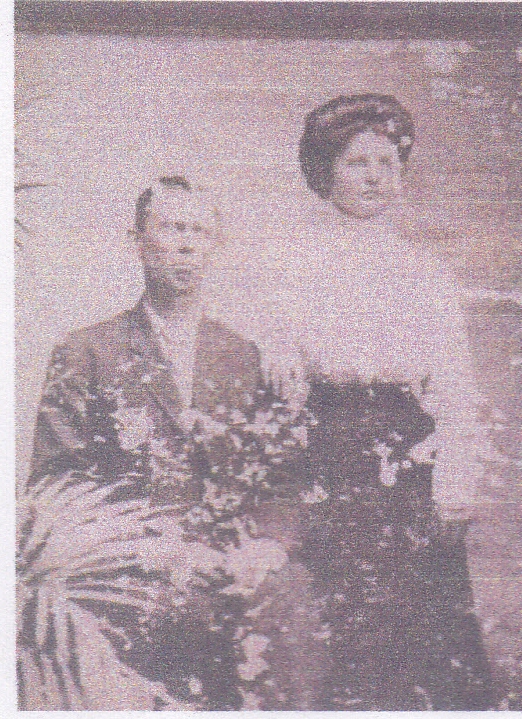 Calber and Sallie Davis
In the late 1860's the Davis family moved from Mississippi into Chestnut Bluff, Dyer County, TN. Civil District 3 as family 151.In this census it shows Calber Davis age 49 as head of house and a farmer having 2,000 in property and 600 in personal. His wife known as (Sallie) is 46 and shows here place of birth as Georgia. The census in 1870 shows 10 children the earliest born in Alabama and the 2 younger sons born in Mississippi and the baby, my grandfather, Joseph Franklin Davis was born in Chestnut Bluff, Tn.,in 1869. His siblings that were born in Alabama are Martha (27), Mary (23), Mandy (20), Caroline (19), Lucy (13), James (11) and Duella (9), Geo (7) and Luis (4) were born in Mississippi.
There is not further information on Calber since the census on 1870 but his wife Sarah and the children are found in the 1880 Census 12th Civil Division as Family 152 on page 268D. They are in the same family group with the Craig Family. Sarah is S.F. in this census she shows being 55 and a widow. Her Oldest daughter M.J. is 35 and shows being divorced, in this census we find living with the family a grandchild Lela age 10 along with Siblings of M.J. These siblings are Susan 19, S.L. 16, George 13, Lewis 12 and my grandfather Joseph who is now 10.

The 1880 Census in the 12th Civil Division I find the Davis in family 152 on page 268D. First W.H. Craig (63) and his Wife M.J. (53), with 4 sons W.P.(18), R.F. (16), J.L (14), and T.H. (11), Mary Normand, niece, 9. In the same family number 152, S.F. Davis is 55, M.J. is 35, Susan is 19, S.L. (16), George is 13, Lewis is 12 and Joseph is 10 along with grandchild Lila whom is 10.

I often wondered how the two family of Davis-Campbell came together and after I really paid close attention to the 1900 Census from Dyer County is started to make sense. I looked at family 33 in District 3 and found John Davis, 55 born in 1845 in Alabama and his wife Martha L. Lay 44 married in June 1855 and had children Rosa L. (18), Finie S. (10) and Simon F. (8). This seems to be John C. Davis first son born of Calber and Sarah Davis.

The next family 34 of the same District is William Davis 32 and his wife Susan H. Jones 20 married April 11,1897 in Dyer County, TN, The have one son William L. Davis that is just a year old.

I am sure by now you are wondering the connection right? Family 37 same District is the Campbell family, Marion F. (62) is head of house and his wife is Martha A (48). For those who do not know the Campbell Family history, let me explain. Marion F Campbell was married 4 times. The first wife was Emily B. Twilla and the children were: Cora Lee 1872,Marion Jesse 1875 and Etta Morilla Campbell 1879. In 1884, he married Martha Ann Bailey and they had Charles Marion Campbell born in 1889 and Margaret May (Maggie May) b. 1892.

Now in the Davis family tree Joseph Franklin is first married to Etta Morilla Campbell, the half sister to Maggie May Campbell and they two children, the first was stillborn in 1896 and Autie L. was born on December 29, 1989. Now the story take a real twist, Joseph returns back to the Campbell Family in October 1909 and marries the half sister to Etta, which is Maggie May. It has been told that Maggie thought she was just going with Joseph to care for her half-sister child by great grandpa Campbell. They were married on Oct. 4, 1909 in Kennett, Dunklin County, Missouri.

Joseph is found in the 1900 's District 4 in family 138,with his wife Etta, and a boarder. Joseph is living next to his mother, Sarah,(S.F.Davis)showing her birth as June 1823 and she is 77, as mother-in – law, Amanda, shows her birth as October 1864,(35) as wife, in the Sanders household family 137., My grandfather, Joseph Davis is family 138,with his wife, Etta ,a daughter to family 37 District 3, the Campbell Family. Also in District 3, John C. Davis as family 33 and William L. Davis is family 34 so close together. In the 1900 census they asked how many children you have had and Sarah (S.F. Davis) answered 14, then they asked how many are still living as she stated 6. My Dad said his father was the youngest of 15 children.

Joseph Franklin Davis, the last child of Calber and Sarah Davis from the 1870 census did married into the Campbell Family twice, once to Etta, mother of his first child and after her death to her step-sister Maggie May and had 5 more children. There is only one of his children still alive.

The Davis Family before the 1870 census in Chestnut Bluff, Dyer County, TN we had found that in the 1860 the family was in CherryCreek, Pontotoc County, Mississippi and in the 1850 they were found in the Alabama Subdivision 29, Benton County.

In the search for the identity and marriage of Calber and Sarah Davis, we have learned that John C. married Martha L. Lay, Elizabeth Frances married Martin Franklin Carely and Wm. Carroll Patterson, Mary A.(aka Mollie) married a Moore, Mandy married John Smith Wiley and G.H. Sanders, Lucy Married Dave Meadows, James H. married Nancy J. Freeman, James W. married Anne? And Betty Saunders, Susan(Duella) married Sam Davis, George married Mollie Kirk, William L.(Louis) married Susie H. Jones and Joseph married Etta and Maggie Campbell. We are looking for the spouses for Martha A., Caroline, and S.L. and M.J.

The Campbell Family location is unknown before the 1870 Dyer County Census except that the father to Marion Frances Campbell is Nat Campbell and he was born in the early 1816 in North Carolina, at sea, he is married to Lucy. Their son, Marion Frances Campbell, was born in White County, Tennessee.

Marion Frances (Doug) had a large family but in the marriage to Martha Bailey, he only had two children. Margaret M.(aka Maggie May) who married Manuel Binkley and Joseph Davis and Charles M. that married Stella P. McIntosh.

If you can connect with any of this Davis- Campbell Family History, or if you can fill in any of the missing pieces please contact me.
Submitted by Rosemary Davis.
MSGenWeb USGenWeb Pontotoc County Home Page

Copyright 1996-2018 by the USGenWeb Group, maintaining 2008 until present Peggy A. Young, except where otherwise noted.