John Porter and Martha Ann Miears
and
Smyrna Primitive Baptist Church
Jessica Miears Adame has been doing research on the Miears Family for a few years now but her Grand Aunt Modell Miears Watson has been working on it for many, many years. The information here on Smyrna Primitive Baptist Church was given to Jessica by Mrs. Watson and she in turn received it from an ancestor, Edgar Stephens, a lawyer from New Albany, MS.
John Porter Miears, son of Elijah & Mary (Molly) Miears, was born Nov. 26, 1806 in Georgia. His wife, Martha Ann, was born in Georgia on Sept. 23, 1806. To John Porter & Martha Miears were born six known children in Alabama (may have been 7). The 1840 census for Coosa Co. Alabama shows that John P. Miears had 3 daughters and 2 sons, their youngest daughter having been born in 1848.They came to present Pontotoc County, Mississippi before 1850, being listed there on the 1850 census. The family lived in the Troy Community where John operated a store, traded in land and became quite well-to-do.
On Sept. 14, 1872, John gave an acre of land on which Smyrna Primitive Baptist Church was built the following year.
John died Sept. 9, 1890 and Martha died March 28, 1879 (the year of her death is uncertain) Both are buried in Smyrna Church Cemetery.
This picture was taken Aug. 7, 1981 by Elmer & Modell Watson.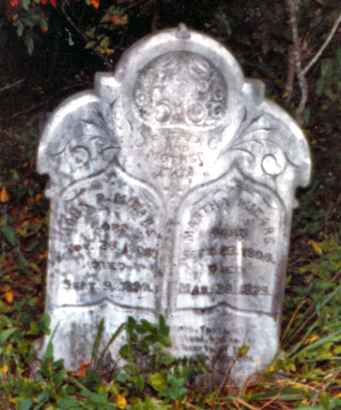 Submitted by Jessica Miears Adame.