Joseph J. Clayton Family Bible Records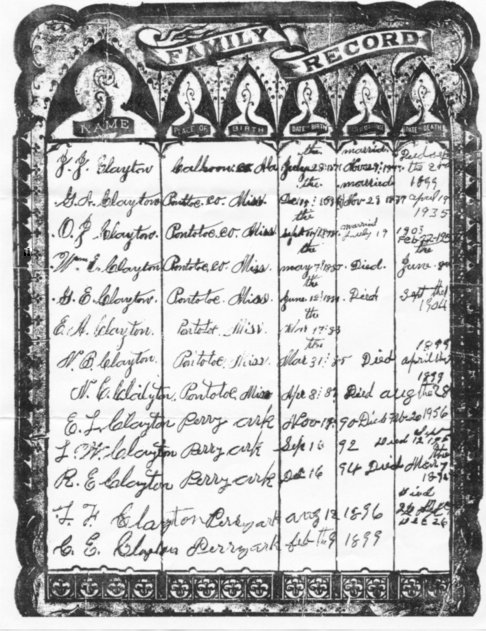 Name

Place of Birth

Date of Birth

Date of Marriage

Date of Death

J. J. Clayton
Calhoun Ala
July 28, 18??
Nov 29, 1877
October 2, 1899
G. A. Clayton
Pontotoc Co. Miss.
Dec. 15, 1866
Nov. 29, 1877
April 19, 1935
O. J. Clayton
Pontotoc Co. Miss.
September 11, 1878
July 19, 1903
Feb. 22, 1957
W. E. Clayton
Pontotoc Co. Miss.
May 7, 1880
June 8, 1880
G. E. Clayton
Pontotoc Co. Miss.
June 12, 1881
September 01, 1904
E. A. Clayton
Pontotoc Co. Miss.
March 11, 1883
N. B. Clayton
Pontotoc Co. Miss.
March 31, 1885
April 1899
N. C. Clayton
Pontotoc Co. Miss.
April 08, 1887
August 28, 1899
E. L. Clayton
Perry Co. Ark
November 19, 1890
February 20, 1956
L. W. Clayton
Perry Co. Ark.
September 18, 1892
September 12, 1951
R. E. Clayton
Perry Co. Ark.
December 16, 1894
March 07, 1895
L. F. Clayton
Perry Co. Ark.
August 12, 1896
December 26
C. E. Clayton
Perry Co. Ark.
February 09, 1899
JOSEPH J. CLAYTON was born July 28 in Calhoun, Alabama, and died October 02, 1899 in Aplin, Arkansas. He married GEORGIA ANN HARDIN November 29, 1877 in Pontotoc, Mississippi. She was born December 15, 1866 in Pontotoc County, Mississippi, and died April 19, 1935 in Aplin, Arkansas.
Notes for JOSEPH J. CLAYTON:
Joseph J. Clayton went to Oklahoma on horseback with a friend and his friend's daughter. He became friends with the Indians there. The chief indian insisted that the daughter marry one of the indians. During the night, JJ and his friends escaped away and went back to Mississippi. They were out looking for a new place to raise their families.
Later the families took off with a Wagon Train to Oklahoma. They camped along the way. One of the stops was near Aplin, Arkansas. There was a fiddler there entertaining the travelers. "Aunt Edna" (Aunt to MeMe Jones) loved the fiddle and sat near the fiddler. Soon after that she came down with the measles. They had to stop in the area now called Aplin and ended up settling there. They think Aunt Edna got the measles from the fiddler, but no one really knows.
Submitted to Debbie Anderson by: Susan Jones (chipper@cswnet.com) for Pontotoc County MSGenWeb