PERRY COUNTY CIVIL WAR SOLDIERS
Bruce Young, whose great grandfather was George Washington Bradley (Z. W. Bradley on the roll below) kindly contributed a copy of a photograph of Captain Benjamin Steven's Troop from Perry County for posting on this site. Another researcher told me that this only part of the original photograph. Several men are missing, some of whom were on horseback.
Only one individual is identified on the photograph. Sherrod Bradley is the second soldier from the left and was the ancestor of the person from whom Bruce received the photograph. If you can identify anyone else please let me know and I will post the information. Thank you again, Bruce!
I am told by Robert McSwain that J. W. Mixon should be G. W. Mixon. George Washington Mixon was known as Wash Mixon and was Mr. McSwain's great great grandfather.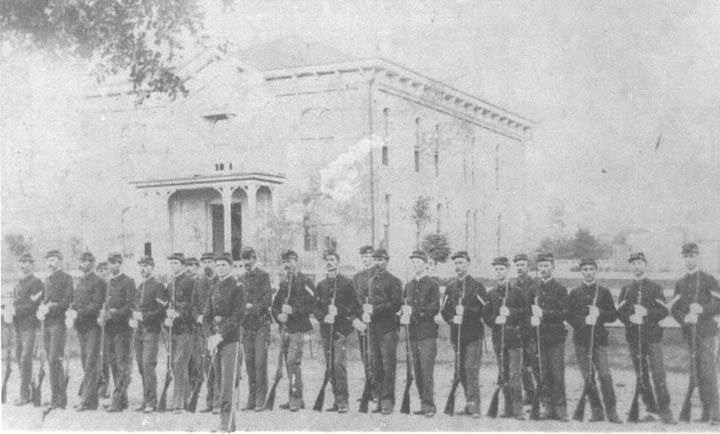 MUSTER ROLL OF CAPTAIN BENJAMIN STEVENS
9TH MISSISSIPPI CAVALRY
AUGUST 1863
Benjamin Stevens, Captain
A. L. Sharp. 1st Lieutenant
Hathorn (no given name), 2nd Lieutenant
Stevens, (no given name), 3rd Lieutenant br/> R. C. Lott
McLendon Craven

H. L. Allen
L. D. Thomas
N. (?) T. Stevens
J. C. Brealand
W. R. Lott
S. T. Carraway
P. H. Denham
C. A. Allen
Robt. Brealand
Josiah Brealand
H. L. (?) Brealand
J. M. Brealand
Q. C. Brealand
C. A. Brealand
Bostick Brealand
Martin Brealand
George Brealand
P. Z. Byrd
E. N. Byrd
Charles Byrd
M. R. Byrd
T. A. Ball
E. M. Ball
William Ball
Z. W. Bradley
S. Bradley
John Brewer
W. C. Cooley


Robert Cagle
H. T. Cochran
Thomas Campbell
Dennis Cooper
Washington Cooper
David Delk
Frederick Dupree
Henry Edwards
D. C. Edwards
B. P. Evans
Z. C. Freeman
P. K. Freeman
Lewis Fagans
A. L. Grantham
P. C. Grantham
Isom Garraway
Charles Garraway
S. P. Hickenbottom
T. E. Hinton
Sidney Hinton
Joshua Hinton
Moses Holderfield
Z. W. B. Holder
Morgan Hudson
David Harriston
David Kittrell
R. V. Krohn
Philip Lemma



D. T. C. Lott
Moses McLemore
H. M. Mitchell
J. W. Mixon
J. P. Merritt
Angus McGilvary
John McDonald
Elijah Perkins
V. B. Pardue
James Roberts
Henry Roberts
John Riles
D. M. Showes
J. W. Street
John Smith
Raymond Sonora
P. F. Stafford
Alvin Sumrall
Z. Y. Thomas
Loenard Turner
William Turner
James Turner
C. S. Travis
Arch Williams
James Williams
P. G. Welch
David Walker
R. H. Walley
William Walley
William Williams

Taken from the WPA County History of Perry County, Mississippi, this section of the history was prepared by Cynthia E. Ikerd of New Augusta, Mississippi and Pearl Odom of Hattiesburg, Mississippi on February 10, 1937. It includes columns for the name, rank, date and place of enlistment. Without exception the date and place of enlistment given for every person on the list is May 14, 1863 at Enon. The first thirteen men on the list are divided into three separate groups. Except for the first four men ranks are not given.
Question marks enclosed in parenthesis (?) denote question marks in the text of the original document.