Silas and Janet "Jenny" Freeman Simmons Memorial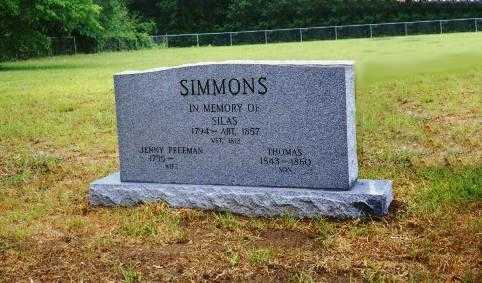 Perry County GenWeb Site Instrumental in Silas Simmons Memorial
By Emmitt Simmons
In January 1999, the descendants of Silas and Janet "Jenny" Freeman Simmons started plans for a memorial monument. Though a good many of their descendants still live in and around Perry and Marion Counties not many of the descendants knew where their ancestors were buried nor did they know that there were people who did know and were planning to place a memorial marker at their gravesite. Through Silas Simmons queries and responses on the Rootsweb site for Perry County word of the memorial event began to be spread.

Liz Grimes, one of the Simmons researchers who responded to the queries informed other researchers that there was a memorial stone being engraved for Silas, Jenny and their youngest son Thomas, and that there would be a ceremony at Old Enon Church in New Augusta. Robin Lambert and Susan Bourgone also responded to queries, and one by one the word got out by email, snail mail and telephone that the event was planned for May 22st and 23rd. Perry County Rootsweb posted an announcement on their bulletin board about the event also.

The stone was delivered and set in place on May 21st at Old Enon Baptist
Church in New Augusta, MS. Descendants started arriving from Texas, Georgia, Mississippi and Louisiana. On May 22nd the newfound cousins met at Farmer's Market Restaurant for lunch and to share their research materials with each other. Also, plans were discussed for the memorial ceremony on Sunday afternoon. In attendance were Liz and Paul Grimes from Georgia, John and Martha Simmons from Texas, Emmitt Simmons, Jr., his wife Wanda Simmons and Barney "Neal" Simmons from Louisiana, Emmitt Simmons, Sr. and wife Margie Simmons, Robin Allen Lambert, Polly Simmons Lambert, and Susan Bourgone from Mississippi. Everyone enjoyed the exchange of information and fellowship.

The memorial ceremony was held on Sunday May 23rd at 2:30pm at Old Enon Baptist Church in New Augusta. The pastor, Reverend Drew, welcomed all of the guests to the church and spoke of the history of the church. Reverend Drew led several hymns, and after having an opening prayer, John Simmons welcomed everyone. Each family introduced themselves and explained their family lineage.

"A DREAM COME TRUE"


After introductions were made, John Simmons introduced the featured speaker Howard Simmons of Columbia, MS. Howard is a retired county agent from Marion County, MS who used to work for the Federal Land Bank in the 1930's. Howard stated that having this stone dedicated to Silas, Jenny and Thomas was a dream come true. Howard recounted how in 1936 he had met George Simmons in Hattiesburg MS and discovered that George was the grandson of Silas Simmons. It was through talking with George and verifying the facts that were presented that much was recorded about Silas and his descendants. George knew where the graves of Silas, Jenny and Thomas were and took Howard to see them in 1936. After the war started, many things changed, and it was not until after the war that Howard and George visited the gravesites again. They found that the cemetery had grown up and the graves were not clearly marked as they had been. In 1994, Howard and John Simmons visited the gravesites again and found that the graveyard had been cleaned up and fenced. Howard continued on to tell of how Silas and his wife Jenny came to MS. Silas enlisted in Kentwood, LA as a private in the War of 1812 and was honorably discharged.

Paul and Liz Grimes spoke of how they had started researching the Simmons line in the 60's and after meeting Howard they were inspired to continue their efforts. They have researched in libraries and courthouses in MS, AL, NC and SC. In January of 1999, Paul and Liz Grimes, John and Howard Simmons decided to have a memorial stone made for Silas, Jenny and Thomas. The stone is dedicated to all the Simmonses buried in the Old Enon Baptist Church cemetery.

After a closing prayer, the meeting adjourned to the cemetery to view the stone. The members of the church served refreshments in the fellowship hall.

WDAM TV of Hattiesburg, MS covered the event, and an article was written for the Columbia newspaper also.
Descendants of Silas and Jenny Simmons




You may contact Emmitt Simmons for more information on the Simmons line.