Researching Your Native American Ancestry in Mississippi
Halito! My name is Leo 'Buddy' Pergson,
Chief of Su-Quah-Natch-Ah Choctaw band of Kemper County Mississippi living along the Tombigbee River MS, Choctaw mounds or "Tomb Builders".
I am your new Native American Project Coordinator for the Great State of Mississippi. Please email me with any comments, suggestions or contributions you might have for this site. If I can be of assistance please contact me. I have worked with the Bureau of Indian Affairs for many years and can sometimes find sources others cannot.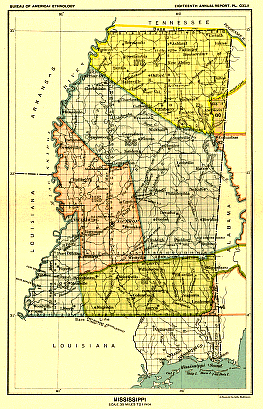 Mississippi Indian Cession Map
Click on Map for larger images
---
---
MSGenWeb Home
Native American Logo designed and generously donated to MSGenWeb by Jeff Kemp
Depicted in the logo above is the great Choctaw Chief Pushmataha in a painting done about 1834.
Also shown is a painting done by George Catlin about 1840-1845 of the Eagle Dance done by Choctaw when preparing for battle.


Member of the USGenWeb Project