Woodland, Home for Seven Generations
The South Reporter, August 22, 1957
---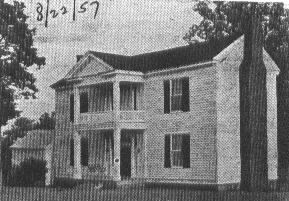 For the first time in more than a hundred years "Woodland", home for seven generations of the Woodson family and one of the few remaining ante-bellum country homes, has a new coat of paint. It is a sturdy, practical house with genteel lines and a gracious air of friendly hospitality.

Companions for its life of more than a century have been the stately oak at the back door and the ancient cedar at the front.

Its builder was Richard Oscar Woodson, who was born May 26, 1813 at his father's home in Cumberland County, Va. With his second wife who was of French descent, he moved to Mississippi and bought this farm eight miles north of Holly Springs, where they spent the rest of their lives.

They first built a log house in 1844 which became the kitchen when the "big house" was built. The brick in its chimney and foundation were hand made and burned in the garden. It was painted twice before the War Between the States and did not again until this summer.

Immediately after slave days, another kitchen, seen at the left in the picture, was added next to the dining room. It is still in use.

The rooms are 20 ft. square and one of them contains some of the furniture built for a proposed insane asylum, planned by a Dr. Compton for location where M. I. College now stands. Dr. Compton died of yellow fever before the building was begun. In the living room there is an old Knabe piano which Mr. Woodson bought for his oldest daughter, Martha Thompson Woodson. Purchased in New Orleans for $1500, the piano was brought to Memphis on a tow boat and then to the house by ox cart. It has stayed in that room ever since. Another feature is the hand carved scroll stair risers.

It was from this house that Henry Clay Woodson went to fight for the South in the War Between the States. With him, as his valet and not as a soldier, went his negro servant, Carter Woodson. While the Battle of Shiloh was being fought, it was through this doorway that the Woodsons rushed to meet Carter as he approached the house on his master's horse, "Traveller", both of them exhausted and hungry. They listed to his story with broken hearts. He had seen their son killed in battle.

Determined to bring his master home, this loyal servant had picked his body up from the battlefield, laid it tenderly across Traveller's back, tied it securely, then mounted his own horse and leading Traveller, started the long journey home. After days of travel his own horse had fallen. He then mounted Traveller to continue the journey. But Traveller soon gave out too, and he was forced to bury his master's body. He had picked a spot on a wooded hillside near the road, he told the Woodson's, which he was sure he could find again.

Carter told his story as he ate in the big kitchen, food brought out by his mistress. "Traveller" was fed and bedded down. The next morning, the best pair of mules on the farm was hitched to a wagon and Mr. Woodson and Carter set out to bring their loved one home. They searched for more than a week but there were many wooded hillsides and the lonely grave was never found.

When Mr. Woodson died Sept. 21, 1892, his wife moved to Memphis to live with a daughter. "Woodland" remained vacant until his son, John Louis Woodson with his wife Mary Eliza Moody Woodson, and family moved there from an adjoining farm. Again the house was a home, sheltering its own, its rooms filled with love and laughter.

Mary Eliza Moody Woodson was a woman of small stature, rarely weighing over 80 pounds, and of unusual character and abilities. Left an orphan at five, she was reared by four college teacher aunts. She was kept in school 10 months out of every year and was graduated with a masters degree from Marshall Institute near Collierville, Tenn., in July before she was 16 in October. She mastered both French and Latin and taught both piano and guitar.

In this family there was one son, Gus, and three daughters, Lelia, Nettie and Jessie (now Mrs. Ramey Gibbons) who retired recently after 35 years of service in the Post office at Holly Springs. Mr. and Mrs. Gibbons live at Woodland. They are "right" for the house and the house is right for them. Both strong in character, genteel and gracious.