Cedar Crest on Museum's Annual Historic Tour
The South Reporter, September 17, 1992
by Lois Swanee

---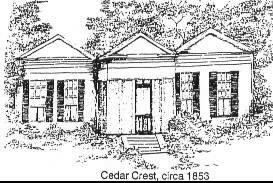 On September 26 the Museum will sponsor our annual historic tour of the county – this time to Red Banks and Byhalia. One of the homes we will visit will be Cedar Crest, circa 1853, which is the home of Mrs. Reeves Power and her family. Her son, Shelby Power, will be our host.

The Treaty of Dancing Rabbit with the Chickasaw Nation opened most of north Mississippi for settlement. The treaty allowed any Indian who wished to remain to claim a section of land. An Indian named Noyea was granted the property on which Cedar Crest is now situated. Captain G.C. Adams bought the land and in 1848 began construction on Cedar Crest. In 1853 the property was sold to James Wells.

Cedar Crest contains approximately 2500 square feet and was patterned after a dollhouse owned by Captain G.C. Adam's daughter. The lumber was cut on the property and air dried. The ceilings are 14 feet high. The windows and doors permit cross ventilation, which was so important in the South in those days. Handplaned boards and handmade square headed nails were used in the construction. Sills were hand hewn trees. The walls are cross braced and covered with split laths made of green lumber. The green lumber was used so the moisture would not be soaked out of the mortar mix. Doors are pegged construction. The two chimneys each provided fireplaces to heat three rooms.

The original kitchen was on the south side behind the oldest room in the house. The oldest room, which is now used for storage, was Captain Adam's original schoolroom. The original ceiling, painted with blue calcimine paint is visible in places.

During the Civil War, Cedar Crest was used at various times as a place for sick and wounded soldiers to recover. Hospitals were all but non-existent at that time. One of the soldiers who recuperated there returned after peace was declared and married his nurse, a daughter of the Wells.

When General Grant was headquartered in Holly Springs, various units were quartered in the homes around the area. Officers took over Cedar Crest while the balance of the soldiers and the Wells' family lived in the lower front yard. It was during this time that the need for cooking fuel led to the destruction of the hardwood grove in which the home was located. Considerable scavenging also took place.

The Powers acquired the house between 1873 and 1885 and it has remained in the Power family until this day.

This wonderful historic tour will be Saturday, September 26 at 9 a.m. at the Museum. Reservations must be made in advance to get your name in the picnic basket. The proceeds go to the Museum. Wear your walking boots.


This Page Was Last Updated