Brown
Submitted by: Patricia Brown Merrill
Walter Welton Brown is a descendant of David Montgomery Brown (see Fellowship Cemetery index and records).
This photograph was dated about 1919. It was a Brown family picnic probably somewhere in Meridian - possibly the Park. Luna Kinard Brown dictated the names of the people in the photograph. Because they are not in straight rows, it is difficult to identify some of them. I will try to be as clear as possible. She did not remember the names of some of the children or the babies.
Family Picnic ca. 1919 - Family of Walter Welton Brown (age 17)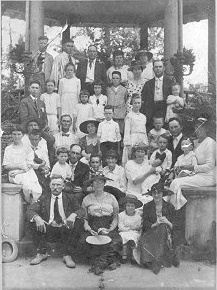 Top Row (left to right): (family of John D. Brown) Tom Brown, Walter Welton Brown, John D. Brown, Marcella Williamson Brown, Elvira Brown.
2nd Row: Chester Pace (young man in suit), Geneva Brown, Maureen Brown (taller girl by Walter), Bronice Brown (smaller girl). These three girls were daughters of John & Marcella. Family: Dr. Jack Brown, his wife and children.
3rd Row: Ester Pearl Whitley (on step), Dillard Brown, Dee Pace, Molly Brown Pace (John D. Brown's sister), unknown boy, Allie Pace, Tom & Nannie Gilbert, James & Russell (Gilbert?).
4th Row: Wes Brown, D.W. Brown, Fannie Brown, Alvaretta and baby Laurie, Aunt Janie Whitley on the side.
Bottom Row: Dr. Dee Pace's family - Allie, Estalena, Esta.