Miscellaneous Unknown Photos
Submissions by Patricia Brown Merrill
"I have several photographs that were found in my paternal Aunt's trunk after my grandmother's death in 1990. There is no one living that I know who can identify these photos. The quality of them is excellent and I would love to see if anyone in Lauderdale, Newton or Kemper County might recognize these people. I will submit these photos with a description of the details on the back and identify the people in them that I can. I have quite a few of these.
Thank you very much, Patricia Brown Merrill"
These first photos, were found in the trunk of Elvira Brown Hayes (born Dec.15, 1903 - died January 1976). She was the daughter of Marcella Adeline (Annie) Williamson (daughter of James Williamson and Sarah Harmon, Bailey, MS) and John D. Brown 1878-1950 (descended from David Montgomery Brown Lauderdale County)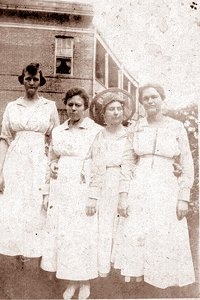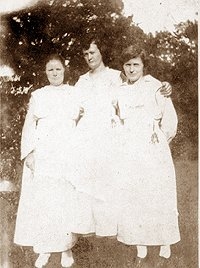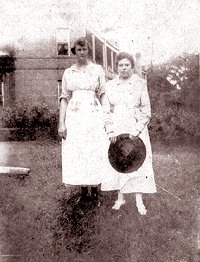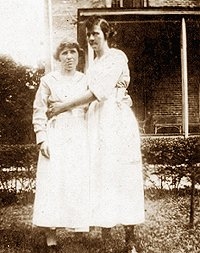 All four of these photos have identical studio markings and are the same size: "Rex Photo Finishers * QUALITY PRINTS * MERIDIAN, MISS." stamped in a circle. I think it is possible that the young woman with the hat may be my Aunt Elvira Brown, but I am not sure. It appears that they are in white uniforms and are standing in front of some institution...possibly a hospital....or a school.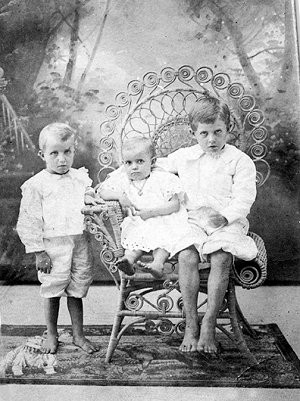 The photo of three small children is a Post Card format. The names written in pencil on the back are (as well as I can read) "Hinkle Brown, Cufer Brown, Veardr Brown, Heppy Brown."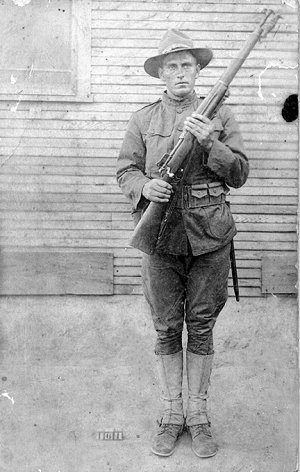 The second photo of a soldier is in a Post Card format...the name written in pencil on the back is "maybell". The printing on the back of the postcard is identical, as if manufactured by the same company.
Both of these photos have identical studio markings and are the same size. "Amateur Department HAMMOND STUDIO, Meridian, Miss.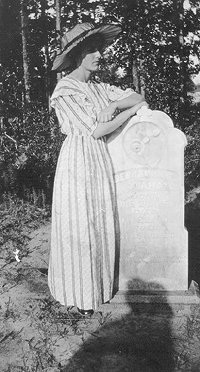 The first photo....Lady in a graveyard standing by a tombstone: Tombstone reads: "Benjamin E. Avara Born June 20 1828 (I think that is right!) Died Nov 22 1902." There is a lower case script "g" on the back written in pencil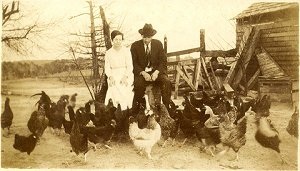 The second photo, Couple courting in a chickenyard: There is no other identifying information other than three straight lines in pencil.
MSGenWeb State Coordinator:Jeff Kemp
MSGenWeb Asst. State Coordinator: Denise Wells or Jackie Rhodes

Copyright © 2008 by the MSGenWeb Team. All rights reserved. Copyright of submitted items belongs to those responsible for their authorship or creation unless otherwise assigned.

Photos in banner courtesy of USGenWeb Penny Postcard Project.