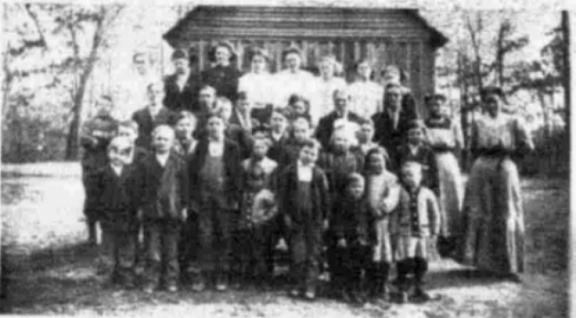 Names from back row, L to R : Ruth TABOR, Lucille JOHNSON, Bulah FUDGE, Jennie HAIR, Peas HAIR,
Lee MCGONAGILL, Mable JUNEAU, Lora FUDGE,.
2nd Row: Hubert KIRBY, Buren FUDGE, Arthur BILLINGSLEY, Basil FUDGE, Elbert FUDGE, John HAIR, Artie BILLINGSLEY, Maude FUDGE, Agie KESSLER [(aka KESTLER, }Mrs. Sidney Lott pf Water Valley, emc} teacher];
3rd Row: Elmer FUDGE, Doris JOHNSON, Garland FUDGE, Sammie VICK, Mable TABOR, Ruth TABOR, Earl JUBEAU, Grant ROBERTSON,
Shirley FUDGE, Hubert TABOR, Earl McLARTY, Norene MEEK, Euphus FUDGE, Gregory ROBINSON, John ROBINSON, Lorene McCLARTY, Clydelle FUDGE.
SOURCE: LAFAYETTE Co Heritage pg. 406, F353 Kirby Family by Mrs. Dever HALL, published by the The Lafayette County Historical and Genealogical Society, 1984.
Death of former student of FUDGETOWN SCHOOL above.

Obit:

MAUDIE FUDGE TYLER, a former member, died September 29, 1995 in Houston, TX. She was a retired purchasing agent for the CITY of MEMPHIS Hospitals, member of the Chickasaw Bluffs Chapter of Daughters of the Confedercy, Colonial Dames and the TN Genealogical Society. She had published items with several societies. She is survived by her husband, Robt. Wm. Tyler, 2 daughters, 2 sons, 4 sisters, 2 brothers 7 grandsons and 2 great granddaughters. A gift to Skipwith Memorial Fund was made by the Society.

Source: Bound Volumn:LAFAYETTE COUNTY HERITAGE NEWS 1990 - 1997; LAFAYETTE COUNTY HERITAGE NEWS , FALL 1995. ( Web Master's note; Mrs. Tyler's publications also included a book on her Kirby Kin entitled "My Kibry Kin" which may be found on the Family shelf in the Kerin Coffey Magdovitz Genealogy Rm, upstairs in the Lafayette Co. / Oxford Library.)
Note; This group of children and their teacher are all related through the KIRBY aka KERBY family of MS, SC, NC and VA. They share SC, NC, and VA ggggrandparents.

I have been seeking Miss AGIE KESSLER aka KESTLER picture and / or information for many years.
Her mother was Mary aka Molly Crocker , my grand aunt, the daughter of Miles and Bettie Bryant Crocker of Paris MS formerly from Spartenburg Co SC.
Her mother died at Agie's birth and her father, W D. Kessler aka Kestler married her mother , Mary's older sister , Fannie B. Crocker. Her father, William L Kessler was mayor of Paris in the early 1900s who was a very eminent man in the incorporated town of Paris according to marriage and deed records in the Lafayette Co Chancery Clerk's office.
Her mother , Mary aka Mollie Crocker Kestler is bured in the Crocker Family Graveyard, 1 mi east of the Paris Memorial Cemetery on CR 428 where her father, W D and step-mother aunt , Fannie Crocker Kestler are buried.

We have found her marriage date was 04 Jun 1921 to Sidney Lott
She died 23 Apr 1955 in Water Valley and is buried in Oak Hill Cememetry.
She was once a teacher in Water Valley in her later years.
Her half - sister was Babe Ruth Kessler, brothers; William Holder and Hugh Kestler or Kessler. W H Kestler worked in Water Valley then Greenville or Greenwood then Memphis. Hugh was a truck driver in the Greenwood and Jackson area. Hugh Kestler married Nettie Martin , she is buried at Greenwood.
Any living relative of this KESSLER aka KESTLER family, please, contact Evelyn Crocker, Cousin.