[an error occurred while processing this directive]
PRICE MEMORIAL METHODIST CHURCH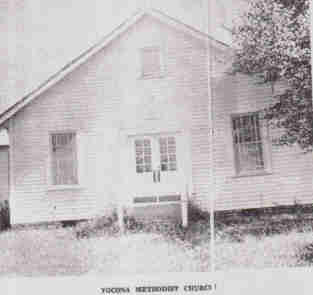 submitted by Evelyn Crocker, Web Master, County Coordinator,
member of APG, SHGS, PHGS 2000 -2007.


The first time I read or heard about this church was in "The Lafayette County Heritage Book", entitled "YOCONA" page 198. "Price Memorial Methodist Church was located up the highway several miles, nearer to old Cornish. People of all denominations attended that church as well as New Prospect. ..."
Another source: The Oxford Eagle's Centennial Edition under the heading, "Town, river take Indian name -- Yocona history is recalled" by Mrs. Standley Knight:
"... The Yocona Methodist named their church "Price Memorial Methodist Church in honor of the Price family, who did much for Yocona Methodism. ..."
It seems to me the people of Yocona aka Yokany of 1986 confused other communities history heritage with their own. Therefore, it caught my interest as I had noticed much of this history heritage belonged to other older communities and families than were mentioned in this essay.
Present Yocona community did not become such until 1923 when a large county consolidated school was built in Section 21, T 9 S, R 2 W which absorbed Slick Ridge, Morgan aka Cornish, Pleasant Hill aka Kingdom and all the smaller one room schools in the district.
This section 21 was several miles west of the sections Washington Price's original Plantation absorbed in 1838 -1855 and afterward. Jan 16, 2008: correction , it has come to my attention, that Mrs Leathers was the granddaughter of Wash Price and this land was apart of her inheritance from her father, Huldric Price.
Due to so much confusion as to the History Heritage of these communities, Slick Ridge, Pleasant Hill, Kingdom, Cornish, Altus, Yocona, Yellow Leaf, I decided to research the deeds and other records of Lafayette County to give credit where credit was due so descendants whose ancestors lived in this area before 1923 and the founding Yocona School community could find the locations of where their ancestors may have lived, the churches and cemeteries they may have been members or were buried.
Back to the PRICE MEMORIAL METHODIST CHURCH, Morgan aka Monroe Branch, Cornish, Old Hiway 6 now Hwy. 334.
I have found the deed in the land deeds of the Chancery Clerk's office.
1926 Deed - Deed Record Book 91, pg. 449
"MRS. W. S. LEATHERS,
"TO DEED
"NORTH MISS. METHODIST CONFERENCE.

"STATE OF MISSISSIPPI,
"COUNTY OF LAFAYETTE.


"In consideration of one Dollar cash in hand paid, the reciept of which is
hereby acknowledged, I hereby convey unto the North Mississippi, Methodist Confederence
the following described parcel of land in Lafayette County, Mississippi, the said land
to be used for a Methodist Church and when not so used to revert to the owner of said
property, the said land described as beginning at a point 150 feet east of Morgan Branch
on the Section line of 23 and 26 [T9S R2W Map] in Township 9, Range 2 west, and running east with the
Public road 140 yards, thence north 70 yards
to point of beginning containing Two acres in the north east quarter of said section
26, being the property known as the Morgan or Cornish School Lot.
"

"Witness my signature this 26th day of August 1926 "




"Mrs. W. S. Leathers."
[Mrs Leathers was Sara Ola Price]


"STATE OF TENNESSEE"
"COUNTY OF DAVIDSON."
"This day personally appeared before me the undersigned authority, the above
named Mrs. W. S. Leathers, who acknowledged that she signed and conveyed the above and foregoing instrument of the day and year and for the purpose therein mentioned.


Witness my signature and offical seal of Office this 26th day of August, A. D. 1926.




Jessie Barham, Notary Public.


Seal.
My commission expires Apr. 21 - 28.

STATE OF MISSISSIPPI,
COUNTY OF LAFAYETTE.
I , W. M. Woodward Clerk of the Chancery Court of above said County and State
hereby certify that the foregoing instrument was filed for record at 10 o'clock A. M.
on the 27th day of August 1926 and recorded on the 27th day of August A. D. 1926.


W. M. Woodward, Clerk,




By J D Woodward, [ his signature] D. C.



Page last Modified: Sunday, 14-Feb-2010 22:24:41 EST

Copyright &copy MSGenWeb All Rights Reserved with Full Rights Reserved for Original Contributor

Disclaimer: This information may be used by libraries and genealogical societies, however, commercial use of this information is strictly prohibited without prior permission of the owner. If copied, this copyright notice must appear with the information.

Additional copyrights may apply to and be noted on individual pages. Information on these free web pages may be linked to but may not be copied other than for personal, not-for-profit research.