Frank and Hannah Bryant Harvey Family of Paris, MS. .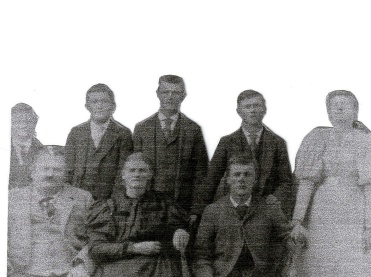 Franklin Harvey, born in 1842 to William Harvey and Mary A. BRYANT in PACOLET, S. C., enlisted in the Co I, 9th S. C. infantry, C.S.A. in 1861. Later, having served under Robert E. Lee, he was present at Appomattox Court House, Va.at the time of Lee's surrender. Many men enlisted with him from PACOLET, Frank was the ONLY survivor.

He married HANNAH BRYANT, daughter of WILLIAM TOLLENSON BRYANT and LUCINDA KIRBY BRYANT OF PACOLET, S.C., SEPTEMBER 6, 1866.

In 1867, they were enticed to make the westward move to Miss., by some of the BRYANT and KIRBY relatives who had already moved and by their reports of plenty of wild game. Also to escape from an embarrassing, ill-mannered Harvey brother who did not meet Frank's strict moral standards, was another motivation for Harvey's move. They bought a farm of 320 ac. east 1/2 of sec 32 adjoining brother in law, Miles Crocker's west 1/2 of sec 32 near Paris where they lived until death and are buried in the Memorial Cemetery at Paris Mississippi. He died October 27, 1924, she died October 6, 1902.

Other Bryant siblings who moved to Miss. from S.C. were BETTY,
married MILES CROKER (1. CROCKER, arrived Nov. 1865, emc), MISSOURI [JANE, the widow of James Harmon emc] married GEORGE W VAUGHN, MOLLY (2. MARY Amanda emc) married JACK HEAD, ALFERD [Tolleson arrived early 1865, emc] married ADDIE KIRBY,[James, emc]PINKNEY married RHODA CAROLYN KIRBY [widow of W J Green,emc]and Rev. WILLIAM K. BRYANT [married Elva Darcy Harvey emc] .

Frank's and Hannah's children who lived beyond infancy were Melvin married Eliza Jane Wilson, Frances (Shug) married Josie Palmer [This is in error C. E. Harvey married Josie Palmer, Miss Frances never married. emc] , Lloyd married Luna Reid, Boyd [correction: this should read Claude E, Boyd died in 1875] and Ben.

Melvin's and Eliza's children are: Elva married Fred Rudder, Loren married Margaret Thomas, Vattie married (1) Tom Pendergrast, (2) Casper Headrick, Lon married Agathe Moorhead, and Anna married Earl Kiser, Melvin and Eliza are buried at Paris, Ms.

Vattie and Tom Pendergrast's children's are: Living married Living Santi and Living married, Living Pendergrast. Lon and Agatha Harvey's son is Living, married Living Frazier. Anna and Earl Kisner's daughter is Living, married Living Smith.

Loren is buried in the Collierville Cemetery, Collierville, Tn. Claude and Josie's children are: living daughter married F Barber, Living daughter married V Blount, A, married B Larson, and D married E Beeler. Claude and Josie are buried in the Water Valley Cemetery, Water Valley, Ms..


Ora and F Barber's children are: M and D married Russell Aven. Ora is buried in the Oxford Cemetery, Oxford Ms..

V and V Blount's son is B G, married P Person. Alton and B Harvey's children are: T and C who married T Harvey.
Alton is buried in Riverdale, California.

D and E Beeler's children are: D married J J Hogan Jr., E Harvey married P Wolfe, J L married W Parker, M married R Vickery, and B married R Babb.

Lloyd and Luna's daughter is Marjorie married Jesse Lee Morgan. Lloyd and Luna are buried in the Memoral Cemetery, Paris, Ms.. Marjorie and Jessie Morgan's children are: Living married Living Murphey, Living married Living Hatcher and Living Son.

Frances (Shug), Maude, Boyd, and Ben Harvey, along with serveal infants are buried in the Memorial Cemetery, Paris, Ms..

This accounts of the Harveys of Paris, Ms. includes only the children, grandchildren and great grandchildren of Frank and Hannah Bryant Harvey (4) whose ancestry dates back to Colonial days in Virginia, and the Carolinas, and includes such Maiden Names as: Johanna Owen, Milly Campbell, Anny Muse,and Nancy Tolleson.

Written by Marjorie Harvey Morgan,[a grandaughter, now deceased] Heritage of Lafayette County Mississippi , published by The Lafayette County Historical and Genealogical Society, 1989, Family # 442. edited by Evelyn Crocker, a great granddaughter of Miles and Bettie Bryant Crocker and great grand neice of the Harveys , Bryants, Vaughns, Heads and Kirbys.

Acknowledgment: Sandy Smith, a gg granddaughter in law of Bruce MS submitted the Frank Harvey Death Certificate.
Contents
Memoral CemeteryF Harvey's Death
Certificate