Veterans Memorial at Courthouse
Contributed: October 2004
Photographs submitted by Jackie Rhodes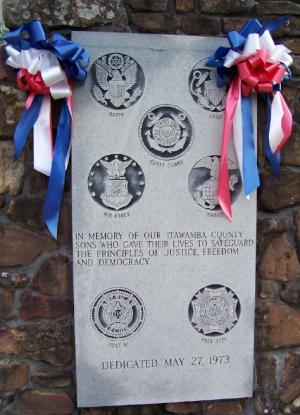 Picture #2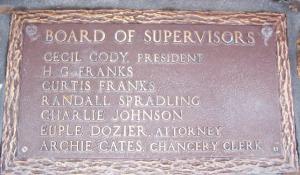 Picture #1
Picture #1: Plaque naming the board of supervisors which lies below the Memorial. Supervisors at the dedication were: Cecil Cody, President; H. G. Franks; Curtis Franks; Randall Spradling; Charlie Johnson; Euple Dozier, Attorney; and Archie Cates, Chancery Clerk.
Picture #2: Photo of Front of Veterans Memorial at the Itawamba County Courthouse. The plaque shows the seal of each branch of the armed forces and reads "In Memory of Our Itawamba County Sons Who Gave Their Lives to Safeguard the Principles of Justice, Freedom and Democracy; Dedicated May 27, 1973"
The following names can be found listed on other sides of the memorial.

World War I

Anderson, Matthew W.
Beam, Samuel T.
Carpenter, Elvis S.
Chilcoat, Willie W.
Crouch, Leonard D.
Dennis, Itha C.
Leech, John A.
Mattox, Barney W.
Moore, Ebbie B.
Nabers, William A.
Ray, Thomas J.
Robinson, Lawrence E.
Sheffield, Oscar M.
Shields, Elmer
Segars, Edd
South, Audie L.
South, Luther W.
Spearman, Troy J.
Young, Willie P.

World War II

Anthony, James C.
Attaway, James R.
Barber, Roy D.
Barrett, Gilbert L.
Baxter, Fletcher C.
Bean, Joe M.
Bean, Tyson C.
Benson, Arlander F.
Boren, Payton
Brown, Allie C.
Brown, James C.
Burdine, Earnest C.
Camp, Charles E.
Carothers, Benona B.
Chamblee, James C.
Chamblee, Marcus E.
Cleveland, J. V.
Conwill, J. A., Jr.
Cromeans, Allen V.
Evans, Thomas J., Jr.
Ferguson, Paul V.
Frazier, John R.
Gaither, Stanley E.
Gentry, Hershel E.
Gilliland, Travis W.

World War II

Graham, Dorus S.
Greene, Ellis N.
Gregory, Harlon B.
Grissom, Bruce B.
Hale, Olen J.
Hankins, Marvin R.
Hare, G. B.
Hargett, Tearsie E.
Harper, Andrew W.
Harris, John W.
Hill, John C., Jr.
Houston, Dixie C.
Jackson, Zelmer L.
Jones, Adrel C.
Kennedy, Clifford O.
Kuykendall, John L.
Lane, John E.
Lawhorn, Milton
Lesley, Albert S.
Lindsey, Charles D.
Lindsey, Thomas J.
Loden, Arlin D.
Loden, Nim R.
McCauley, James H.
Mitchell, Thomas J.
Moore, Albert G., Jr.
Moore, Ebbie C.
Moses, Tulon L.
Newell, Otis O.
Pannell, Leeroy J.
Pannell, Prentiss A.
Parker, Elvie B.
Pearce, Iren R.
Pierce, Cloyce D.
Pierce, Victor H.
Pierce, Wayne A.
Prestage, Stencil R.
Pounders, Ewell C.
Rankin, Clarence B.
Reese, Curtis A.
Robinson, M. T.
Rodgers, Casey J.
Rogers, Melvin

World War II

Ryan, Troy L.
Sanders, James E.
Satterwhite, Virgle
Smith, Emmett
Smith, Loyd B.
Stegall, Samuel B.
Strickland, John D., Jr.
Thornton, Troy C.
Tucker, James C.
Umfress, Cecil V.
Underwood, Ray C.
Wallace, Troy L.
Wheeler, Paul R.
Wheeler, Wiley B.
Whitehead, James H.
Whitworth, Olen E.
Wiginton, B. D.
Wilson, Clyde A.
Wiygul, John G.
Wood, John R.
Yielding, Aron
Young, Grady L.

Korean War

Stanphill, Dock L.
Strange, Thomas E.

Vietnam War

Boozer, Don A.
Clark, Bobby D.
Coats, Douglas
Davidson, Charles L.
Hall, W. T.
Hodges, Bennie E.
Humphres, Jimmy D.
Izard, Phillips H., Jr.
Jones, Osbon
Palmer, Sammy R.
Sanderson, Johnny D.
Waddle, Sammie W.
West, Melford W.
Willis, Donnis G.
Worthey, Owen W.
Yielding, Larry T.
Photographs copyright © 2004 by Jackie Rhodes and MSGenWeb.