Contributed: May 2004
Submitted by Lori Thornton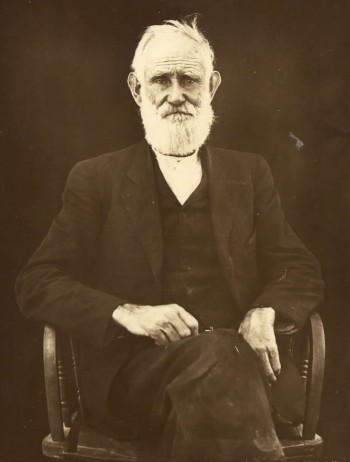 John Wesley Rogers.
John was sheriff of Itawamba County from 1909-1912. After his term in office, he moved to Becker, Monroe Co., Mississippi. His first wife was Mittie Walker. She was born 12 Jul 1845 and died 14 Mar 1906. He married N. Malinda (Allred) Duke on 18 Sep 1906 in Monroe Co., MS whose first husband Thomas Duke died in 1894. John was born 1 June 1841 and died 4 Jul 1922. He is buried alongside his first wife in Hardens Chapel Cemetery near Fulton. Malinda was born 3 May 1843 and died 27 Nov 1926. She is buried beside her first husband Thomas Duke in Greenbrier Cemetery, Becker, Monroe Co., Miss.
The following article was submitted by Bob Franks:
Source: Itawamba County News, October 1, 1908, p. 4.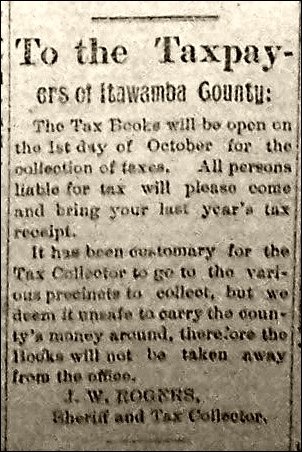 Article from Rogers as Sheriff and Tax Collector.
To The Taxpayers of Itawamba County:
The Tax Books will be open on the 1st day of October for the collection of taxes. All persons liable for tax will please come and bring your last year's tax receipt.
It has been customary for the Tax Collector to go to the various precincts to collect, but we deem it unsafe to carry the county's money around, therefore the Books will not be taken away from the office.
J. W. ROGERS,
Sheriff and Tax Collector.