Home - Hinds County MSGenWeb
Death Notice
Francis Gillespie Goodwin
Contributed by Danyelle McNeill Fletcher
<dfletcher10@earthlink.net> August 29, 2004


Hinds County Gazette
Francis Gillespie Goodwin - died on July 16, 1866;
buried in Raymond Town Cemetery
July 19, 1866
"A truly unfortunate accident occurred near Dry Grove, in this county,
on Saturday last. At a shooting match, at which was present many of
the gentlemen of the neighborhood, a gun prematurely discharged, the
ball striking Mr. Frank G. Goodwin, for several years past a well-
known citizen of the county, and inflicting a mortal wound. He died
on Monday morning."


Page Created August 30, 2004
Copyright © 2004 Jane Combs All Rights Reserved
Submission Remains the Property of Danyelle McNeill Fletcher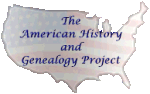 ALL RIGHTS RESERVED: The information you have found on this website is protected by the US Copyright Law, Digital Millennium Copyright Act of 1998. See: http://lcweb.loc.gov/copyright/ Individual genealogist's may copy and use the information found on this website for personal use "ONLY". It is not to be copied or altered in any way for commercial use nor for use on another webpage without the written permission of the webmaster. You may link freely to this website. Where information has been provided by someone other than the webmaster, written permission must be obtained by the submitter to copy the information.