HONOR LIST
of Dead and Missing Army and Army Air Forces Personnel
(World War II)
The following image is portion of a page from a manuscript published by the War Department in June, 1946. The columns are represented as Name, Serial Number, Grade, and Type of Casualty. A thorough description of the fields and abbreviations is available here.
Type of Casualty Abbreviations:
KIA - Killed in Action
DOW - Died of Wounds
DOI - Died of Injuries
DNB - Died Non-Battle
FOD - Finding of Death
M - Missing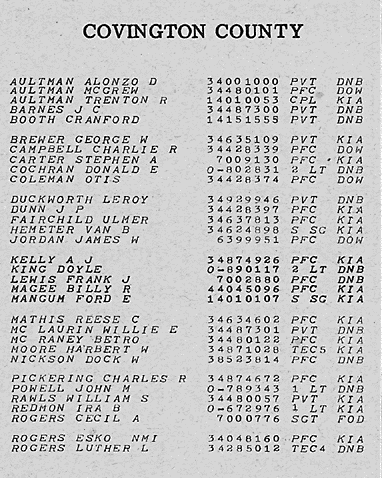 For the full image, click here.
---
Source: The National Archives


Return to Home Page.





This site is a member of the USGenWeb Project and the MSGenWeb Project.
Please visit the Covington County Home Page for more information.
Copyright © 2008 by the MSGenWeb Project. All Rights Reserved.
Individual submissions remain the property of copyright owner or submitter.

Copyright Notice: All files on this site are copyrighted by their creator. They may be linked to, but may not be reproduced electronically or otherwise without specific permission from the county coordinator and/or the contributor. It is permissible to print or save the files to a personal computer for personal use ONLY. This information may also be used by libraries and genealogical societies; however, commercial use of this information is strictly prohibited without prior permission of the owner. If copied, this copyright notice must appear with the information. Additional copyrights may apply to and be noted on individual pages.
This page was last updated on 17 April 2007.