TIPPAH COUNTY CONFEDERATE
VETERANS REUNION
at Stonewall College in Ripley, Mississippi in 1904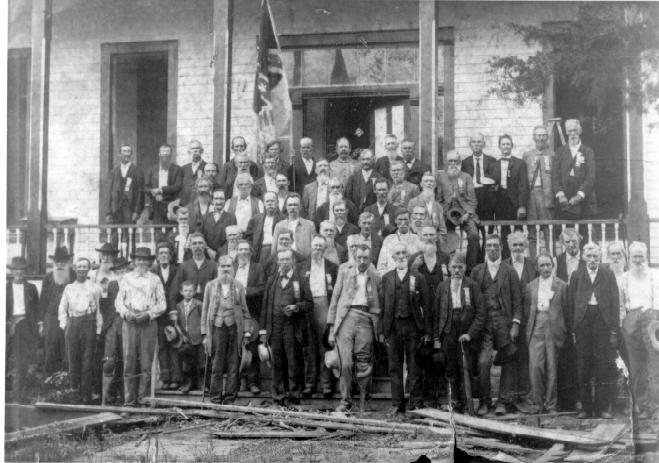 ---
This picture was submitted by Rosemary Hollis
Men Identified
McAlister, Benjamin Franklin He is Rosemary Hollis' great grandfather. He is the last man standing on the porch on the right side of the picture. He has a white beard and it looks like a step ladder is behind his right shoulder. Ben served in SC but moved to Tippah County shortly after the war was over.
Mercer, Tony He is the third from the left in the front row with his hands cupped, a hat, and suspenders.
Rucker, Capt. A. C. Just to the right of the above Tony Mercer and in the front row is a man believed to be Capt. Rucker. There is a boy between the two in the second row.
Wommack, William Calvin He is the tall man standing behind the others, 4th from the right in the bottom of the picture, right under Ben McAlister.
McClain, Sgt. Lewis M. He is the second man from the left in the second row with the black bowler hat and the long white beard. He was sheriff of Tippah Co. in 1876.
Robbins, William D. There is a man in the center of the front row with a wooden left leg. Directly above the tip of his right shoulder on the 4th row, his head almost centered on the long beard of the man behind him is William D. Robbins.
Spright, Capt. Thomas He is believed to be the man in the front row center between Capt. A.C. Rucker and the man with the wooden left leg.
---
Unidentified Men If you can identify any of these men, please email me.
This is a list of names of the of some of the veterans who attended, it is not in the same order as in the photograph.
E. B. Aldridge, J.M. Childers, John Perkins, Capt J.M Rutherford, Capt. H. A. Stubbs, Capt. James Jefferies, J.W. Street, Sr, J. E. Hovis, D. J. HILL, W. M. Chism, M. J. Bennett, J. M. Murphy, Miles Paseur, John Young, Jim Hurry, T. J. Coombs, W. H. Shelton, J. N. Ross and W. C. Johnson.
Those still living in 1911 were;
H. T. Jones, S. O. Love, T. Y. Morton, J. W. McKelvey, O. A. Porter, Newt Neely, F. E. Gresham, J. R. Brown, D. T. Bartlett, David R. Childers, J. R. Barber, J. D. Richardson, J. A. Davis, W. W. Anderson, Sam Miskelly, J. H. Head, J. M. Renfrow, E. S. Barber, John Garner, Ira South, J. U. Wicker, T. M. Jennings, Finas Hodges, Pink Hardin, M. Reed, W. S. Hawkins, J.Y. Keith, John Parish, J. H. Nance.
---
Back to the Photo Index Page


© 1997, 1998, 1999, by Melissa McCoy-Bell. All rights reserved.