Greenwood Cemetery Photos
Photographed and Contributed by W. R. Price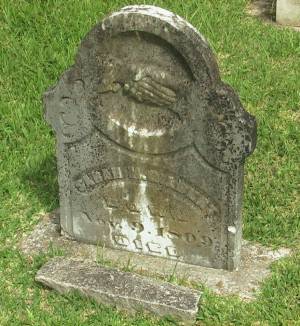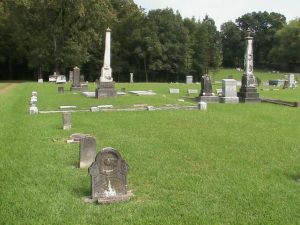 Left: Sarah M. (Sallie) Broughton Gilbert. She was born November 5 1809 in Augusta Georgia and died 02 Sep 1880 in Oktibbeha County. The Gilbert place was on the south side of the Tibbee, down the Starkville Road. Her grandson Henry Clay
Gilbert 1876-1879 is buried behind this stone. His marker has collapsed and is in such bad repair I am afraid it will break if someone tries to restoreit. Lot A-107 is owned by Sarah's husband John Wesley Gilbert. He died in1884 in Oktibbeha County, I cannot fathom them not burying him beside Sarah but I cannot determine if he might be buried in Lot A-107. There are two others buried there in unmarked graves.
Right: This is a pan shot of Lot A-107. You can see Sarah's tombstone in the front with what we think are foot stones between her grave and Henry Clay Gilbert's grave which has the broken stone.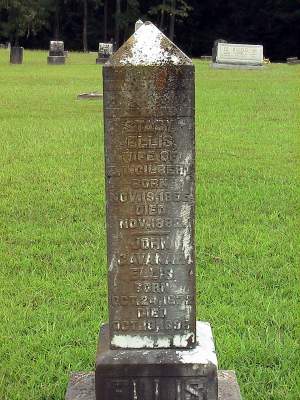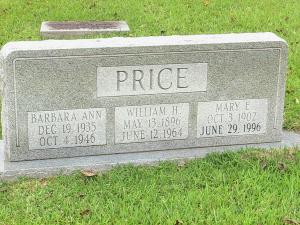 Left: Stacy Ellis Gilbert, wife of Zachary T. Gilbert. Below is her brother John Cavanah Ellis. On one side is Stacy and John's father Doctor Daniel Ellis and his wife Susan Holbrook Ellis. On the other side is is Alfred Burrell Ellis and his wife Lillian Ellis. Some day I hope to research the Ellis family more, it appears they made a great contribution to Oktibbeha, Lowndes, and Clay County. According to the 1880 Census, Dr. Ellis ran the Poor House. His Daughter Stacy and her Husband Zachary lived next door but were apparently not inmates. Zachary and Stacy had a daughter named Minnie May Gilbert and I have been unable to find out what happened to her. Their son Henry Clay Gilbert, named after Zachary's brother, is buried in Lot
A-107 behind his grandmother.
Right: William H. Price is not related to me though my father, grandfather, and one great great uncle were named William H. Price.