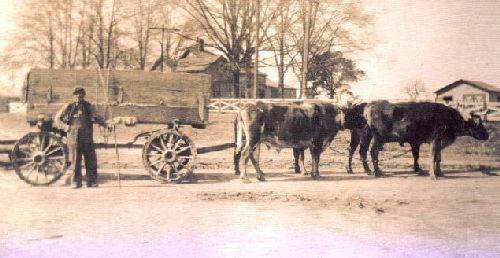 Photo of Lon Sanders driving a 4 up team of oxen,
photo taken in Mathiston, MS
Photo and information submitted by Dave Thompson. Mr Thompson states that to his knowledge this is the only photo of Lon Sanders in existence. Mr. Thompson has been to the location in the photo and the house and trees still stand as pictured, all other scenery has changed.
This photo and most of the information was given to Mr. Thompson by Mr. and Mrs. A. B. Shaw, Reform, MS.
If you are researching the SANDERS family, Mr. Thompson can be contacted by email; and would appreciate hearing from other researchers.
LON SANDERS was married to (1)Bessie WALLACE and had a daughter Lillie SANDERS who married to Nolen CROWDER, believed to be brother of Annie Belle, second wife of Lon.
Lon married (2) Annie Belle CROWDER and they had one daughter, Mary Nancy. Lon is buried in Blythe Creek Cemetery in Reform, MS.
Mary Nancy married Charles William MILLER of Chester, MS. Mary Nancy and Charles MILLER had nine children.
1. Mary Francis married Burly LUCAS
2. David Leon married Fannie Joe PRISOCK, had one child that drowned. Young David Leon adopted her other boy Jamie, then they divorced.
3. Annie Lee, had two boys, Bruce and David Lon.
4. Betty Marie married Calvin Leroy DAVIS of Chester. Calvin had three children by a previous marriage; Glendale, Shirley, Joleane. Joleane was hit while crossing the highway and killed instantly while trying to get from Betty's car to Calvin's, who was parked on the opposite side of Hwy 12 in Starkville, MS. Calvin and Betty had four children: Scotty, Robbie, Calvin Leroy, Jr. and Renae. Renae married Joseph (Joey) LUCAS.
5. Billy Joe never married and worked with his brother-in-law in the timber business.
6. Jerry Wayne Miller never married and worked at Weir School cafeteria all his life.
7. William Allen married Nookie (TURNER) CLARDIE. They had four children: David Allen died of S.I.D.S, Jonathan, Leann and Turner.
8. Margaret Lousie married Davis T.( Hillhouse) THOMPSON. They have one son, Ian Gregory.
9. Loretta Lynn married Glendal WEEKS. They have one son, Michael.
All copyrights reserved. This information may be used by libraries, genealogical societies, and other genealogy researchers. Commercial use of this information is strictly prohibited without prior permission of the owner. If copied, this copyright notice must appear with the information.