South Union Methodist Church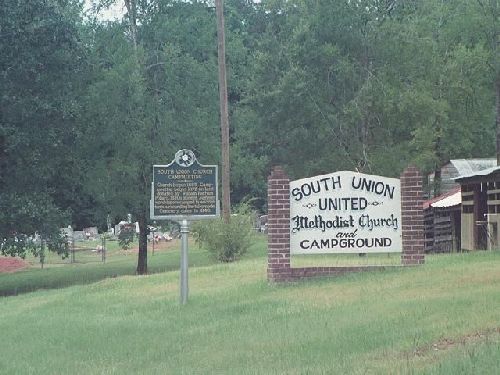 Sign at entrance to So. Union Church, Camp meeting & Cemetery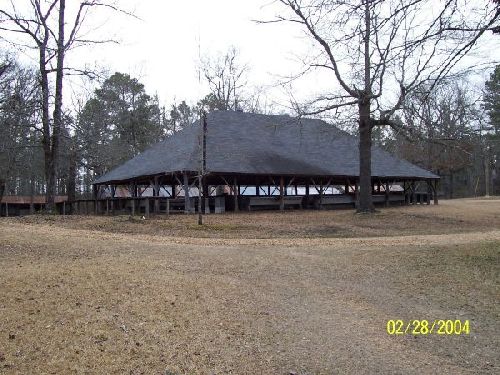 South Union Tabernacle,
Located in So. Union Campmeeting Grounds
Ackerman, Choctaw Co, MS
Sign in front of church states that Services are the 2nd and 4th Sunday at 10 AM,
Rev. George Buell

Information abstracted from article in the Choctaw Plaindealer by Frank Townsend
Among the foremost organizers of South Union Methodist Church were Parham POLLARD, Humphrey BUCK and Archer MOSS.
The first camp meeting was held on Friday night before the third Sunday in Aug, 1872. Services on Sun. morning consisted of opening songs, decoration of the graves in the cemetery, prayer by Rev. H. M. COCKRUM and an address by Frank TOWNSEND.
There are quite a number of Confederate veterans buried in the cemetery. Amont them are William ADAMS, Garner LOVE, Wesley MOSS, Tom BRUCE, J. W. BUCK, J. B. KING, J. M. COMMANDER, N. H. WEEKS, Dr. S. S. SMITHWICK, Frank LOVE and Anderson WEEMS.
In the audience of this first service were several old soldiers. Among them were William MOSS, D. B. McKINNON, Dan FRANKS, Elihu LOVE, C. C. CRAWFORD, George HODGES and Ed RAY.
On April 22, 1883, a cyclone demolished the church, arbor, tents and broke many of the cemetery tombstones.
In July 1914, fire destroyed the arbor and nearly all the tents. Members soon built a new arbor and tents.
* * * * * * * * * * * * * * * * * * *
South Union Meeting Enters Seventieth
Session of Religious Worship
Abstracted from artile in Choctaw Plaindealer
Addie M. Buck, July 25, 1941
In 1865, after the war, the older churches of Choctaw County were organized and served by regular pastors. One of these was South Union, which was built of logs near an ever flowing spring.
An apartment was built in the back of the pulpit where the slaves, or former slaves, could worship. The congregration worshipped in this log building for a few years following the Civil War.
The day for preaching was on Thursday and only once a month. On this day, all work was put aside, even for the slaves, and everyone went to church. The preachers who were known as circuit riders, went by horseback to the communities where they were going to preach. The preachers usually spent several days prior to the services in the community.
In the original log structure and the one immediately succeeding it, some of the preachers were: Rev. HATTISON, Rev. Tom CASTLES, Rev. HYDE, Rev. MURFF, Revs. William and J. O. WOODWARD, Rev. DICKSON, Rev. McQUAERRY, Rev. McDONALD, Rev. HENLEY, Rev. JACKSON, Rev. Humphrey BUCK, Rev. Archie MOSS, Rev. Jimmie CARLISLE, Rev. Kenneth JONES, Rev. W. R. RAINEY, Rev. HINDS, Rev. MUNCIE and others.
The idea of a camp meeting was conceived in 1872 and the campground was laid out in a square. The land was given to South Union by Mr. Parham Pollard.
In the center of the campground, a shinngle covered tabernacle was located and was built by Mr. Arthur TENHET. After assembling the building materials, the men of the community gathered for a prayer. This prayer was led by Mr. Wesley TOWNSEND. Gathered around Mr. TOWNSEND for prayer were Parham POLLARD, Archie MOSS, Arthur TENHET, Humphrey, John BUCK, William ADAMS and others.
The first tents were erected with pegs driven in and crude benches served as the first seating. Oat straw was used to cover the dirt floor.
Beds were scaffolds covered with straw and quilts spread over the straw. A long brush arbor at the rear of the tent sheltered the dining room and another brush arbor was used for the benefit of the cooks and water carriers, all of the cooks and water carriers being Negroes.
Lights at the campground at night were pine cone torches that were placed on dirt covered scaffolds. Women of the church made and donated candles to light the tabernacle at night.
Worship hours were a sunrise prayer meeting, preaching services at 8:00 AM and 11:00 AM, 3:00 PM, and 8:00 PM. A prayer meeting was held at 5:00 PM in the oak grove surrounding the camp ground.
Since there were no musical instruments in those days, the campers "must raise a tune". Mr. Wash GORDON was the song leader in the absence of some preacher that was gifted in song. Mr. GORDON had a voice that was musical and powerful and his leadership added to the song services.
The "mourner's" bench was placed in front of the pulpit. Sinners were invited, begged and persuaded to come and kneel before this bench and prayed for the salvation of their soul.
The cooking at the camp meetings was done on log fires in pots and skillets. Usually Negro men and women did the cooking and Negro boys carried the water from the spring to the tents.
Clothing was made from home spun fabric. After the campground was destroyed by the storm in 1883, the pioneers showed they had courage by weaving fabric and making their clothing to wear to the camp meetings.
Some of the first tent builders at South Union Campground were: Parham POLLARD, Ira POLLARD, John BUCK, Clark BUCK, Rev. Humhrey BUCK, Dan McKINNON, Archie MOSS, Wesley MOSS, William MOSS, Garner LOVE, William BRUCE, Culby SMITH, J. H. WEEKS, Dr. SMITHWICK, Bob LOVE, Ike CORK, J. M. COMMANDER, Misses Sophie COMMANDER and Emily COMMANDER, W. M. DINSMORE, W. H. SMITH, Sid WHISENANT, Frank LOVE, Joe EVANS, Sam SMITH, Arthur TENHET, Tol WELLS, Perry BRUCE, W. M. ADAMS, W. H. ADAMS, Walter ADAMS, Jack GASTON, Joe MOSS, Leroy BOYD, Jim BLACKWOOD, E. B. WRAVER, Jim MOSS, Theodore BOYD, John R. GASTON, Noah WEEKS, Jim STRAWBRIDGE, Will BRUCE and B. K. DRAPER.
Other tent builders were: Jep BRUCE, T. H. McCLURE, Jim McKINNON, D. H. BUCK, Will BUCK, Sid MOSS, Elie SMITH, Dutch SMITH, J. Lem SEAWRIGHT, Sam MOSS, Gene BRUCE, Mack BRUCE, Emmett MOSS, R. B. DRAPER, John DRAPER, Wade GASTON, Bob HENDERSON, Pink ADAMS, Hugh SMITH, John DRANE, Dr. B. STRONG, Leslie CURTIS, Wallace MARTIN, W. M. KENNEDY, Bob CHILDRESS, Feaster COLEMAN, Lee WELLS, Frank KEEN, Mitchell COMMANDER, Cicero POLLARD, Nat POLLARD, Boyce BRUCE, Tom BALLARD, Billy BLAIN, C. E. WHITE, Sam BUCK, Joe WARD, Lester BUCK, Dewitt RAY, Gene STEWART, Bill STEWART, Carvell ADAMS, Lee KING, Jeff McKNIGHT, Jim HAMRIC, J. L. McWHORTER, L. A. SPURGEON, John HENDERSON, Lark BRUCE, Robert THOMPSON, Emmett TULLOS, Henry SMITH, Anderson BLACKWOOD and many others.
Methodist ministers who have been identified with South Union include: Rev. W. R. RAINEY, Rev. Jimmie CARLISLE, Rev. CASEY, Rev. W. F. BARNETT, Rev. WILLIAMS, Rev. L. D. WORSHAM, Rev. W. M. LESTER, Rev. R. P. GOAR, Rev. T. W. DYE, Rev. Eugene JOHNSON, Rev. J. T. McCAFFERTY, Rev. G. W. BACHMAN, Rev. R. M. EVANS, Rev. V. C. CURTIS, Rev. A. T. McILWAIN, Rev. J. A. GEORGE, Rev. R. P. NEBLET, Rev. T. H. LIPSCOMB, Rev. T. C. WEIR, Rev. J. A. BIFFLE, Rev. W. R. CROUCH, Rev. Tom CASTEIS, Rev. W. M. COMMANDER, Rev. Sam VOWELL, Rev. J. M. WYATT, Rev. D. C. FOUST, Rev. W. F. RODGERS, Rev. W. N. DUNCAN, Rev. W. S. SHIPMAN, Rev. J. B. RANDOLPH, Rev. W. M. GRAVES, Rev. H. M. YOUNG, Rev. G. W. GORDON, Rev. Wylie LEWIS, Rev. SMITH, Rev. J. B. BURNS, Rev. T. F. SARTAIN, Rev. ASHMORE, and Rev. E. M. ALLEN.
Young men of Choctaw Co who have become ministers of the gospel and their lives touched by the spirit of South Union include Rev. Ed BUCK, Rev. J. T. McCAFFERTY, Rev. Jim MOSS, Rev. Viner COBB, Rev. Leland CALDWELL, Rev. Howard THOMPSON, Rev. Elmer MARTIN, Rev. Garner MARTIN, Rev. Daniel MARTIN, Rev. Claude CALCOTE, Rev. Clarence CALCOTE, Rev. Jim Bob BRIGHT, Rev. Bob RUFF, Rev. Sam HEMPHILL, Rev. Floyd LUMMUS, Rev. Andrew CRAWFORD, Rev. J. C. STEWART and Rev. Lawrence MECKLIN.

Return to Index
Return to Church Index

All rights reserved. This information may be used by libraries, genealogical societies, and other genealogy researchers. Commercial use of this information is strictly prohibited without prior permission of the owner. If copied, this copyright notice must appear with the information.