Retirement Plantation and Cemetery,
Mt. Carmel Church & Cemetery,
Carmel Presbyterian Church & Cemetery,
Carmel Church Deed and Church,
Gillespie Family Cemetery
The material on this page is written and copyrighted by Ann Byrnes Alleman, and appears on Adams County, MS GenWebProject with her permission. Researchers are invited to read/search the articles for specific facts relative to individual research, but no part of this page, including photos, may be reproduced in any format, electronically or otherwise.
On behalf of Adams County, MSGenWebProject, the USGenWebProject, and it's visitors, I would like to thank Ann for her generosity in making this material available to researchers.
Retirement Cemetery
Return to Cemetery Index
This county is maintained by Carolyn Switzer
Copyright Carolyn Switzer 2002-2009 - All Rights Reserved
---
The History of Retirement Plantation
by Ann Byrnes Alleman
[Note: Retirement Plantation is located off of Kingston Rd, south of Natchez, off US 61, and just past Second Creek.]
Calvin SMITH, son of Rev. Jedediah and Sarah Cook SMITH, born December 25, 1768 in Granville, Massachusetts, and died Nov. 7, 1840, was eight years old when his family emigrated from Massachusetts to Mississippi, and to West Florida, a British Loyal Colony of the new Territory in the Natchez area. He grew up in the new country as a young man of pioneer spirit to become a man of wealth and station, respected and esteemed by all who knew him. Here he saw changes from British Loyalty to Spanish Territory to later become the 20th state in the new United States of American, in 1820.
In 1791, at age 23, Calvin acquired a Spanish land grant along Second Creek South of Natchez in what is now Adams Co., MS. He followed his older brothers, who had established Spanish land grants along Second Creek, and had staked out a claim to be reckoned with. Upon this land, in the hills and in dense woods, he built a cabin. He then proposed marriage to Priscilla COBB, the youngest COBB sister of a prominent family further south of the Natchez area. Two of his brothers had already married COBB sisters of a prosperous family of the Woodville, Wilkinson County area, and had already established homes along Second Creek. Monmouth and Mt. Independence were their plantations.
Priscilla was probably the youngest of the sisters, and her parents were not willing for her to leave home just yet. They felt that Calvin Smith had little to offer her but a dense tract of land, and he possessed nothing but brains and brawn. All arguments against Calvin were unheeded. Priscilla loved him, and contrary to custom of the day, she made up her mind to marry him in spite of family objections. Records show that they eloped and were married May 28, 1791.
Priscilla's parents soon forgave her for eloping with her husband, and as time passed, they learned to respect and lean upon Calvin for help.
With this beginning, their life, though one of hardship and struggle at first, was crowned with success. A large family of children came to make their home happy. Calvin and Priscilla were both ambitious and industrious. At one time, Calvin worked in Natchez, while Priscilla did her part bravely and efficiently, remaining at home attending to her household duties. Calvin also supervised the clearing away of the woods, and the cultivating of the fields.
Finally, after a time, Calvin accumulated enough money -- one hundred dollars -- to buy his first Negro slave. [One must realize that in those times in Mississippi, the only way to hire labor was to purchase a slave. Advertising for hired hands was not a custom of the times.] After that, the effort to increase and organize their resources was not so difficult.
Year after year, as his income enlarged and his family increased, he built the house larger. After a while, twenty-two rooms arose as a monument to the untiring efforts and determination of Calvin, and the wise planning of Priscilla. According to the pictures of the 1855 version of Retirement, which was replicated from the additions that Calvin and Priscilla had made over the years, the large gallery, or front facade or porch, featured eight square paneled wooden columns joined together by a porch railing, and a lattice-work under the porch. The four dormer windows penetrated the roof line on the second floor where the living quarters for the family prevailed.
Calvin SMITH's home place was called Retirement, because, at first, it was so quiet and retired, out there in the woods. But all that quietness passed with the years and a growing family. Among the rooms in this twenty-two room mansion was a grand dance hall, two dining rooms with ceiling fans (Punkahs) attached above the table, which were operated by slaves when the master of the house, the mistress, their large family of children and their guests sat down to dine. On the west of the house was the stately dining room, large and lofty, furnished with splendid mahogany and closets containing fine china and cut glass, also the Communion Service of Carmel Church. It contained also a Sheraton Sideboard, a replica of the one at Mount Vernon. From the centerpiece of the ceiling hung a walnut punakah, or fan. The Irishman, who decorated the fan, carved on top a lion and over the lion an eagle, and inlaid in the ceiling a single star. The interpretation was that the eagle (The U.S.) triumphed over the lion (England) and the Confederacy, represented by the star, would ultimately reap it's reward. Wide porches surrounded the house, where the many grandchildren and great-grandchildren loved to come and visit. A gallery 72 feet long occupied the front of the house, cross halls from North to South and from East to West intersected the building. Opening into these halls were large rooms with lofty ceilings. Windows to the floor opened onto the galleries. These rooms could all be turned into one large apartment by sliding back the folding doors.
About 1855, it was planned to repair the old home. Calvin and Priscilla had found their final resting place up the hill in the acre of land set aside for family for years to come. Mary Louisa, their youngest daughter, had inherited the home, and lived there with her husband, Edwin Ruthven BENNETT, son of Gov. Caleb Prew BENNETT, of Delaware. The first cabin had been added-to room by room, and was at that time a large comfortable house. But alas! the foundations of the house were found so dilapidated it was decided to rebuild on the same spot.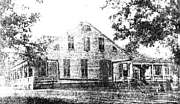 Retirement Plantation Home 1855 - 1908
The second house, built much like the original described above, was completed just before the Civil War. The home was comfortable, cool, and lovely. Several bedrooms were arranged on the second floor, with four dormer windows on the front side of the house. Three windows and two smaller windows adorned the north and south side of the house. An attic with a half-round window on each end, of the house, aired the third floor. The south-side wing had a side porch with four smaller columns and windows to house the dining rooms, and later kitchen, for the home.
Many family brides were married at Retirement. Though there were many brides married here from the various branches of the family to follow Calvin and Priscilla. Among those directly connected to the OGDEN-BYRNES side of the family were:
Louisa Mary SMITH, youngest daughter of Calvin and Priscilla SMITH - married Edwin Ruthven BENNETT, son of Gov. Caleb Prew BENNETT of Delaware (1832-1832) in October, 1841.
Their daughter Mary Louise BENNETT married James Nicholson OGDEN on January 9, 1868.
Their daughter Katherine Bennett OGDEN married Augustus McCaleb BYRNES January 21, 1900.
Sisters and neices of Katherine Bennett OGDEN married before, and after, she was married there in January of 1900.
In fact, this family has representing it today, perhaps the largest line of progeny of any of the sons of Rev. Jedediah SMITH. The house which stands at Retirement today is still owned by members of the OGDEN family.
The 1855 house burned in 1908. A smaller house was built at it's site. The present house also has a large center hall, with a screened front porch and entrance gate railing for the front steps. On the right side, of the house, is an enclosed front room. A back porch makes up the rear side, with the bath off the left side, and the kitchen off to the right. On the left is a front room and a rear bedroom. On the right is a large front room and a paneled dining room. The kitchen is behind it in the rear, right side of the house. The back porch has steps up to it with a gate and railing. Upstairs are the remaining bedrooms.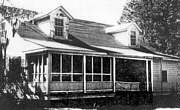 Retirement Plantation Home 1908 - Present
Mary Louise OGDEN, and various family members, lived and conducted all of the rites of life, here. Louise Bennett OGDEN, sister of Katherine Bennett Ogden BYRNES, remained at Retirement throughout her life, with the mission of rearing nieces and nephews, and providing for them. Brothers and their children, and grandchildren of Louise Bennett OGDEN, maintain and occupy Retirement to this day. The last remaining niece to live there, Melida OGDEN, daughter of Henry OGDEN, and sister of Katherine B. Ogden BYRNES - died January 22, 1994. Her nephew, Page OGDEN, President and CEO of Britton & Koonz Bank, in Natchez, maintains the estate.
An old way of life is felt in the air, at Retirement. One enjoys a trip into the past, and a thanksgiving of all of those who have come before.
---
[Note: Retirement Cemetery is located on a hill, and to the left, as you go into the Retirement Plantation driveway off of Ogden Rd.]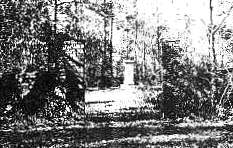 Entrance to Retirement Cemetery
Calvin SMITH - b Dec 25, 1768 in Granville, MA; d Nov 7, 1840
Priscilla Cobb SMITH - b 1774; d Jul 28, 1846 at Retirement Plantation
Calvin Stephen SMITH - "Sacred to the memory of Calvin Stephen Smith, the oldest son of Calvin & Priscilla Smith and consort of Anna M. Smith was born September 12, 1803 -and died December 19, 1838. Man that in born of woman in a few days and with honorable he cometh forth lies a shadow and continueth not."
"And affectionate memento in memory of Calvin Smith 2nd son of C.S. and A.M. Smith Born Nov.12, 1837 and died July 24, 1838 at age 9 months and 12 days."
--Bennett Ferriday 1855-18--
William Calvin Ferriday (husband of Helen Catherine Smith)
Jane Priscilla Ferriday born 17th May 1830 and died 9th June 1847 at age 17 years 23 days
Helen Catherine Smith Ferriday b Jul 29, 1805, to Calvin and Priscilla Smith. d Nov. 18, 1857 at age 52 years, 3 months and 21 days
William Calvin Ferriday son of Wiliam C. and Helen C. Smith Ferriday. b 30th Dec 1826; d 19th Nov 1836
Sacred to the memory of H. Bennett Ferriday born 2 August 1835 and died 17th October 1836
James Dutton Ferriday b Dec 4, 1828; d __20, 1839
S., W., EL Dutton Ferriday
Caroline ...Born November 8th 1801 Died December 18, 1815
Susan W. Ferriday Born September 1931, died May2, 1832 at 9 months and 21 days.
Edward Parson Ferriday son of William & Helen C. Ferriday b on Helena Plantation, LA Feb 20, 1845; d Jul 16, 1848 at age 3 years
Maria Philomela Smith Gillespie - b Apr 8th 1801; d Oct 15, 1819; 4th child of Calvin and Priscilla Smith. First to be buried in Retirement Cemetery. Wife of James Alcorn Gillespie.
Benijah Osmond Smith - b May 1, 1807; d 1850 in Claiborne Co. (Son of Calvin & Priscilla Smith.) Was a member of state legislature, veteran of the Mexican War, and plantation owner.
Eliza Forman Smith - wife of Benijah Osmond Smith; b Feb 11, 1811 d Jan 21, 1877. First buried at Montrose; re-buried at Retirement Dec. 2, 1908. Dau of Joseph Forman.
Joseph Smith - Son of B.O. and Eliza Forman Smith. b Feb 28, 1831; d Oct 11, 1840
Thomas Jefferson Aby - b Staunton, VA Nov 23, 1827; d Apr 25, 1914 at Montrose Plantation Claiborne Co.
Helen August Smith Aby (wife of Thomas Jefferson Aby) b Feb 28, 1834; d Sep 30, 1893. Dau of B.O. Smith and Eliza Forman Smith. Died at Montrose Plantation.
Augusta Aby Gilkey - b at Montrose Apr 15, 1862; d Jul 20, 1899. Wife of Ralph W. Gilkey.
Charles William Aby - Son of T.J. Aby and Helen Augusta Aby. b Jul 1858 at Montrose; d Feb 19, 1919
Woodrow Wilson Ogden - b Aug 19, 1918; d Dec 22, 1988. Sergeant in US Army in WWII. Son of Henry Calvin Ogden, grandson of James Nicholson Ogden and Mary Louise Bennett Ogden.
John P. Ogden - b Sep 6, 1919; d Jul 19, 1988. Son of Henry Calvin Ogden and gson of James Nicholson Ogden and Mary Louise Bennett Ogden. USB Air Corps WWII.
Theodore Ruthven Ogden - b Feb 17th, 1924; d Aug 30, 1995. Son of Henry Calvin Ogden; US Army WWII.
Melida Avarez Ogden - b Sep 15, 1899 in Panama; d Oct 13, 1973. Wife of Henry Calvin Ogden.
Melida Ogden - b Mar 3, 1915 in Panama; d Jan 22, 1994 at Retirement Plantation. Dau of Henry Calvin Ogden and Melida Avarez Ogden.
Henry Lisle Bennett, Sr. - b 1801 Wilmington, New Castle Co, DE; d Adams Co, MS 1872. Son of Gov. Galeb Prew Bennett; brother of Edwin Ruthven Bennett; Husband of Matilda A. Smith.
Matilda Ann Smith Bennett - b 1809 at Retirement; d Adams Co 1872. Dau of Calvin and Priscilla Smith; Wife of Henry Lisle Bennett, Sr.
Henry Caleb Calvin Bennett - 1848 - 1876; Son of Matilda A. Smith & Henry Lisle Bennett.
Lucian Bryson Ogden - 1881-1926; Son of James N. Ogden and Mary L. Bennett Ogden. Husband of Georgiana Gilmore McDonough.
Georgiana Gilmore McDonough Ogden - 1882 - 1965; Wife of Lucian Bryson Ogden.
Henry Lisle Bennett - CSA 1862; Son of Louisa and Edwin R. Bennett. He and brother Edwin wounded at Battle of Corinth, but d in Adams Co at home.
Edwin R. Bennett - CSA 1862
Annis Enders Bennett - 1849 - 1871; Wife of Henry L. Bennett, Jr.; Son of Matilda & Henry L. Bennett, Sr.
Louise Bennett Ogden - b Dec 9, 1870; d Apr 29, 1959; Dau of James Nicholson Ogden and Mary Louise Bennett Ogden. Never married.
FATHER: Calvin Smith Bennett [Photo below] December 20, 1848-Nov. 4, 1916. "None knew him but to love him. None named him but to Praise." Father of Anna Louise Bennett Behr Farris.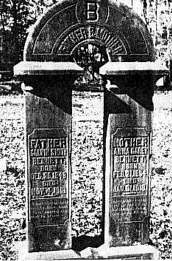 MOTHER: Anna Carey Bennett [Photo above] Born Februrary 21, 1864 (1860 according to b cert.); d Jan 31, 1918. "Her children shall rise up and call her Blessed. Her husband also he praiseth thee."
James Nicholson Ogden - 1869-1879; Son of James N. Ogden and Mary Louise Bennett Ogden.
Edwin Ruthven Bennett - 1811-1872; Son of Gov. Caleb Prew Bennett of DE (1832-36); Husband of Louise Mary Smith.
Louisa Mary Smith Bennett - 1811-1877; b and d at Retirement. Youngest dau of Calvin & Priscilla Smith. Wife of Edwin Ruthven Bennett, Sr.
James N. Ogden - b Oct 2, 1844; d Mar 18, 1882 in Vicksburg. Husband of Mary Louisa Bennett; Father to Katherine Bennett Ogden.
Mary Louisa Bennett Ogden - b Sep 4, 1847; d Jan 10, 1912. Dau of Edwin Ruthven Bennett and Louisa Mary Smith Bennett. Wife of CSA veteran.
Katherine Priscilla Bennett - 1843-1910; Dau of Louisa Mary Smith Bennett and Edwin Ruthven Bennett, Sr. Sister of Mary Louisa Bennett.
Albert W. Bowser - b Nov 10, 1900 IL; d May 9, 1963 at Retirement; Captain in the Medical Corps in WWII; Husband of Louise Ogden Bowser, dau of Henry Ogden.
Louise Bennett Ogden Bowser - b Jan 10, 1917 in David Panama; d Sep 26, 1966 in Retirement. Dau of Henry and Melida Ogden. Served in WWII.
Helen Catherin Gillespie - Dau of John E. & Helen Smith Gillespie.
There are several more graves not in place or readable.
---
Mt. Carmel Church Cemetery
by Ann Byrnes Alleman
[Note: Carmel Church and Cemetery are located about 1 or 2 miles from Ogden Rd off of Kingston Rd. The Church is on a hill, on the left of Carmel Rd. The area is cleared, but with large pecan, oak, and poplar trees in the yard. The cemetery is nestled down in the woods behind the church, and is overgrown.]
This old cemetery is located in the woods behind the Mt. Carmel Church, south of Natchez. To reach the cemetery from Natchez, take US 61 south to Kingston Rd. Take Kingston Road several miles to Carmel Church Rd. The church is on a hill to the left, less than a mile on Carmel Church Road.
The church was formed as a Presbyterian Church about 1829 by the SMITHS, GILLESPIES and OGDENS. It is now used by a Baptist congregation. (1996) Many of the graves have unreadable tombstones which are buried, badly broken, or missing.
A wrought iron fence surrounds one part of the cemetery; a wife fence surrounds another part. Some graves are outside of the fences.
Sarah Cook SMITH, wife of Rev. Jedadiah SMITH and mother of Calvin, Luther, Philander SMITH is supposed to be buried in this cemetery; however her headstone was not found. She died in 1800. Other family members are supposed to be buried here.
---
Carmel Presbyterian Church & Cemetery - 1821 to Present
by Ann Byrnes Alleman
Carmel Presbyterian Church was organized in 1821 and came under the care of the Presbyter in 1825. The original church building was apparently located on a ten-acre tract of land acquired by the church from the Philander SMITH family. Apparently a new church replaced the old church building in the 1850's. The new building was probably erected during the pastorates of either James PURVIANCE or James STRATTON, cousin of Joseph STRATTON, pastor and later pastor emeritus of the First Presbyterian Church in Natchez from 1843-1903.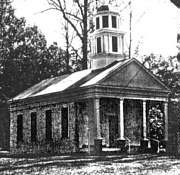 Present Church, built in late 1800's, is currently used by a Baptist Congregation
Original church was built in the 1820's
Carmel Presbyterian is a vernacular Greek Revival of the Federal Style tower of First Presbyterian Church. There are Greek Ionic columns in the tower at Carmel with square-headed openings. On the interior the Greek frontispiece behind the pulpit and the pulpit itself closely match the pulpit in town, and the pews are most similar.
Mt. Carmel has had OGDEN influence since the 1820's. A nephew of Robert OGDEN was once of its early Rectors. OGDENS, SMITHS, GILLESPES, and BENNETTS have served on its Boards of Elders and have kept the church going ever since. Edwin and Annie Ruth OGDEN have been its Historians during the 1950's till recently. The church was unused for several years until it was leased to the Baptist congregation. [Edwin OGDEN died and Annie Ruth OGDEN is infirm. Perhaps Page OGDEN, CEO of Britton & Koonz Bank has more recent information on this church.]
---
Carmel Church Deed
Submitted by Ann Byrnes Alleman
The following Deed Records of Adams Co., MS Deed Book P. 177 quotes from the will of Philander SMITH, son of Rev. Jedediah SMITH, who was the first Presbyterian minister to come to the Natchez Territory in 1776:
This indenture made this 5th day of June 1836 between Benjamine SMITH, surviving executor of Philander Smith, Deceased, of the one part and Alex C. HENDERSON, John H. VAN COURT, and William DUNBAR of the other part, whereas the probate court of Adams County, State of Mississippi, at this April term thereof last part did order and direct the part of the first part to make a quit claim deed for a tract of land consisting of ten acres or thereabout whereon Carmel Church is now located with tract was agreed to be given to said church by said Philander SMITH in his life time but no conveyance executed to the trustees of said church.
Now this indenture witnesseth that in consideration of said order and for the sum of one dollar to him in had paid the receipt whereof is hereby acknowledged, and said party of the first part hath received, released, and forever quit claimed unto the the said party of the second part all that tract of land consisting of about ten acres near Second Creek and adjoining land of Catherine SWAYZE and heirs of W. R. SMITH and being the same whereon Carmel Church is at present situate, to have and to hld to the said parties of the second part, their heirs and assigns forever, to hold however as joint tenants with benefit of survivorship and not as tenants in common, in trust nevertheless for the said church (or trustees thereof) called Carmel now appointed or hereafter [sic] to be appointed and their successors in office.

/s/ Ben SMITH, executor of Philander SMITH Estate (and witnesses)
Return to Index
---
Gillespie Family Cemetery - Carmel Church
Compiled by Ann Byrnes Alleman
The cemetery at the rear of Carmel Presbyterian is the GILLESPIE family cemetery.
All of the following names are on a tall plain marker [See next photo]:
Alfred Smith Gillespie September 30, 1810 - August 19, 1836 William Calvin Gillespie Born March 11, 1818 and died September 4, 1818 Helen Catherine Gillespie Born May 13, 1802 died April .. 1855 George Ralston Gillespie Born June 3, 180? Died September 15, 1833 John F. Gillespie born May 8, ? died Sept. ?, ? (dates unreadable) Susan Gillespie died 1832 James Alcorn Gillespie born 1830 and died June 4, 1868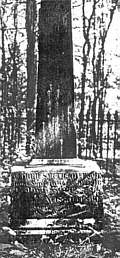 The following names were on a tall maker with a vase-like pediment on top [See next photo]:

John Francis Gillespie August 24, 1822 - August 19, 1836 Susie Gillespie July 1857 - September 18, 1866 James Alfred Gillespie February 12, 1859 - September 6, 1863 Albert Sidney Gillespie July 25, 1861 - September 3, 1863 James Metcalf Gillespie May 6, 1832 - December 7, 1892 John Minor Gillespie born of James died 1900 Fannie Denny born 1836 - 1895
Two small stones with just initials:

AEG died 1866 WCC died 1866

Some of the single tombstones include:

Gillespie, Alfred Harvey son of James A. & Jane Gillespie. Born at Hollywood, Adams Co. May 6, 1865 d. Natchez May 14, 1928 Robert K. Gillespie Woodsman of the World Memorial November 4, 1862 - November 17,.1907

Broken grave - very old with only brick remaining.

Within the wire fence were about 16+ graves of the BRONN & CROZIER family. Four modern stones plus others.

There were graves outside the fences. Maybe SMITH and other family members.

Dr. N. K. Shepard died October 30, 1867 at age 55


Other stones were not readable.
---